Beschloss: History validates presidents who make tough, if unpopular, decisions
By Emily Wilson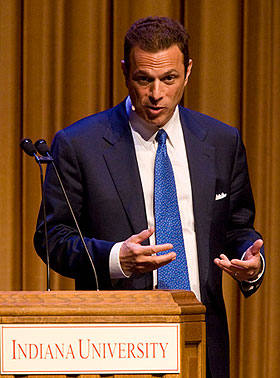 In the crucial days before the Indiana's primary May 6, presidential historian Michael Beschloss advised his audience Monday night to vote for the candidate who will demonstrate "presidential courage" by making tough decisions even at the cost of his or her own popularity.
"American history has turned on the fact that some presidents had the guts to make tough decisions," he said.
Beschloss addressed hundreds of students, faculty and local residents scattered among the rows of the Indiana University Auditorium with his anecdote-filled speech, "The Press and the Presidents." The talk was the third and final of the School of Journalism's Spring Speaker Series.
Beschloss previously studied leadership at the Harvard Business School and has written several best sellers, including The Conquerors: Roosevelt, Truman and the Destruction of Hitler's Germany, 1941-1945, Taking Charge: The Johnson White House Tapes, 1963-1964, and Reaching for Glory. His latest book is Presidential Courage: Brave Leaders and How They Changed America 1789-1989.
Although he reminisced about his years spent researching past presidents, he also drew important distinctions between his work and the work of journalists.
"Citizens have to vote and journalists have to write about presidents in real time," said Beschloss, who currently is on-air presidential historian for NBC News. Historians get the benefit of hindsight, so they are able to see how the story unfolded, he added.
To emphasize his point, Beschloss recounted the presidency of Harry S. Truman. During his term, Truman's approval rating sunk to 22 percent and he was criticized for his public persona. While the press painted this dismal picture at the time, Truman now is remembered for his wise decision-making skills and his actions that put into motion an end to the Cold War.
As important as analyzing the actions of past presidents and applying that knowledge to current events is, Beschloss admitted that people have to make choices based on the information that is available at that time. "Historians often have an easier time than journalists," he said.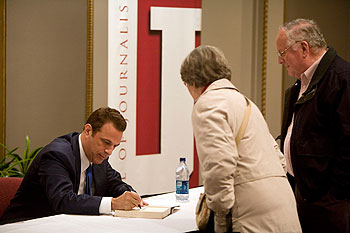 At the crux of Beschloss' speech was the notion of presidential courage, which he defined as the ability to make the right decisions during a crisis even if they are unpopular and result in the demise of a president's career. This, Beschloss said, is "one of the hallmarks of great presidents."
The most redeeming traits in a president are courage and the ability to talk to the American people about issues that might make them angry initially, but that still are important to tackle, Beschloss said.
Beschloss provided a simple tip for evaluating a candidate's potential.
"Look at the early life of a candidate and look at the life they lead now," he said.
However, Beschloss again pointed to forefather John Adams, who was defeated in re-election after opposing a war with France and, thus, ostracizing his party. Adams stuck by his belief that "great is the guilt of an unnecessary war" and although he was denied the chance to serve a second presidential term, he still had his family, friends and farm to fulfill him because he still did the "right thing," Beschloss said.
Beschloss commented on what he called the superficiality of today's political leaders. Currently, the nation tends to evaluate a politician in terms of poll results or the amount of donations, he said.
"When a candidate says or does something that negatively impacts the campaign, people say 'how stupid,' tend to wonder why the candidate didn't just say something to get elected," he said. "I think Americans hunger for a political leader who doesn't do that."
Bloomington residents Jim and Rhoda Terlizzi, who were familiar with Beschloss from his stint at NBC and his appearances on The News Hour with Jim Lehrer on PBS, said they were impressed.
"He gave people something to think about," Rhoda Terlizzi said, to which her husband added, "I think it's important to have insight from someone who's studied this."
Brad Hamm, dean of the School of Journalism, said he was delighted with Beschloss' charm and wit. After a meeting six years ago, Hamm believed Beschloss would be an ideal speaker to bring to IU.
"It's a nice way to end, a perfect topic," Hamm said. "Our goal was to do two back-to-back political speakers in the spring. A presidential speech writer and a presidential historian would be a nice combination." Commentator William Safire talked about the election year during his talk March 24.
Before answering questions from the audience, Beschloss left audience members with a few words of caution for the coming election.
"As we are all looking at presidential candidates, ask: 'Is this someone who can bring things together and work with the other side to get things done for the American people?'"