Batman producer Michael Uslan sharing expertise in two classes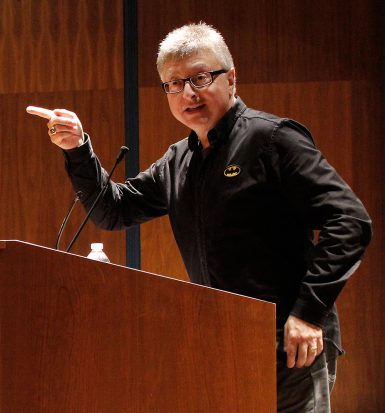 This spring, students may learn from one of the most successful names in Hollywood. Batman producer and IU alumnus Michael Uslan will return to Bloomington as a professor of practice for a third year in a row to teach two intensive courses at The Media School.
"It is absolutely wonderful to have students taught by people who know how to work in the trenches everyday in Hollywood — and who love it," Uslan said in a phone interview while driving in Los Angeles one afternoon recently.
Uslan has been a professor of practice for IU's Media School since 2014 and has more than three decades' worth of movie and television experience.
He'll apply his expertise – and share his insider knowledge of Hollywood – with students in two Media School classes. The first, MSCH-P436 Business of Production Motion Pictures, looks at the business side of producing movies. Uslan said the class will provide experiential learning to better prepare the students for a successful career in Hollywood.
In his second course, MSCH-M435 Live from L.A.: Pros Make Movies, Uslan will bring in 30 people from all aspects of movie making to Skype with the class and give an inside look at their jobs. Guests will include an entertainment lawyer, a manager, a casting director, a publicist and even a star. Uslan brings these professionals in in order to give students a chance to hear "the truth" about film making directly from Hollywood's mouth.
"It's great to see the impact that either sends them running toward or running away from this industry," he said. "Its important for students to discover what they don't like just as much as what they do like."
Classes are intensive and immersive, conducted on three separate weekends Jan. 17-19, Feb. 3-5 and Feb. 10-12. Students may enroll beginning Oct. 22.
"Students I have talked to say it is a life changing experience," said Ted Castronova, director of the game design program and chair of the school's Media Arts & Production area, of which Uslan is a faculty member. "A university is not in the industry. Uslan's classes give students a reality check, especially when it comes to media today. Its helpful to hear it from guys like Michael."
Virginia Warner, Uslan's former student and who will serve as his teaching assistant for spring classes, said his business of production class was the best IU course she had ever taken.
"He is engaging and will meet with students anytime they need it," said Warner. "He's a great teacher."
Uslan is an expert in Hollywood, most famous for producing the 1989 Batman movie starring Michael Keaton and the critically acclaimed The Dark Night (2008). And he has remained active in the Hollywood scene. In 2016 alone, he was executive or co-executive producer for seven different projects, according to his IMDb page.
So how, or why, does he find time to travel from L.A. to Bloomington every year to be a college professor?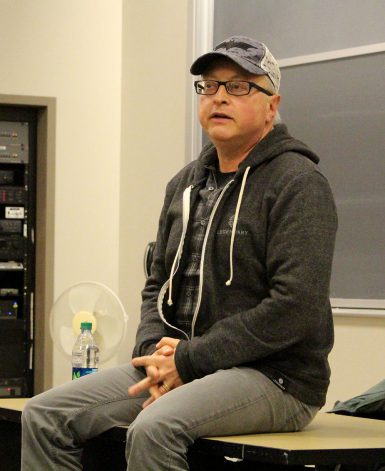 "It's important to give back," Uslan explained. "IU allowed me to get my foot in the door and pursue my dreams. There are plenty of people in Hollywood who would just write a check, but it's important to devote time and energy to create a driving force in students."
Ulsan makes a point of scheduling one-on-one time with each student, even given the tight time constraints of the classes, said Andy Ballow, BA'16.
"He would purposefully make sure he had lots of time to meet with each student," said Ballow, who was in one of Uslan's class last spring. He spoke in a phone interview from Los Angeles, where he now works. "He always will have thoughtful answers."
Uslan has given back to IU in more ways than just teaching at The Media School. He has lectured at the Kelley School of Business, and he gave IU's 2006 commencement address, which made USA Today's top 10 graduation speeches. He spoke at Whittenberger Auditorium in 2014, shortly after the school announced his appointment as professor or practice.
This spring, Uslan went in front of the cameras and appeared for one of IU's recent ads. Most notably, he donated a whopping 45,000 comic books, his entire collection, to IU's Lilly Library in 2005.
You could say his whole career was started on comic books. His obsession dates back to when he was a young boy growing up in New Jersey.
"My mom said that I learned to read at four years old from comic books," said Uslan. "I couldn't do sports, so I found psychological shelter in reading and found my heroes in the pages of comic books."
As he grew older, he began writing his own comics and even attended the first Comic Convention (aka Comic Con) when it had just 200 people. Now it is one of the biggest events in the country, hosting hundreds of thousands of self-proclaimed nerds.
By the time Uslan graduated high school, he had filled his parents' garage with 30,000 comic books, some of them dating back to the 1930s.
Uslan carried his love of comic books all through college. As a junior, he pitched an idea for a class he wanted to teach on comic books. At first, the idea didn't get much traction, but he managed to convince the folklore department that comic book heroes are modern day mythological gods. The class was approved and became the world's first accredited course on comic books.
"The class got international attention," Uslan recalled. "There was not a single lecture where there weren't photographers and reporters sitting in."
All of the media attention led to a knock on Uslan's door from DC Comics, who initially asked him to write Batman comics, a childhood dream come true for Uslan.
"There is no contest," said Uslan of Batman. "I could relate to Batman because he didn't have powers. As a kid, I believed that if I studied and worked hard, I could become this guy. And, of course, the car was great."
From there, Uslan went on to produce the first modern Batman movie in 1989. He has since worked on all of the Batman movies to date and even owns the rights to Batman.
Though he is a renowned Hollywood producer, he still likes to return to his teaching roots that were planted when he taught his first course in comic books.
"In Hollywood, you don't have to teach because everyone already knows everything," Uslan said with a tinge of sarcasm in his voice. "You are dealing with huge egos, but that's what comes with working with some of the greatest creative people in the world."
By teaching and conducting workshops through his intensive courses, Uslan said he hopes to create and discover the best creative minds of the future. He said he wants his students to look at things from the creative side as well as the business side, and think outside the box in order to adapt to the changing world of movies.
"Hollywood is changing industry," Uslan said. "We aren't just making movies for teenagers and people who play video games. We are working in an international market."
There are only 20 seats available per class, and admission is by application only, so Uslan offered a bit of free advice for the dedicated future movie-makers at IU who may not be able to attend his classes: "Go West."
"L.A. is the place to be," he said. "It's the nerve center."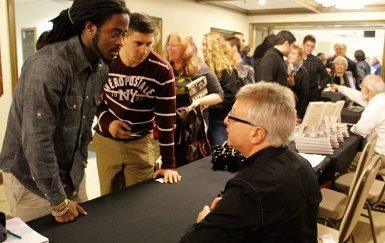 While still at IU, don't miss obvious opportunities, he added.
"Be on the premises and get to know your graduating class," he said, "because some will become successful and may provide some networking in the future."
Uslan also noted the importance of making connections with people who are already in the business. The best way to do that is through internships.
Luckily for IU students, there is a way to get all of these connections and opportunities easily, Uslan said, citing the alumni base in L.A. called Hollywood Hoosiers. This is a group of people from IU who hold their arms open to newly graduated Hoosiers. They will help you get settled in L.A, and even help set up interviews, meetings and studio tours, he said.
Ballow took Uslan's advice and headed to L.A. after graduation. He is an intern at two companies: Mosaic Media Group, a marketing firm, and Kaplan Sahler Agency, which represents writers and directors working in television. He has stayed in touch with Uslan as well as Uslan's son, David, also a producer and writer.
Warner encourages all of Uslan's students to keep in touch with him.
"He loves helping IU students," she said. "It helps to know someone in this industry, and he wants to be that person for people."
Ballow said taking Uslan's class and keeping in touch has helped him learn about not only movies, but life, too.
"Michael would have these little tidbits of wisdom," he said. "He would say when something bad happens, just think 'this is the best thing in my life because' and fill in the blank. I have done that a few times since taking his class, and it has helped."
Castronova said professors of practice who bring their professional work to the classroom give students a reality check about the industries they are considering as careers.
"In the way he teaches his classes," Castronova said of Uslan, "this opportunity will give you a chance learn whether your personality fits your dream or not. That's valuable."
More:
Interested in signing up for one of Uslan's classes? Find your registration date via one.iu.edu in the Student Center app. To make an advising appointment, visit The Media School website, select Degrees, then Advising.