Asma Khalid: Authenticity, transparency can instill trust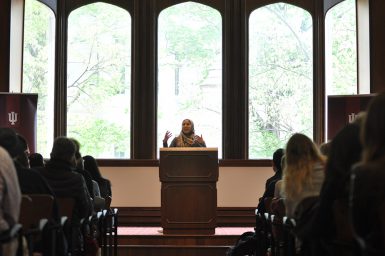 A large segment of society lost its trust in the news media after the most recent presidential election, said WBUR reporter Asma Khalid. And one way to regain that trust is for journalists to use authenticity.
"To me, that is what our goal is, to be ultimately fair and authentic," she told her audience in Franklin Hall Friday afternoon. "If we do that, I'm slightly optimistic that we can win back some of the trust that people have lost."
Khalid wrapped The Media School's spring Speaker Series with her talk, "From a Presidential Election to Podcasts: The Future of News." She drew on her experiences covering voters and analyzing demographics for the last presidential election for NPR's election team.
"There were a lot of abnormalities that this campaign cycle exposed about who we are as Americans, and sometimes it wasn't all really great when you hold that mirror up to yourselves," Khalid said. "Not all of it's pretty, not all of it's kind."
While covering the election, Khalid met voters on the periphery, sometimes at rallies, but a lot of times at diners, at churches, on main streets and in their homes. She said this provided her audience with a more intimate understanding of the motivations behind why people make the political choices that they do.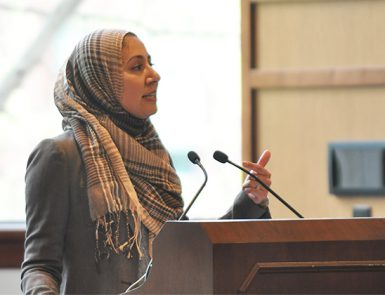 She analyzed demographics to find these voters. When candidates talked about disgruntled citizens in the rust belt, Khalid set out to talk to them in person. By going to voters, she learned they were concerned most national parties were not listening to them. By extension, neither were journalists. Khalid said this led to a distrust of the news media and the climate of fake news.
"As journalists, we wouldn't always have the best representation of what were the economic concerns, what were the racial concerns people had in part because we were not immersed in their communities," she explained.
Because journalists weren't in the communities reporting on what they heard and saw, voters were more apt to believe "fake news," which they consumed with growing frequency on social media. Khalid cited research that shows two-thirds of Americans get their news from social media platforms. Because people click on articles shared by their likely similar friends, they are often assured that the article relates to them in some way. This puts news-consumers into their own filter bubbles.
Khalid said another study found that journalists themselves were in a bubble. One survey of social media found journalists tended to side with presidential candidate Hillary Clinton during the campaign.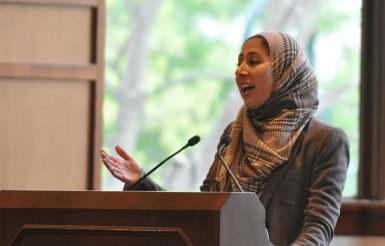 To regain news consumers' trust, Khalid suggested journalists appear more authentic; that is, let audiences know a bit more about themselves. While she didn't suggest journalists break with all forms of the traditional objective stance of neutrality, she did say that sharing perceptions can frame stories in news ways that readers appreciate.
For example, after the election, she wrote a first person essay, "What It Was Like to Cover the Election as a Muslim," about her experiences on the campaign trail. Because she wears a hijab, she was easily identifiably as a Muslim as she tagged along with canvassers, attended town halls and visited communities all over the country.
In the essay, she writes of people who had little hesitation in expressing their thoughts on a Muslim ban, asking her questions as if she represented all minorities and shouting epithets. A northwest Indiana native, Khalid said she learned early on how to anticipate racism and comments, skills she used while traveling the country.
But the campaign experience also clarified her point during her talk.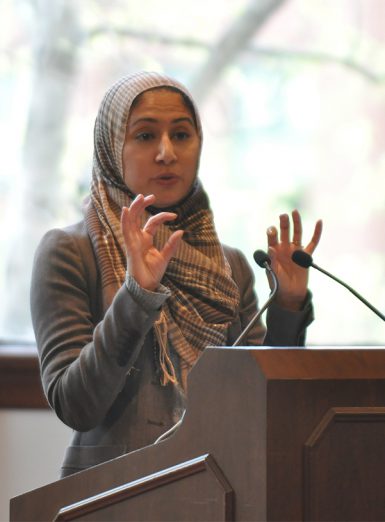 "Ninety-nine percent of people open up to you when spend time with them," she said.
Khalid also was part of an NPR podcast project during the year, and in these conversations, reporters described their experiences as part of the storytelling. The series
engaged audiences, who provided feedback and comments much more frequently than with other digital stories, she said.
"I think that sometimes when we bring that perspective to the table, sometimes people trust us a lot more," said Khalid.
Khalid said she hopes journalists will share their own perspectives with their audiences, and in turn their audiences will trust them again
"I think that's our job," Khalid said. "To be fair, to understand people's concerns, to give them a chance to voice their own concerns and to withhold judgment."
After the election, Khalid returned to WBUR, where she leads BostonomiX, a new business and tech team exploring the innovation economy. She is a 2006 graduate of IU journalism.
More: