As Election Day approaches, Media School students work to make an impact
Andrew Lamparski sees his position as a reporter for IU Student Television as an opportunity to encourage young people to engage in politics as the midterm election approaches.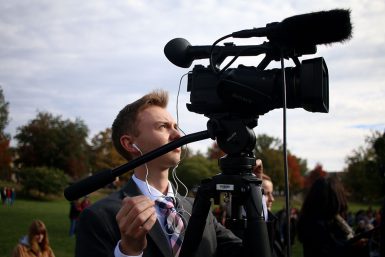 "A lot of young people are usually apathetic on voting, or they say they don't know enough about politics to get into politics and go out and vote," said Lamparski, a Media School sophomore. "I think it's important that we at least be putting it out there that students should be voting."
Lamparski is one of the many Media School students involved with the midterm election, whether they're reporting on it for student media or classes, or using their media skills to work on a campaign. These assignments are providing real-world experience with the opportunity to make a difference.
Lamparski was among the estimated 3,000 people who turned out to Dunn Meadow on Oct. 19 to see Vermont Sen. and 2016 presidential candidate Bernie Sanders campaign for Liz Watson, who is running against incumbent Rep. Trey Hollingsworth for the 9th District House of Representatives seat.
He hoped to interview Sanders one-on-one for IUSTV. Although that didn't work out, Lamparski was excited to have the opportunity to cover an event with such a prominent figure.
"I think now that we have that experience where we were so close to getting an interview, I think if another politician came to campus, we could try to do something at least," Lamparski said.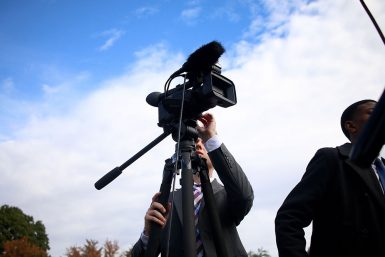 For senior Jesse Naranjo, an election reporter for the Indiana Daily Student, the Indiana Senate and U.S. House of Representatives races have provided an opportunity to report stories of importance — a breakdown of campaign contributions made by IU employees, voter guides and on-site coverage of tonight's Senate debate in Indianapolis.
"We are trying to do our best to cover the upcoming election at local and statewide level," Naranjo said. "We are looking for angles in stories that might be specific to our IU readers."
IUSTV is also reporting from a student-centric perspective, airing pieces on absentee ballots and how voters can request them. IUSTV news director Courtney Sisk, a senior, said she hopes the station's coverage encourages people to start looking into politics and decide what their values are.
"We are working on a man-on-the-street report to get students' reactions, and ask if they plan to vote in the midterms and why," she said. "Through this type of story form, we hope to bring light to the importance of voting, and encourage students to do the research and use their voice."
As a reporter for WTIU/WFIU, master's student Azra Ceylan has had the opportunity to see firsthand how a professional media outlet covers politics, especially in a community that's hosting one of the most closely watched Senate races in the country.
She said it's important to inform students and community members and to remain unbiased.
"I think it's necessary, obviously as long as the coverage is balanced," Ceylan said. "I think students should know."
Senior Emma Coates, who studies public relations and political science, is getting experience from within a campaign. She's an operations assistant for Watson, responsible for tracking campaign income and expenditures.
She said the position has provided valuable experience for a potential career in politics. But it's not always easy balancing schoolwork and campaign work.
"I must say, I am excited for Nov. 6 so that I can focus more on some big class projects," Coates said.
More: