Arnolt Center students help launch nation's first county-by-county COVID tracker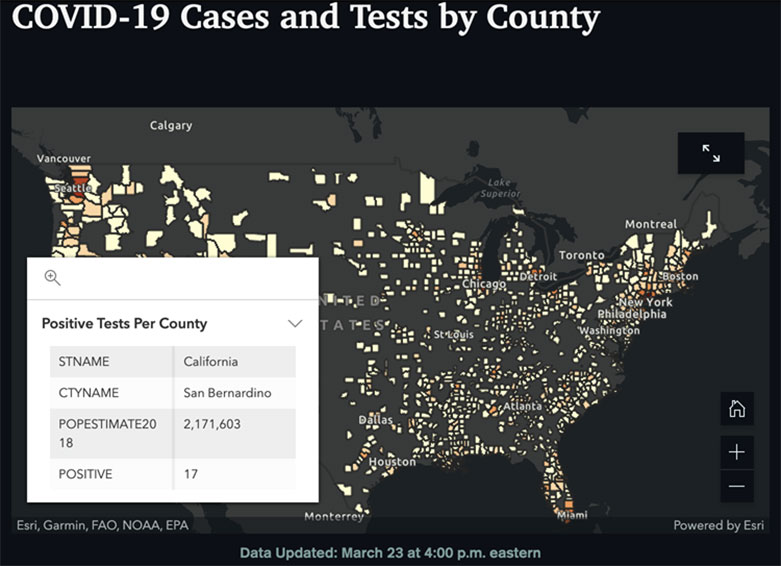 Students in The Media School's Arnolt Center for Investigative Journalism were part of a team that created the first nationwide county-by-county coronavirus tracker.
The students worked with Arnolt Center partner Gray Television to track COVID-19 cases.
"When the virus really took hold in the U.S., no one was collecting data from a county level. With the help of the Arnolt students, we produced on a daily basis the number of confirmed COVID-19 cases and deaths by county," said Gray reporter Jill Riepenhoff.
The students spent multiple hours every day contacting each state's department of health and, in some cases, individual counties to collect the data.
The data set — the only one of its kind being produced at the time — garnered more than 340,000 hits.
"It's really intense to go through 50 state health departments and find information county by county," master's student Jackson Hicks said. "Doing that, you realize how frustrating it is because some states are really great about updating, but with some other states, you want to pull your hair out."
The students' help was vital to the project, Riepenhoff said.
"We couldn't have done this without them — there's no doubt," she said. "It was a lot of work day after day for about 10 days or so, but they never complained. They jumped right in to do the work."
Johns Hopkins University began collecting county-level data at the end of March. Gray decided at that point to begin using that data instead of continuing to collect its own in order to free up its reporters and Arnolt Center students to work on other coronavirus-related stories, all available in InvestigateTV's COVID-19 Tracker.
Master's student Lauren Davis collected data on state restrictions related to the pandemic. She said the experience of working on these stories is invaluable.
"Never in a million years did I think I could be working with Gray Television on a story like this while I'm also getting my master's degree," she said.
Senior Joy Burton collected data on the number of ventilators each state has and how many of them are being used — information many states were unwilling to disclose.
During her research, though, she uncovered a data source that helped clarify these numbers. Buried in a footnote of a scholarly article, she found a 2009 survey by the Department of Health and Human Services that shed some light on the numbers.
"I wanted to do it because I thought it wasn't fair that this information wasn't out there for people," she said. "The numbers are kind of foggy in so many places. You just want something concrete."
It's essential that journalists have the ability to dig deeper into the coronavirus story, Arnolt Center director Kathleen Johnston said.
"Finding an investigative angle out of breaking news events is an important skill to have," she said.
Riepenhoff also emphasized the importance of investigative angles on the pandemic.
"Everything about the coronavirus story is investigative in so many ways," she said. "We were the first ones out there, and we were giving numbers and data that no one else had. That is the core of investigative reporting."