Archivist Josh Bennett preserving school's collections
Joshua Bennett, Media School archivist, the Roy Howard Archive
He sits at a desk talking about the Roy Howard archives. There are also shots of him looking through Roy Howard's photos, letters and documents.
My name is Josh Bennett, and I'm The Media School archivist and media manager. As the archivist, I've managed and processed all the Roy Howard archives. It entails putting them together in series, a series of Roy Howard's life, business records, personal records, and then I'm also digitizing the documents for remote access and I'm also building an electronic finding aid. He was a major figure in the newspaper, but he wasn't just an owner of the newspapers. He was an active journalist throughout his career. I think it'll be a huge thing for scholars, and researchers particularly, just to have that access. The bulk of his items are from the '20s, early 1920s through the early 1960s. As far as how many records are in the Roy Howard, there's thousands if you think of how many emails you send in a day, during that time, that's how many letters people wrote in a day. I love doing it. I feel like this could be the last time that these documents can be touched if, if we do it right. The finding aid, once it's on IU archives online, I think it's going to be a big help, and it's just going to get better and better.
Produced by Sara L. Wise
A scholar from Italy wanted a specific letter that journalist Roy W. Howard wrote almost a hundred years ago. Thanks to the work of Media School archivist Josh Bennett, the researcher had online access to the document within 15 minutes.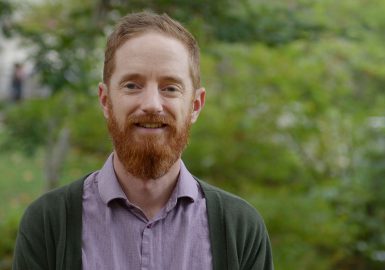 "If you think of how many emails you send in a day—when Howard was a business operator that's how many full letters he was sending," Bennett said of the hundreds of letters newspaper industry innovator Howard wrote and received over his long career.
Bennett's duties range from organizing and cataloging the school's many collections to creating online tools to help scholars pinpoint what they need. The Roy W. Howard archive is one of the most comprehensive and it is the first Bennett is tackling.
Howard was named president of United Press in 1912 and, by 1922, he was leading the Scripps newspapers, where he instituted the practices of investigative and public service journalism.
The archive was founded at Indiana University's journalism program in 1983 by the Scripps Howard Foundation and Howard's children. It includes communications with presidents Herbert Hoover and Dwight D. Eisenhower, as well as editorials and correspondence on Howard's stances on the New Deal and Cold War.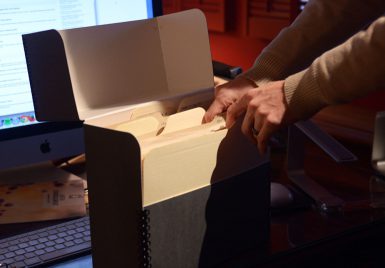 Bennett first saw the archive when he began working in an administrative role with the former School of Journalism's graduate program in 2012. He already was working toward a master's degree in library science, with specialization in archives and records management.
When she learned of his master's work, Director of Special Projects Emily Harrison showed Bennett the Howard archive, stored in Ernie Pyle Hall.
"And I was like, 'Wow, I need to get in there. It needs some work, and I want to do it,'" Bennett recalled.
He noted that the records were safe, but not very well organized. He began working on the archive part-time when his regular duties allowed.
The school saw the value of his work and sent him to three days of training in Boston to learn Encoded Archival Description. Last summer, Bennett changed jobs and became the first Media School full-time archivist, and he also works on other technical services for the school.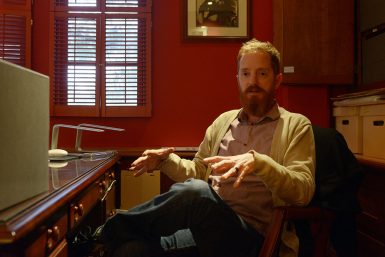 As part of his tasks, he organizes, catalogs and preserves the items in the collections in acid free folders. He then digitizes all of the files by date or in subseries. For example, in the Howard collection, one subseries is Armistice papers.
Last month, Bennett began partnering with Indiana University's Media Digitization and Preservation Initiative. MDPI was created to preserve all of IU's media, from rare recordings to art to print materials, for scholars' and researchers' use as well as to maintain all the university's own history.
Those conducting research, then, may access all kinds of materials through one portal, IU Archives. Archivists create finding aids to help searchers learn more about items and determine where the original items are stored. In many cases, researchers can look at the items online, thus preserving the original from unnecessary handling and exposure to light and the elements.
Bennett's finding aid for the Howard collection just went online. It will help researchers find what they need within a collection, whether it's a box of personal letters or thousands of audio files.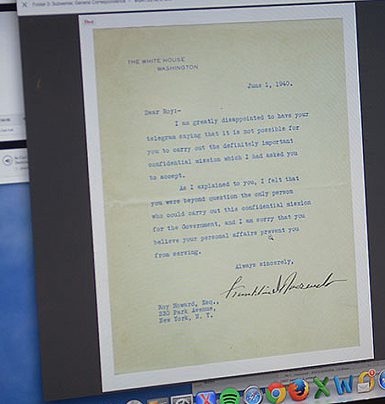 Yet, the Roy Howard Archive finding aid is unique in that researchers can click on links and see the items.
"Not all finding aids have digital links to their files; in fact, most don't,"  Bennett said. Researchers using those finding aids learn the whereabouts of materials and what are included in collections, but they can't see the items online.
Bennett has added links within the Roy Howard finding aid that provide access to a digital scan of the original document. It's a three to four day process to create each file, but Bennett said it is worth it for preservation efforts. The less frequently someone touches a document, the longer the original will last.
Right now, there are several documents available online, with more added nearly daily.  The endeavor requires patience.
"Just making sure I'm doing it right is a challenge," said Bennett, but more important is "to not rush."
Each document must be carefully scanned before it can be labeled and conserved in its online format.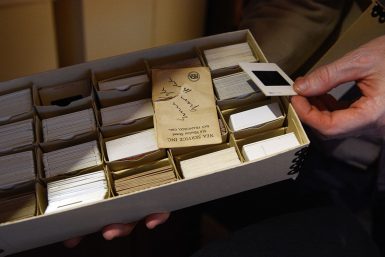 If the Roy Howard Archive was not keeping Bennett busy enough, he has also been helping professors coordinate lecture materials online in anticipation of the school's move to Franklin Hall next year. For example, Bennett has been archiving newscasts for associate professor Mike Conway's classes and preserving home videos for film studies professors.
Other near future projects include helping professors gather their own archives and digitize, archiving some materials at the former Department of Communication and Culture, and, long-range, preserving the Indiana Journalism Hall of Fame collection, which has been housed at the school since 2008.
New tech assistant Mary Needham has been assisting Bennett with some of the scanning, organizing and detailing processes. She said her favorite part about working with the timeworn letters and documents is that they transport her back 100 years.
"You get lost in this time, and you feel like a detective almost," she said. "It's kind of putting history together with what you're reading. It's like a mystery even though you know what happens."