Anders wins Hearst writing championship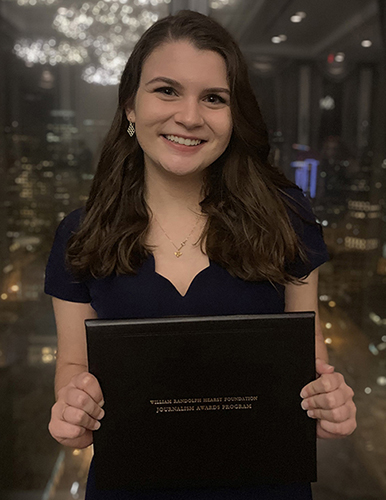 Senior Caroline Anders won this year's Hearst Journalism Awards Program's national writing championship. She will receive an award of $10,000.
"I honestly don't think I've totally processed winning yet. I'm so grateful to have even competed, so this feels surreal," Anders said. "To me, competing in Hearst was an amazing reminder of why I want to do this work."
Anders competed in last year's writing championship as well, and she placed second. This is the seventh time in 10 years that an IU student has won the championship.
"The main thing I really missed from last year was getting to know the other finalists," she said. "It's been so nice to follow the people I met last year and see what they've been up to, so I wish I'd gotten to connect with this year's group in person."
This year's competition took place virtually because of restrictions from the coronavirus pandemic. Anders said reporting her stories entirely remotely was one of the biggest challenges.
Students wrote three stories over the course of the contest: an on-the-spot feature about the effect of COVID-19 on the arts and entertainment industry in their hometowns, a profile of Harris County, Texas, judge Lina Hidalgo and a cover of a press conference with her.
Anders wrote about artists who were using their art to protest George Floyd's death at the hands of a former Minneapolis police officer rather than physically attending protests because of coronavirus concerns.
"When I started looking around for story ideas last week, it felt wrong to me to be working on anything unrelated to the protests," she said. "We're living through such a huge moment, and I wanted to put my energy toward telling those stories."
Junior Matt Cohen was also a finalist, and he will receive a $1,500 award.