Alumni version of Footsteps of Ernie Pyle trip offered this summer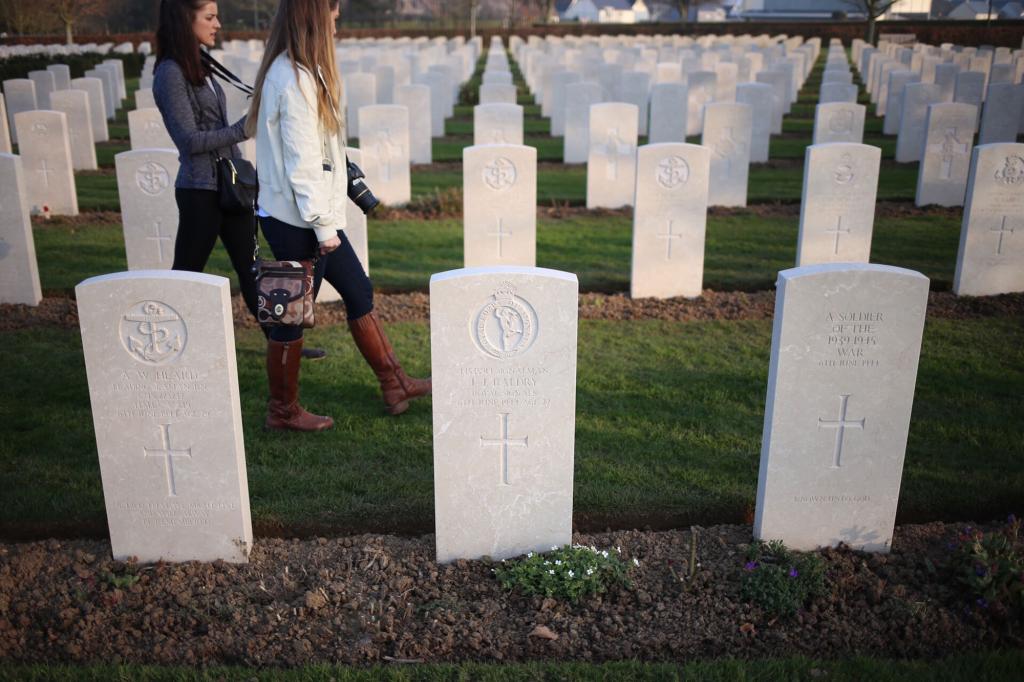 Nearly 200 Media School students have traveled to London, Normandy and Paris to study the work of beloved IU alumnus Ernie Pyle since the then-School of Journalism first offered its travel course, From London to Paris: In the Footsteps of Ernie Pyle, in 2008.
Starting in London where Pyle once reported in the midst of the Blitz, the class field trip next takes students to Normandy and Paris, giving them a snapshot of what Pyle's life as a war correspondent was like and where it took him.
Now, the experience is available to alumni.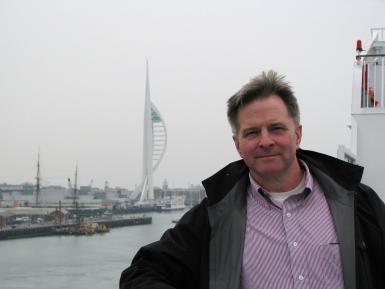 Footsteps of Ernie Pyle is one of three IU Alumni Association trips that will be offered this summer as part of the IU Bicentennial's Grand Expedition, a selection of IUAA, Overseas Study and IU Outdoor Adventures trips based on IU's "summer tramps" from the 1880s and early 1890s. Summer tramps were some of the earliest examples of overseas programs offered by U.S. universities.
Associate professor Mike Conway, who taught the course in spring 2015, will lead the trip, which is June 18-29. He said it will follow a similar model to the Media School course version, with two key additions: excursions to the palace of Versailles and the historic World War I battle site of the Somme. Otherwise, it's still the same trip — a sightseeing excursion rooted in the rich history of one of the greatest human tragedies and an Indiana man who changed the way people understood it.
"It's a chance for the alumni to go see these areas under the idea of Ernie Pyle," Conway said.
The trip isn't tailored to any specific audience, Conway said. He imagines it will have broad appeal because of its historical significance and the fact that it takes expeditioners to London, Paris and Normandy in one go.
Conway hopes the trip can have the same impact on everyone, regardless of familiarity with or interest in Pyle.
"That's sort of my hope," he said. "If they have a little understanding of Pyle or a lot, then we can sort of bring that alive to show the power of his style of reporting."
And no — there will not be any homework.
Plans for an alumni version of Footsteps have been discussed for years, said Bill Bennett, IUAA director of travel.
When Bennett joined the Grand Expedition committee, he was asked to create three IUAA trips. Footsteps seemed like a no-brainer, he said. It would provide a memorable and educational travel experience, and it celebrated one of the university's most noteworthy alums.
The changes to the Media School course version of the trip only serve to further enrich the experience, he said.
"Our alumni travelers are going to get put under the full scope of World War II, in addition to the Ernie Pyle components," Bennett said.
All three IUAA Grand Expedition trips will convene their own overseas Bicentennial celebrations in conjunction with other university travel programs. Footsteps will have its reception in London, while the other two travel groups — one about Paris' jazz scene and the other about art and music in Dresden, Germany — will have theirs in Paris and Berlin, respectively.
IU president Michael McRobbie will attend each bicentennial celebration, said Bennett, which will serve to further celebrate and commemorate this momentous occasion in IU's history.
And of course, the Footsteps of Ernie Pyle voyage only serves to further honor the legacy of Pyle, who came to IU in 1919, left in 1923 with only a semester left and went on to become one of journalism's most beloved and vital storytellers.
"Ernie Pyle had such a deep history with the university," Bennett said. "And what better thing to celebrate than one of IU's great alumni?"