Alumni, students connect at Media Career Day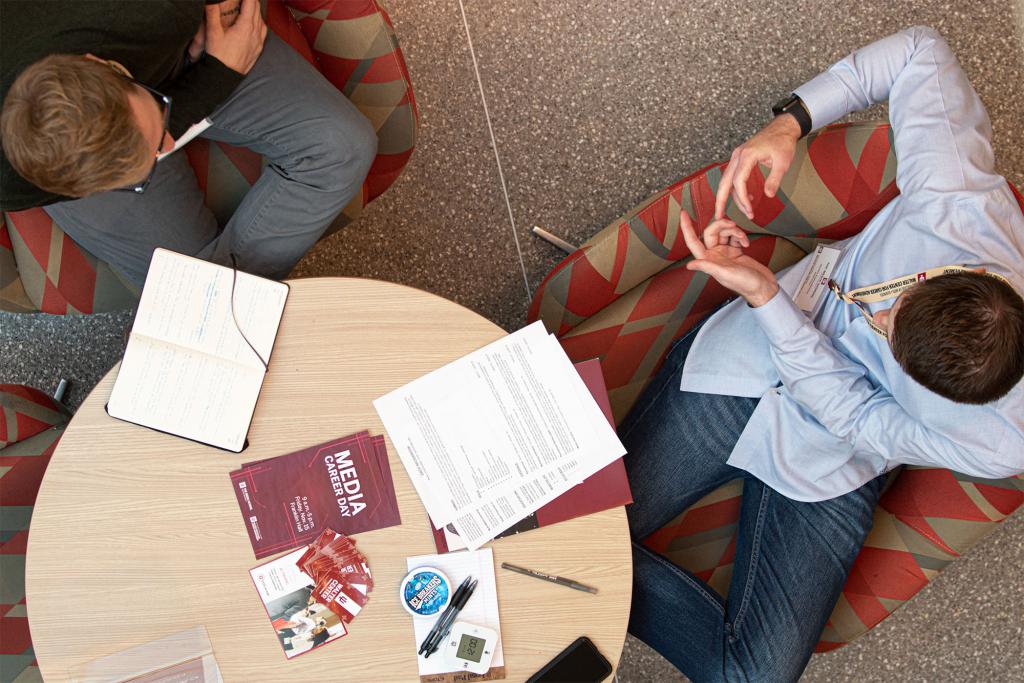 Forty-one media industry professionals, most of them Media School alumni, gave career advice to students as participants in Media Career Day on Friday.
More than 300 students attended the all-day, annual event, which consisted of panel discussions, expert workshops, networking sessions and informational interviews on careers across the industry.
Sports Media
By Chris Forrester
For Alanna Campbell, a feature producer and associate director at CBS sports, the thrill of sports media is in the reality.
Campbell, BAJ'06, spoke to Media School students on the Sports Media panel. Joining her were Bryan Carter, BA'82, a producer for BTN, Fox Sports and CBS Sports; Dan Overleese, BA'79, founder and CEO of Overleese & Associates; and Colleen Sullivan, BAJ'01, coordinating producer for Fox Sports South.
"Part of the draw for me with sports is that it's the truest form of reality television," Campbell said.
Inside the Agency: Advertising
By Kara Williams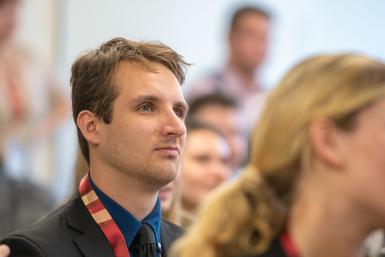 The "Inside the Agency: Advertising" session gave students a glimpse into what working at an advertising agency like Young & Laramore is like.
The panel featured Brad Bobenmoyer, '99, vice president of marketing at Young & Laramore; Carolyn Hadlock, BFA'89, principal and executive creative director at Young & Laramore; and Shannon Quinn, BA'97, media director of EchoPoint Media, a division of Young & Laramore.
Communication Research and Policy on Health, Science, Technology and Climate
By Lydia Gerike
New technology has changed how the public interacts with science, University of Calgary professor Edna Einsiedel, PhD'75, said during a communication research roundtable Friday.
"There is this more realistic picture of how science works in the public sphere," Einsiedel said.
For science journalists, it can sometimes be a challenge to present information in a digital age. They also must deal with technology and learn how to adapt to the changing transmission of information.
Careers in Television
By Austin Faulds
Persistence, adaptability and versatility are a few of the primary characteristics needed for a career in show business, according to the panelists in this session.
They were Paramount Network Television senior vice president Deva Newman, BA'90; "Carpool Karaoke" producer Eric Pankowski, BA'99; "SEAL Team" second assistant director Marla Hudnall, BA'00; animated television producer Katie Krentz, BA'02; and "Tin Man" creator Craig W. Van Sickle, BA'79. Van Sickle was honored later that day with The Media School's Distinguished Alumni Award.
How to Launch a Podcast
By Chris Forrester
Eric Pankowski and Ward Roberts built a hit podcast from the ground up, learning as they went and amassing a lot of love and devotion, too.
Pankowski, BA'99, executive producer and president of JSA Olive Oil; and Roberts, BA'00, an actor, filmmaker and podcaster, met in a screenwriting class at IU.
"Didn't do great," Pankowski said.
Then they starred in a Shakespeare play together. Roberts' wife shut the lights off on Pankowski during a big monologue.
"Didn't do great," Roberts said.
Cinema Academy Expert Workshop
By Austin Faulds
Each student who attended "SEAL Team" second assistant director Marla Hudnall's Q&A workshop's received four documents that mapped out a typical day in Hudnall's work life. They were various schedules for a single day of filming for the 12th episode of season three of the show.
As an assistant director, Hudnall, BA'00, said it is her job to make sure that the set is safe and sufficient, which requires juggling multiple logistics. She has to speak to dozens of people every day, make sure everyone is doing their jobs on time, manage any delays that may occur, be willing to change sets and locations in case of unexpected issues and much more.
This hard work seems to have paid off for her. Her television credits include "Dexter," "GLOW," "CSI: NY" and "Law and Order: LA."
Careers in Gaming
By Austin Faulds
The gaming industry is growing rapidly, but job availability is uncertain. Like many fields in media today, it is just as demanding as it is diverse. These were some of the main points discussed in this session.
The panel included ArtCraft producer Max Lancaster, BS'16; id Software user research analyst and doctoral candidate Jessica Tompkins; Regatta VR technical artist Devin Good, BS'19; and freelance gaming journalist Lauren Morton, BA'14.