Alumni share industry wisdom at Media Career Day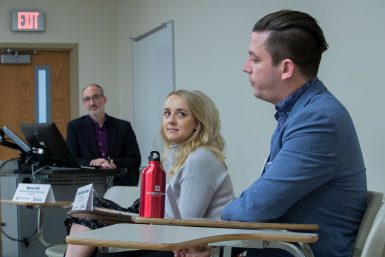 Thirty-two media industry professionals, most of them Media School alumni, gave career advice to students as participants in Media Career Day on Friday.
The all-day, annual event consisted of panel discussions, expert workshops, networking sessions and informational interviews on careers across the industry.
Women in Media
By Daniela Molina
Twelve IU women alumni gathered for coffee and yogurt parfaits to chat with Media School students about their experiences as women pursuing media careers.
"Women understand each other," said Tracy Bielenberg, BA'08, director of talent acquisition at Kelly Scott Madison in Chicago.
She said 60 percent of the executives in her industry — media marketing — are women.
What career advice would you give to Media School students?
Alumni stand in Franklin Hall classrooms giving advice to students about careers.
Jason Brown, video content manager at Cook Medical
So some advice for, you know, applying when you're playing for work, I would always include work samples, whether it's a YouTube link or a Vimeo link or your own website. Always include work samples. That's gonna help whoever's looking at your resume get right to, you know, your capabilities and skill sets.
Jessica Wimsatt, sports reporter/anchor at WFHT WTVW, BAJ'13
Don't be afraid to network. Reach out to everyone that you can. You'd be really surprised to find that just simply talking to people, you know, sending them a quick email introducing yourself, you know, the more that we see people's names, the more that we hear people's names, then when we're going through stacks of resumes of, you know, 50 to 100 resumes, we're gonna recognize — oh wait a minute that girl's name sounds familiar, she reached out to me before.
Phil McLaughlin, TV editor, BA'07
Be just a generous, humble, nice person. You're gonna get most of your work from friends or colleagues that like working with you, so even at the lowest levels if you're just, you know, are actively a good person, that's gonna serve you very well moving forward.
Video by Christina Mercedes
Music: Arc of the Sun by The 126ers
Film Festival Programming
By Chris Forrester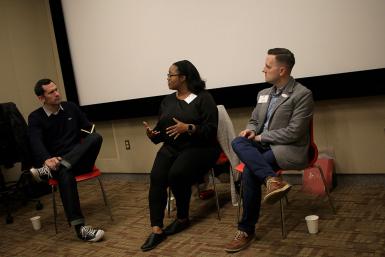 Media School alumni Robin Robinson, BA'07, and Greg Sorvig, BA'06, shared experiences and advice gleaned from their work as film festival coordinators in a panel session moderated by Media School lecturer Craig Erpelding.
Robinson, a programming coordinator at the Nashville Film Festival, encouraged students to take advantage of campus resources and get an early start on filmmaking.
"I think the IU Cinema is awesome," she said. "Whether you want to be filmmakers or work in programming, you need to watch movies."
Careers in Journalism
By Laurel Demkovich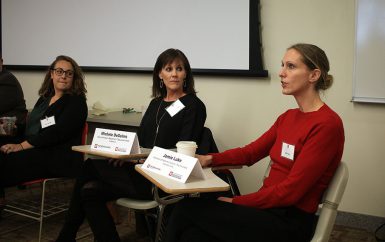 If you don't know what your dream job is yet, that's OK, Katie Mettler, BAJ'14, Washington Post reporter, said Friday. It might not exist yet.
Working hard and being able to pivot and learn new skills can help you eventually reach that new dream job, she added.
Mettler joined Thom Patterson, BA'87, CNN digital senior producer; Michele DeSelms, BA'89, freelance TV host; and Jamie Luke, BAJ'96, director of native content at The Foundry Meredith Corp., on the "Careers in Journalism" panel at Media Career Day.
Video + Production
By Austin Faulds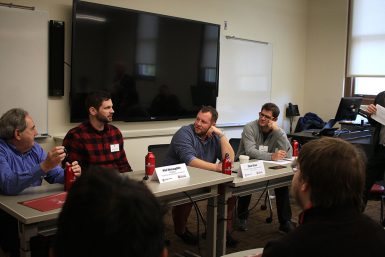 The key message of Media Career Day's "Video + Production" panel was the importance of adaptability in the ever-growing environment of the film and television industry.
The panelists included Jason Brown, manager of video content for Cook Medical; Chad Stum, BA'09, video production assistant director for IU Communications; Eugene Brancolini, assistant clinical professor at Loyola Marymount University; and Phil McLaughlin, BA'07, a TV editor who has worked on series including The Path, Fear the Walking Dead and The Bold Type.
Building a Brand, Building Your Brand
By Kaleigh Howland
Sean Smith and David T. Jones became friends at IU 30 years ago when they both rushed Pi Kappa Alpha. They returned to campus as advertising executives for Media School Career Day to lead the session "Building a Brand, Building Your Brand" for public relations and advertising students.
Smith, BA'95, spent 15 years in radio, ending up at CBS's WRXT in Chicago generating non-traditional revenue, such as collaborating with Miller beer to dye the Chicago River green on St. Patrick's Day. Jones, BA'91, spent those years climbing the ladder at Foote, Cone & Belding, an elite advertising firm in Chicago, to become its creative director.
But after years of working for someone else, they decided to start from scratch and build something new in 2008. That new idea became Third Street Attention Agency.
Visual Communications
By Austin Faulds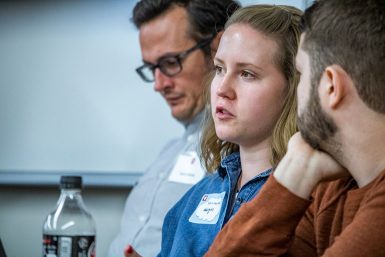 Alumni in photography and digital design careers emphasized the importance of networking in the "Visual Communications" panel.
Emma Grdina, BAJ'14, freelance graphic designer; James Benedict, BAJ'17, Wall Street Journal graphics editor; Matt Callahan, BAJ'13, Washington Post design editor; Zach Dobson, BAJ'04, freelance photographer; and Anna Hyzy, BAJ'17, New York Times design editor; comprised the panel.