Alumni 'film wives' draw on healing process to create poignant stories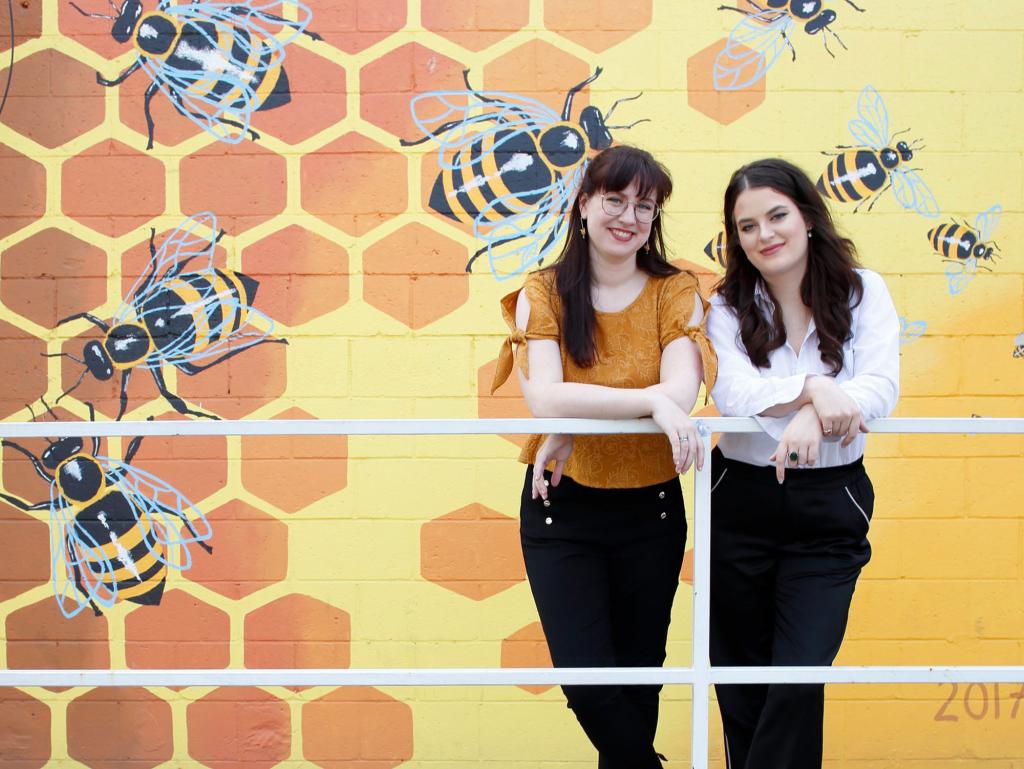 Just over a year ago, Katherine Crump and Riley Dismore, the two halves of Film Wives Productions, were at the Cannes Film Festival to represent their film "Rolling." Written and directed within the span of a week for 2018's Campus Movie Fest, the short tells the story of a woman slowly grappling with a painful realization as she recalls a wild night with her manager. Cannes, the final stop of the competition where only the best regarded entries would make it, had always been a possibility.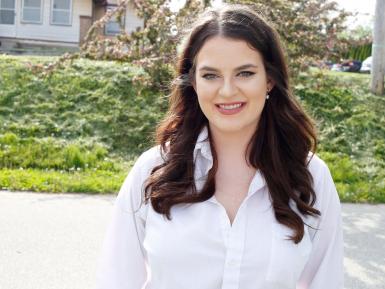 Dismore remembers fantasizing about it from the beginning. They wrote the script for their film on a laptop passed back and forth between them and completed shooting two early mornings before the rink opened for the day. As they spent the rest of the week editing, Dismore was already daydreaming about getting into Cannes, Crump reeling in her fantasies so they could at least finish the movie first.
And then it became a reality.
"It was such a bar that was set for us about what we could achieve if we kept working hard," said Dismore, BA'19.
Beyond that, it was an opportunity to meet other up-and-coming filmmakers, see some of what would go on to be the year's most talked about movies at their world premieres (they saw "Portrait of a Lady on Fire" but missed out on "Parasite") and travel with her best friend.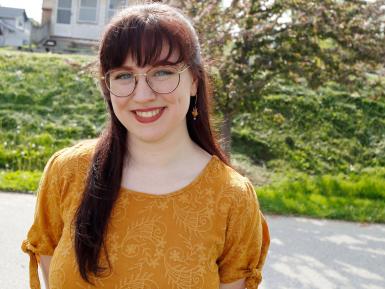 "To be able to not only attend it, but to be able to see our film screen there was definitely a once-in-a-lifetime opportunity," said Crump, BA'18.
"Rolling" was the first film to come from Crump and Dismore's then-budding partnership, which has since yielded a stoner comedy (Dismore's "Rebel Girls," which Crump edited and produced) and an in-progress drama ("Telling the Bees," written and to-be-directed by Crump), founded after the pair met and became fast friends in a Media School film class. Crump and Dismore were prepared to shoot "Telling the Bees," a story of friendship and loss translated from Crump's experience losing a longtime friend in the winter of 2018, in May.
And then the world stopped.
Work while you wait
There's only so much filmmaking you can do when filming itself is out of the question, so as the days and weeks of isolation turn to months and resuming production remains an uncertainty, Crump and Dismore have tried their best to stay busy.
Some of that is pre-production work for "Telling the Bees," along with some writing, as well as promotion for Dismore's stoner comedy "Rebel Girls," which was making its way through the festival circuit when the pandemic hit.
For Dismore, it's also meant plenty of time to work on an in-progress feature script. The as-of-yet untitled work, which will be the pair's first feature-length production, is a horror film inspired by the likes of Ari Aster ("Hereditary," "Midsommar") and Karyn Kusama ("Jennifer's Body," "The Invitation") but based entirely in reality. It's a rape revenge story, Dismore says, but also a slasher in the vein of "Halloween" and a body horror flick.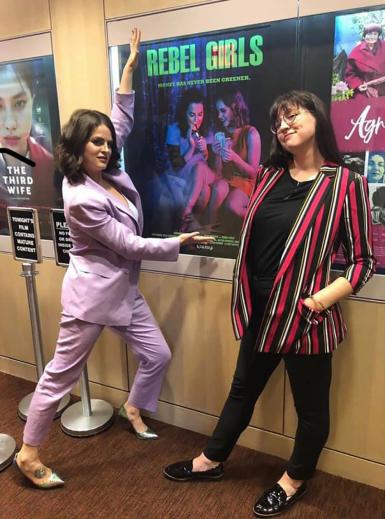 That's kind of her bailiwick. A longtime lover of all things horror, she wrote her senior year thesis about all of the different film adaptations of "I Spit on Your Grave" (there are seven) and horror cinema's dealings with sex, bodies and violence.
As a product of that careful thinking, and also her general horror fanaticism, she's acutely aware of the genre's tropes and language. For her, writing a horror film is not only about channeling lived experience through the lens of a genre movie; it's also about finding balance between wanting to do the genre justice, establish herself as an exciting new voice in horror, tell a story that's strong on its own terms and grow as an artist.
More immediately, they're still ready to shoot "Telling the Bees" once the spread of COVID-19 subsides and the film's multiple soap opera actors (including Crump's aunt, Kristina Wagner) can work out their schedules for production.
Like "Rolling" and Dismore's in-progress horror screenplay, it's another story based on personal experience and healing.
Crump started writing it a month after the passing of her longtime friend and former Media School student, Kat Ratliff, '17. She began with the first scene: a flashback of two girls who've just met playing on a playground, overlaid with dialogue from a phone call telling the main character that her friend has died.
"I didn't even have any intention of finishing it, let alone showing it to anybody, let alone making it," Crump said. "It was just a way to put some of what I was feeling down on paper. I'd never experienced something like this before. I'd never lost someone so young before."
And then she wrote another scene. And another — each scene sort of begetting the next. She'd write a bit and know what had to follow, and as one scene led to the next, a 20-minute film started to take shape.
Dismore was the first person who read it, and she immediately told Crump they needed to make the film.
"It was like something I've never read before," Dismore said. "It was so elegant and effortless. I just can't give her enough credit."
Equally important was the support she received from her parents, also filmmakers, because they had known Ratliff and could appraise the script both as screenwriting and as memory.
"The more people I showed it to, the more people who read it, I started to realize that it wasn't just my story. It was a more universal experience of grief than I realized — the sort of nonlinear, muddled way that we experience our feelings of loss," Crump said.
All about B
Crump met Ratliff in second grade. They went to school together, played together, were Girl Scouts together and ultimately went to IU together.
Theirs was the sort of friendship that never grew apart; they grew up together, and even as their lives changed, they stayed close. They understood each other and spoke each other's languages, Crump said.
"She was the funniest person I've ever known," she said "I loved her so entirely. She knew me better than most people will ever get to know me, I think."
They were both avid readers growing up, and shared a creative interest in the world. In high school, they worked for their school paper together — Ratliff as a photographer and Crump as a writer — and they entered college together as journalism students.
"We shared the whole photography thing," Crump said. "In middle and high school we used to steal my parents' camera and make stupid short films together in my bedroom or out in our backyard."
And they shared a term of endearment for one another: "B." At first it was just the letter, but it grew into a love for bees. And so when she sat down to write about Ratliff after her passing, Crump made her character in "Telling the Bees" a beekeeper.
The name of the film itself alludes to a common practice by beekeepers to tell their bees about significant events in their lives: weddings, the birth of children, their grief. But it's also based on the idea that someone must tell a beekeeper's bees when she has passed.
The filmmaking gene
The short films the pair made as children weren't isolated works. Crump has always been drawn to the camera by a desire to create things. At first, that took the form of silly shorts starring friends and sometimes her brother, and later the more serious film school projects that preceded "Rolling" and her partnership with Dismore.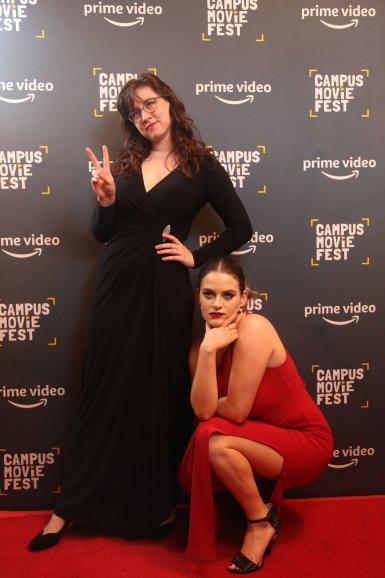 Crump was born into a family of filmmakers. Her dad went to Columbia film school in Chicago. He met her mother, then a lawyer, in Los Angeles while working in the industry. This increased exposure to filmmaking eventually inspired her to become a make-up artist instead. Crump's aunt Kristina starred on "General Hospital" off and on for 30 years.
"It's a big family thing genetically," Crump said. "There was no hope for me to do anything else."
Surrounded by devout appreciators of the cinematic form, Crump learned to love filmmaking and storytelling from a young age. Her family frequented the cinema and would spend an hour afterward unpacking what they'd seen — how it moved them, where it worked, where it didn't. It never felt like analysis or hard work; just the thing you did when you loved something and shared that love with the people around you.
Somewhere along the way, Crump followed that love of stories toward the pursuit of a career in journalism. She was editor-in-chief and arts/entertainment editor of her high school paper simultaneously, and she assigned herself countless movie reviews. She entered IU as a journalism major.
It didn't take long for her to realize filmmaking was simply her calling.
"After a year, I realized the whole filmmaking bug wasn't something that was going to go away," she said.
So Crump changed her major to media with a concentration in cinema and media arts — studies and production, and made what she considers her first formal works as a filmmaker.
Dismore, who grew up around the corner from Crump in Fishers, got her start as a filmmaker in much the same way: playing pretend and making home movies with her sister. And like Crump, it took a sharp left turn from the undergraduate career she planned for herself to end up in the same filmmaking class in spring 2015.
An avid artist, with boundless ambitions and a desire to learn, Dismore started college at the School of the Art Institute of Chicago to pursue painting. Her body of work — richly colored, hyper-saturated portraits of the female form (one of which features in the opening sequence of "Rebel Girls") — emphasizes a sharp aesthetic precision and mastery of craft.
But she found the school too small and her ambitions too big; there was more she wanted to learn than an art school could provide, more she wanted to do than paint and make installations.
So like Crump, she shifted her path and found fulfillment in filmmaking.
"This is what I was supposed to be doing the whole time," she said.
It was everything she could possibly be interested in at once: storytelling, art, theater, the chance to craft a world and present it onscreen and the opportunity to tell stories about anyone and anything she could imagine.
"Art direction was really the hook for me — that you can design the sets, the costumes, the whole look of the movie," she said. "This is me. This is what I love."
The film wives' courtship
In their first class together, they both tried to keep their heads down and make good work. Intimidated by the oppressiveness of such a male-dominated field but mutually impressed with each other's work, Crump and Dismore formed a friendship born in part from solidarity.
Dismore admired Crump's composure during critiques.
"She was probably the most experienced filmmaker in our class," Dismore said. "She was very kind but very firm in how she stood up for herself and made space for herself in the classroom."
Crump said she was able to hold herself that way because she always felt Dismore had her back.
And when they worked together on a final project — a film about a young woman who sees herself as the protagonist of a musical no one else knows she's in — they realized the full potential of their partnership.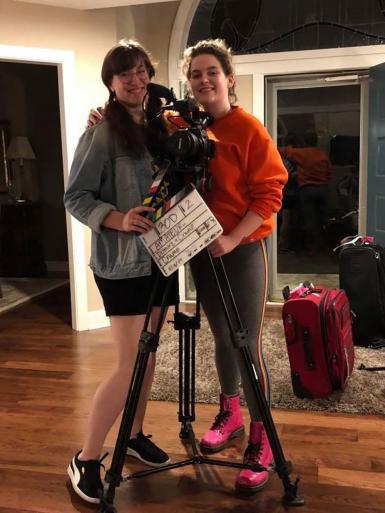 "We started to realize that there's something about this partnership that just works," Crump said. "We clicked both as filmmakers and as artists and as people, as just friends in the world."
Dismore recalls working with Crump on a 20-minute documentary in her third year of school, about students who'd been home-schooled in high school adapting to life at a Big Ten university, when she realized how well the pair clicked as filmmakers. They ran sets in a similar way, and through the experience of working through the ins and outs of a production, came to see that their approaches to various parts of the process complemented one another.
"The thing about being a woman or nonbinary person on a film set, in my experience, is that everything is calmer," Dismore said. "There are less egos in the room, you listen to each other and you get to feel creative and like your ideas are being heard."
Crump, an experienced technician and commendable storyteller, thinks visually in terms of cameras and shot compositions, while Dismore, drawing from her knowledge as a visual artist, thinks in terms of colors and costumes — an important stylistic marriage that gives their films an exciting technical and aesthetic strength.
That shared fluency is immediately apparent in "Rolling," which makes dazzling use of cameras and colors in one standout sequence, but also commands narrative form in a powerful way. Based on Dismore's own experience with sexual assault, the film follows a woman — Billie — as she comes to terms with a painful experience. But even as she repeats others' words, it's her voice that narrates the entire film: Her words tell its story, her emotions reveal its pain, her vulnerability renders a specific experience solemnly universal.
Crump and Dismore have both worked from their own pain in collaborative projects — "Telling the Bees" for Crump, and "Rolling" and the as-of-yet-untitled feature script for Dismore. For them, it's a form of activism: sharing personal stories because they understand the degrees to which even their most deeply personal facets might also be universal. But it's also a sort of compulsion to write from what they know, Dismore said.
"These stories sort of come out for us like sneezes," she said.
Following "Rolling," the pair made "Rebel Girls," an ode to friendship that's part stoner comedy, part nighttime odyssey as a pair of roommates quest through a never-ending series of misfortunes to pay their rent and avoid eviction the next day. It's a rollicking, spirited solo directorial debut for Dismore (who wrote and directed it), and a promising entry in a genre that often amounts to little more than men telling defecation jokes and taking bong rips.
Dismore worked on much of the film without her usual collaborator, Crump, because it was shot at the beginning of 2019 as Crump was still grieving in the immediate aftermath of Ratliff's passing.
Both had the same takeaway: a greater appreciation for their partnership and a desire to work together on anything else they might make.
Crump, who had initially planned to shoot the film (as she'd done with "Rolling") served as producer and editor. And despite only being able to be on set a handful of times, she worked on the film all throughout its post-production and festival submission process.
"It's always fun to sift through someone else's footage and see what they accomplished and get to make a movie out of it," she said.
The flawed heroine
Dismore remembers getting into Cannes as an assurance that they could achieve anything they wanted if they worked hard and remained themselves: honest, confident storytellers who weren't afraid to break the rules.
She thinks "Telling the Bees" might make it to Cannes, too. But most of all, she hopes her films with Crump can be an assurance to women and nonbinary storytellers that their work can be, and can be appreciated as, anything they want it to be.
"I want them to know that you can write your own story and people can relate to it," Dismore said. "Your story matters and deserves to be heard in the way that you want to tell it. You can be in the driver's seat and control the creative aspects of it. You can make femme characters funny; you can make them gross; you can make them have any kind of body you want and they can still be the heroine. You don't need to have one type of heroine. People can be flawed. Women can be flawed."