From Kyiv, alumna talks about conditions in Ukraine
As the world turns its attention to Ukraine, Media School students spoke with an alumna who lives in Kyiv. Olesia (Oleshko) Markovic, MA'08, joined Dr. Mike Conway's Broadcast Media Analysis class via Zoom to talk about what she and her family are experiencing in the first hours of Russia's invasion.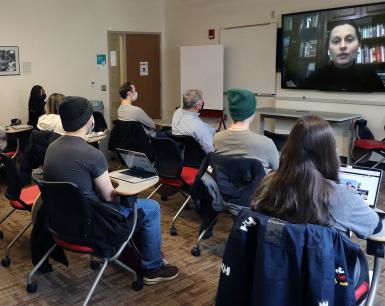 Markovic told the students they have been hearing military aircraft and shelling on a military base outside Kyiv. It brought the gravity of the moment to Ukrainians. She said the government didn't seem to have taken the threat seriously until recently, even though it was being reported late last year by western media.
"We learned about this threat from Western media," Markovic said.
She wrote a piece this morning for CNN, saying it is "now virtually impossible to get out of Kyiv by car, due to congestion on the roads."
Their young son has been home from school today, she said. They are shielding him from what's happening. He's watching "Ironman" and playing video games.
"We will probably go to bed dressed. We have everything packed, including cat carriers," Markovic said, noting the family has identified nearby bomb shelters for refugee in case of shelling near their home.
While she and her husband try to plan, Markovic, who is now a researcher at Ukraine's National University of Kyiv-Mohyla Academy, said there is no real way to prepare for being in the middle of a war.
She told the students that Ukraine needs financial and humanitarian aid, and that the world needs to put pressure on Vladimir Putin to resolve the crisis.