Alumna Chitrapu discusses gender in Hindi cinema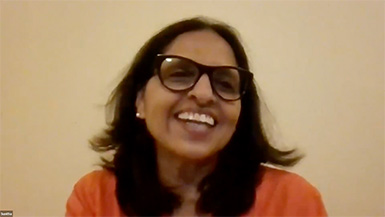 Independent media researcher Sunitha Chitrapu, PhD'08, presented "Gender in Hindi Cinema: Onscreen, Off-Screen & Elsewhere in the Industrial Ecosystem" for The Media School's Faculty First Friday series on Sept. 1.
As a media researcher, Chitrapu focuses on the political economy of media, the economics of the international media trade, policy issues, and Indian language media markets and modernities. She is also a visiting communications research faculty member in the Social Communications Media Department at Sophia Polytechnic in Mumbai, India.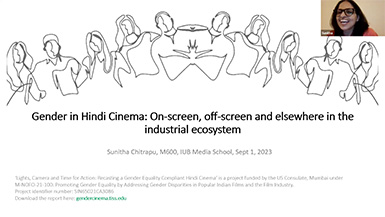 Chitrapu's lecture surrounded a report funded by the U.S. Consulate in Mumbai, India, that she was involved with titled "Lights, Camera, and Time for Action: Recasting Gender Equality Compliant Hindi Cinema." The report, conducted by the School of Media and Cultural Studies at the Tata Institute of Social Sciences in Mumbai, involved a content analysis of 1,930 speaking and named characters from 35 Hindi films, including the top 25 box office grossers of 2019 and 10 "women-centric" films from 2012-2019.
"Our report was primarily an advocacy report. This was what the U.S. Consulate wanted to say to Bollywood and to everybody else associated with it," Chitrapu said. "And so, we have a large section where we've asked for better implementation of POSH frameworks." The Indian government introduced the Prevention of Sexual Harassment (POSH) Act in 2013.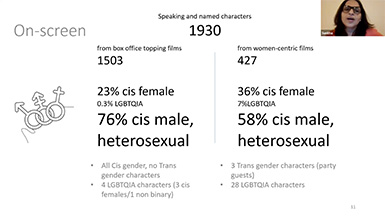 The research team explored gender in three parts of the Hindi film industry: on-screen, film crews, and elsewhere in the film ecosystem, such as award winnings and film school graduates. The report found that men significantly outnumbered women on-screen, both in "women-centric" films and in box office films. The on-screen female work participation rate of the top box office grossers was 42%, which exceeds India's national female work participation statistic of 29%. There was a caveat to this.
"Men's work is what we called MCPP jobs: they were military, crime, police, politicians. Women's jobs were anything that involves care of some kind," Chitrapu said. "In women-oriented films, we found that work was very different. There were some of those same tropes, but there were additional jobs as well."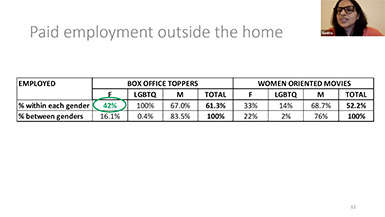 Chitrapu expressed that the data collected in the report could be the foundation for future studies seeking to dive deeper into gender in Hindi cinema. She also mentioned that the team conducted three qualitative studies in the form of interviews with directors and writers as well as fan responses online.
"When our team spoke with women directors and writers, their number one demand was just toilets – there are no toilets on set for women," Chitrapu said.
Once the team publishes journal articles about their research, they will release the data from the report to the public for future use. Currently, the digital report can be found on the School of Media and Cultural Studies at TISS's website, Gender In Cinema.
"As a student, I used to find it really frustrating that you can't play with real data, and I think that unless you can mess around with real data and see how messy it is, it's no fun at all," Chitrapu said.
Chitrapu's lecture was co-sponsored by the India Gateway and Dhar India Studies Program, which support IU faculty research and student-focused activities in India. These programs offer study abroad opportunities, cultural events, training in Indic languages, and lectures.
The Faculty First Fridays series invites experts to present their research and interests and host conversations with students and faculty.