Allison receives Graduate Pathways Fellowship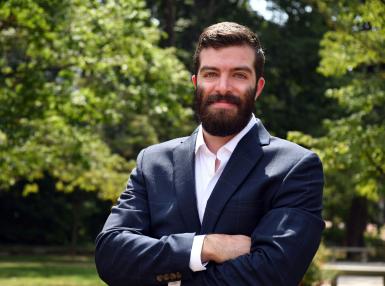 Media School doctoral candidate Caleb Allison recently received the Graduate Pathways Fellowship for the 2023-24 academic year. The fellowship, funded by the College of Arts and Sciences and the University Graduate School, aims to support doctoral candidates exploring non-academic career opportunities through an internship.
Allison was awarded $14,320 plus health insurance and will be working at the IU Libraries Moving Image Archive. With a professional interest in film and media preservation, his work will support his scholarly focus on moving image archives and restoration practices, as well as cinephilia, home video, taste politics, film exhibition and spectatorship, and film history.
Allison is an award-winning independent filmmaker who specializes in small gauge formats. He was previously the recipient of the 2021 Jorgensen IU Libraries Moving Image Archive Fellowship. Several of his films, like "StalkHer" and "Starlite Gazing," have received awards at the Montage Film Festival in Bloomington in the past.