Albright, Hadley: Foreign policy advancements must begin at home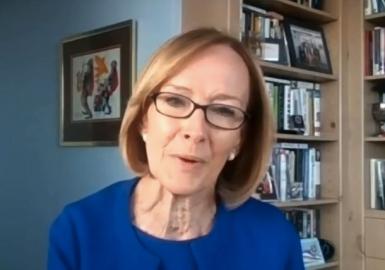 The task of stabilizing America's fluctuating role in the world begins with addressing issues at home, said former National Security Advisor Stephen Hadley and former U.S. Secretary of State Madeleine Albright in a panel discussion Wednesday moderated by PBS "NewsHour" managing editor Judy Woodruff.
"The link between the domestic and the international is closer now than it's ever been," Hadley said. "And we need to address both aspects of the problem."
The discussion, "The Big Foreign Policy Challenges Facing the American Administration," was part of the Hamilton Lugar School of Global and International Studies' sixth annual America's Role in the World Conference. The Media School co-sponsored the panel as part of its fall Speaker Series.
The virtual, nonpartisan conference focused on the presidential transition and paid tribute to Rep. Lee H. Hamilton, a distinguished scholar in IU's Hamilton Lugar School of Global and International Studies. At the beginning of the panel discussion, HLS dean Lee Feinstein presented Woodruff with the Lee H. Hamilton Public Service Fellowship.
With his "America First" approach to foreign policy, President Donald Trump has pulled the U.S. out of many international alliances, including UNESCO, the Trans-Pacific Partnership and the Paris Climate Accord. That will change Jan. 20, Albright said.
But first, Hadley said, the U.S. must restore trust among Americans who voted Trump into office, in part because they felt victimized by globalization and believed America's role in the world was "all cost and no benefit." That means getting the economy back on track and solving other social problems to show American politics can work for the people.
Both panelists identified the U.S.'s rocky relationship with China as the greatest challenge the Biden administration will face.
"We've never faced a competitor like China, that is not just a military competitor but overwhelmingly an economic competitor," Hadley said. "We have never faced anything like that."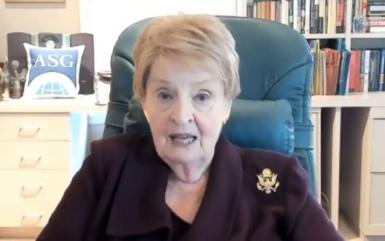 China is an adversary and a competitor, Albright said, but the U.S. must find a way to cooperate with the country on global issues. But it must do so while still shining light on its human right issues, such as the mass detention of Uyghurs.
"We can't do climate change without cooperation with the Chinese," she said. "We are going to have to work with them on how not to have another pandemic like this and on nuclear proliferation and on any other number of issues."
Russia is an entirely different problem, they both said. Albright said the country is undermining democracy in the U.S. and Europe.
With his friendly relationship with Vladimir Putin, Trump has thwarted what Hadley described as a longstanding approach to adversarial relationships.
"Our formula for dealing with adversaries is actually quite simple: Cooperate where your interests are common, stand up for your values and principles where you disagree, and manage those differences so it doesn't lead to confrontation and war," he said, adding that it's time for the U.S. to return to the old formula.
Albright and Hadley expressed optimism for the Middle East, but added that there's still a lot to address, including the Iran nuclear deal, the relationship between Israel and Palestine, and Saudi Arabia's Crown Prince Mohammed bin Salman — particularly his role in the murder of Washington Post journalist Jamal Khashoggi.
On climate change, rejoining the Paris Climate Accord is a key diplomacy issue at hand. Once again, though, Hadley said the U.S. must start with its domestic policies.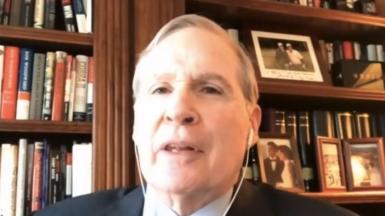 "We don't have a consensus here at home about what we should be doing about climate change," he said.
President-elect Joe Biden has announced his choice for secretary of state and his choice for national security advisor and others on his team. Both Albright and Hadley said Biden's picks will help restore the U.S.'s position in global leadership.
"I think we are going to be dealing with every conceivable issue," Albright said. "And I do think that we need to discuss how in fact this new administration is going to deal with an awful lot of technological innovations, how public diplomacy works and what the role of information is, and how generally, we are in a new era."
A video of the discussion is available to stream on Facebook.