'A shroud of secrecy followed': Alumnus field supervisor for new Borat movie talks about covert filmmaking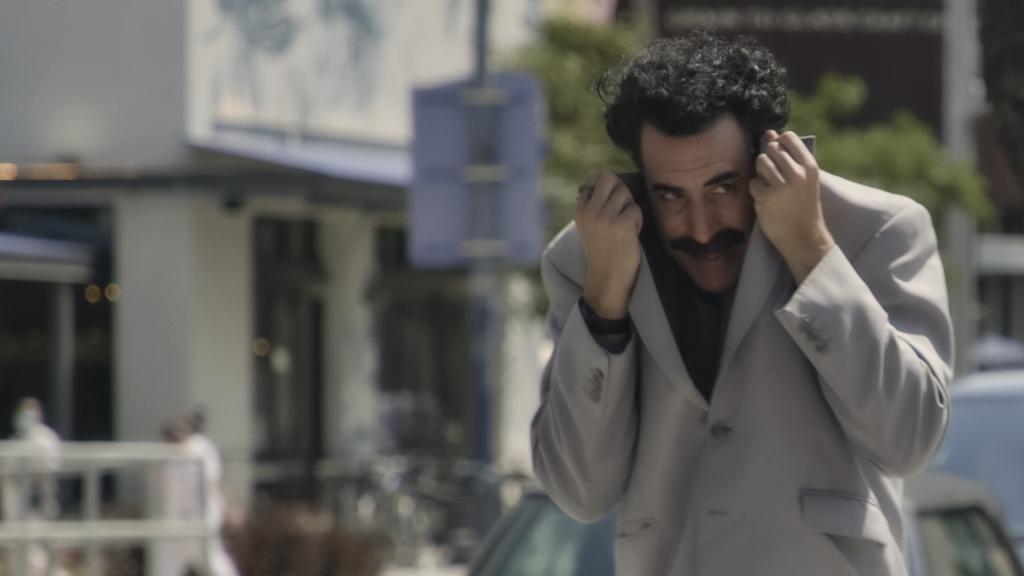 Only a small inner circle knew 2020 would see the return of Borat.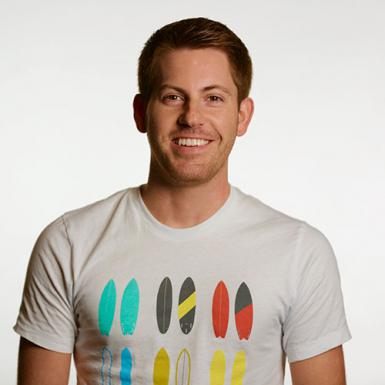 Introduced to the world in 2006's "Borat: Cultural Learnings of America for Make Benefit Glorious Nation of Kazakhstan," the Sacha Baron Cohen character returned to the screen last week in "Borat: Subsequent Moviefilm." Austin Francalancia, BA'09 — whose past credits include production work on "Chef," "Spotlight," "Nightcrawler" and "The Dark Knight Rises" — worked on the film as a field supervisor. He shared some of his experiences and impressions from behind the scenes.
Can you start off with a quick explanation of what your job as a field supervisor is and what kind of work it entails?
I was a field supervisor for this film — that usually entails either segments or overseeing things in the field going on for production. The same thing that a producer would do — make sure that everyone is safe and sound, if there are any releases that need to be signed, if there is an idea or anything that can be developed into something beneficial for the production.
For a documentary series or a reality series, it's usually called a field producer, where someone comes out and oversees everything that's going on.
Sacha Baron Cohen said in 2007 that he had retired the Borat character — why bring him back now?
Well, I don't know! That's a question for him. I do know in 2018 there was a bit on Kimmel with the character. I believe that went well, and maybe that sparked some ideas about coming back.
I wish I had some involvement in that, but I didn't. I was put up for the position by a friend that could not work on it, and a shroud of secrecy followed with that.
What was it like working on a Sacha Baron Cohen project?
He, in my minimal amount of interaction with him, is brilliant. He's wonderful and has the best intentions of not only his cast and crew, but society as a whole. He tries to find satire within the darkest of times, and I feel like we are kind of in that right now.
Look at the phenomenal effort by Amazon to get this out there, but I feel like so many people are tuning in because they need that mental break, they need that laugh, they need to kind of enjoy themselves again. That's something that he really wants to do for everybody. If I ever had the opportunity to work with him again, I 100% would.
Production on the film started in late 2019, but filming continued through the summer of 2020 — what was it like working on a film in the midst of the pandemic?
I can only speak on myself personally. I don't know what was kind of behind the scenes in terms of them trying to figure out the insurance of it all and getting all of the proper information and health care stuff on set.
I didn't do anything in person for months into the pandemic. But with anything, going into the store or whatever, you've gotta have a mask on, social distancing, a lot of testing for people on set, or even if you weren't on set, just to make sure that everyone is safe during the production.
There wasn't a lot publicized about the film aside from speculation that Cohen was up to something until it was announced this year. Was the aim for production to be pretty hush hush and if so, what was it like trying to pull that off?
Even with "Who is America?" they released a trailer and then a month later the first episode was out. I think you don't really need to hype up something of this caliber to really have a real bang of a release.
I don't think there was ever a need or a want to release a trailer a year out like most movies do.
A lot of Sacha Baron Cohen's comedy involves him going undercover to illicit strange or controversial responses from people unaware of what's going on. What is it like working on a film where parts of the production involve that?
I can't answer any of that, unfortunately. But I can say in the past I've worked on super top-secret movies. I worked on "Inception" and "The Dark Knight Rises," where you can't even tell anyone what you're doing. I've had to turn down jobs, and even when these are friends of mine (they) have asked, like "You're not doing anything. What's going on?" It's really tough to kind of explain yourself.
That's been kind of my life for the past year and a half. I can't really get into huge details, otherwise people would do it. It's his mixture of brilliance and everything else that is tossed in there that enables him to pull off this sort of thing.
Were there any differences in this specific brand of secrecy as opposed to other top-secret projects?
Those movies were such massive productions that people knew something big was being filmed. We shut down five city blocks in Pittsburgh for "The Dark Knight Rises" and there was a big announcement that the film was going to be there. This was like, absolutely no one knew until this summer. It took at least a year to get out that there is something in the works, but no one knew what it was.
I've never been a part of something like that; even if I wanted to talk about it, no one would believe me because there is no paper trail of any kind. It's pretty wild.
Were there any sequences that were especially challenging to pull off?
With everything, my priority is always safety. If you've seen the film, there are some pretty compromising things that we did. You really have to be aware of everyone's safety. If the production team has this brilliant idea for this massive stunt, sometimes people like myself have to scale it back so that we make sure that Sacha or Maria or someone else is safe throughout the entire process. I can't really dive into specific scenes.
Everything that we did had everyone's safety as a priority no matter what. Even if there was a bigger idea that could have ruffled more feathers, we just wanted to make sure that everyone was OK first.
Are there any bits of the film that stand out to you as favorites – or that were most enjoyable to work on?
(The Conservative Political Action Conference) is fun. I was there for a while, for about a week. I think just because we were on this weird verge of the GOP kicking it into high gear for this election, the coronavirus stuff was very real and hard to ignore that there were multiple cases in the U.S. Our mindset of "maybe we will not be shaking hands with people on this trip," that shift in our mindset and all these added levels of health and safety, were reaching a peak. That was such a massive event, where people worldwide attend: journalists, or people that are fans of specific GOP people.
Can you speak at all on the Rudy Giuliani incident?
I cannot.
Are there plans for more Borat?
I do not think there is any more planned for Sacha. I think he is just enjoying this for right now. I'm not on his development team or anything, so he could be concocting another project. He does everything from "Trial of the Chicago 7," which he is getting Oscar buzz for, and I'm sure he has other projects.
For myself, the majority of my stuff is drama, based-on-true-stories stuff. I have a drama based on a book by Harold Schechter about Belle Gunness called "Hell's Princess," who was a serial killer in Indiana. That has a script already by the writer of "Black Mass," the Johnny Depp film, so we're looking into filmmakers right now. I'm also doing something on Ethel Rosenberg, who was a Cold War spy during the '40s and '50s. That will be a miniseries. We have a director for that who I can't announce just yet, but he won a couple Emmys for his last miniseries a couple years ago.
Everything else is just kind of in development and taking a little mini break after the last project, trying to enjoy myself over the holidays especially over the holidays as the industry is figuring out how to move forward.
Anything else you want to say about the film?
Like the closing message of the film states — 'NOW VOTE' — it's more important than ever to use our voice for the greater good of our democracy and to go vote.