Sydney Parrish bank commercial team includes Media School student, instructor
If you're a fan of the Indiana men's or women's basketball teams, you may have seen an Owen County State Bank TV commercial air during the games. It features Indiana University women's basketball guard Sydney Parrish strolling through Owen County high-fiving kids, playing basketball, and using an ATM.
That 30-second commercial, released in November, was put together by a team including members of The Media School.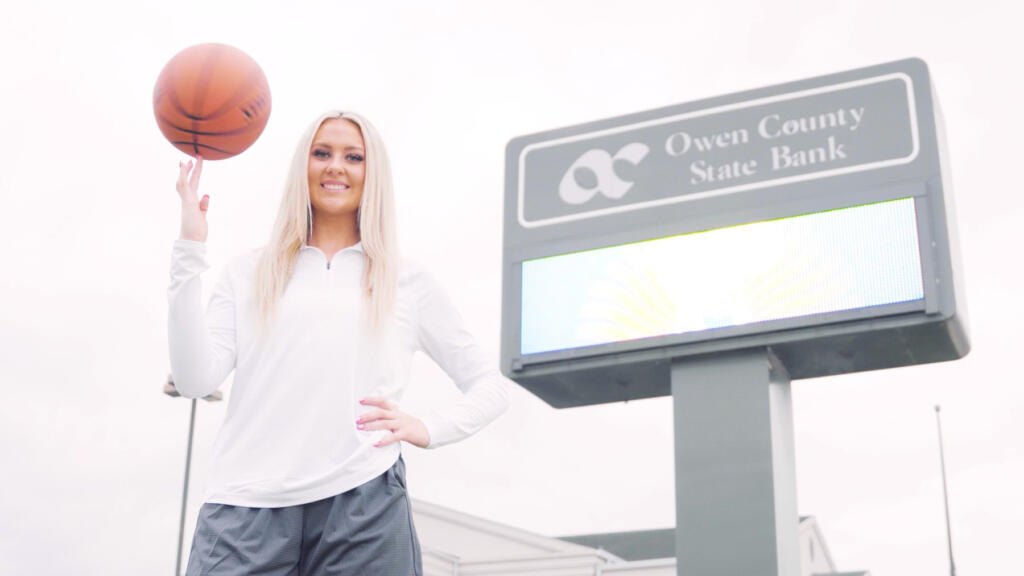 Kelly King is the founder and president of 80/20 Agency and full-time lecturer at IU's Kelley School of Business. Last summer, Owen County State Bank approached King's agency about producing an ad with IU basketball players for the second straight season. In the 2021-22 season, the agency produced a commercial featuring Race Thompson and Rob Phinisee, two players on the men's team. This season, Parrish was selected to do an ad for the bank.
Those who follow college sports know that student-athletes have only been afforded these opportunities for less than two years. For most of the National Collegiate Athletic Association's history, athletes were unable to profit from their name, image, and likeness. In July 2021, that policy was revoked, which opened a new avenue for young adults competing in college athletics.
"[Athletes] have an opportunity to use their personal brand equity because they're known entities," King said. "They have an audience, and it gives them the opportunity to be spokespeople and get compensated for it."
Along with operating her agency, King taught in The Media School from 2017 to the conclusion of the last academic year. When Owen County State Bank requested assistance on another commercial, King asked fellow Media School professor Austin Francalancia to produce the project alongside her. Francalancia, BA'09, jumped at the opportunity to work with a college athlete for the first time.
"I felt a little bit more pressured because I'm a big fan of this change and the ability for college athletes to receive compensation," Francalancia said. "And it's been necessary for such a long time, and I felt a greater pressure [to] make something as best as possible with the budget that we had. It is almost like a responsibility for doing this for future athletes."
Francalancia has worked on advertising for companies like Logitech, Disney, and Timex. He's also worked on an Emmy-nominated production for Hulu. After agreeing to work on the project, King and Francalancia needed a director of photography. Francalancia looked toward Alex Paul, a senior at The Media School.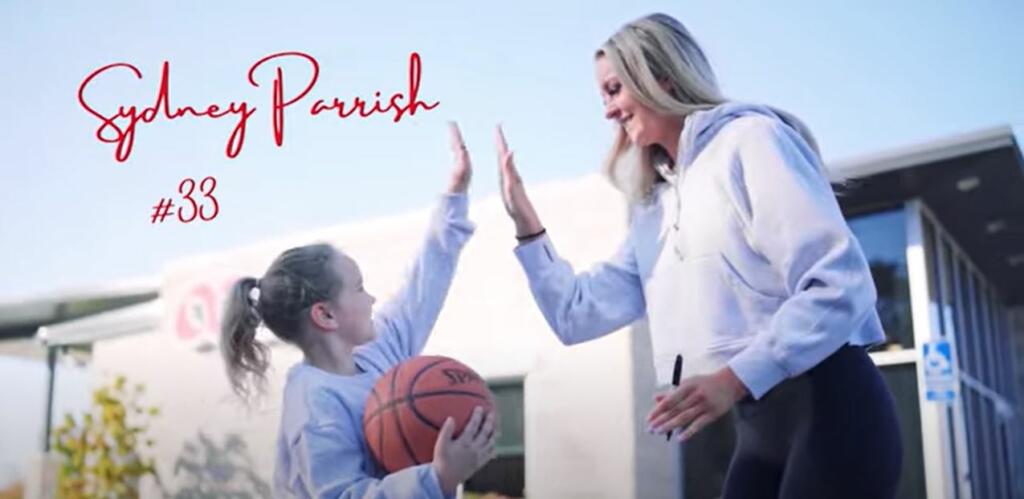 "As soon as Kelly said, 'I need a director as well,' I said, 'Well, let's, let's keep it in the IU system,'" Francalancia explained. "I really wanted to empower a student, and I felt like Alex could have immediately done that."
Paul and Francalancia met last spring when Francalancia was working on a documentary about the Little 500. Paul, a senior at The Media School, was ecstatic about the chance to work on the commercial. He had worked on online advertisements before, but never anything that aired on television.
"This is a cool opportunity for me as a student to be like, 'This piece of media that I'm going to make will be airing on the Big Ten Network' and networks like that," Paul said. "So, I thought that was a pretty awesome opportunity that I never had working on an actual ad spot for television before."
After Parrish's NIL deal with Owen County State Bank was finalized, Paul, Francalancia, and King had a storyboard meeting. They decided on the "back home" theme of the commercial because of Parrish's background.
Parrish, a Fishers, Indiana, native, began her college career at the University of Oregon. Last spring, she transferred to IU after two years at Oregon. The commercial focuses on her transition back to Indiana and how Owen County State Bank can assist anyone on the move.
"Life is full of transitions, and the fact of the matter is those big transitions — like you're moving, or you're going to college, or you're getting married, or you're having a baby — they usually cost a lot of money and you need your bank involved," King said.
Francalancia and Paul went to McCormick's Creek State Park in Spencer, Indiana, after the storyboard meeting. From there, they set up the shots and arranged their vision of the commercial around the park in Owen County. Paul was appreciative of the opportunity to work on a high-quality production.
"It feels more like you're on a bit of a big production shift that you would go do in New York City or Los Angeles, but you're getting that experience right here in Bloomington," Paul said.
Both King and Francalancia wish to continue using freelance students from The Media School in the future. King said she doesn't just look for students to take orders. She enjoys working with students like Paul, who contributed to the creative team during the commercial's production process.
"We have incredible talent here at Indiana University, especially in The Media School, when it comes to media type of projects," King said. "And the best way that the students can learn is by giving them real, hands-on projects like this. So, I encourage others to take advantage of the amazing talent right here in Bloomington on our campus."
Francalancia will also look to use Media School students in his project. He wants to employ students as production assistants, production coordinators, or any other role needed for his professional projects.
"It's life-changing," Francalancia claimed. "To basically be in a classroom for four years talking about things and then actually being on set or a part of a production — whether it's the development side or the post-production side — it could really change the mindset of what a student wants to be."