A Conversation with Nikole Hannah-Jones: The 1619 Project and the importance of investigative journalism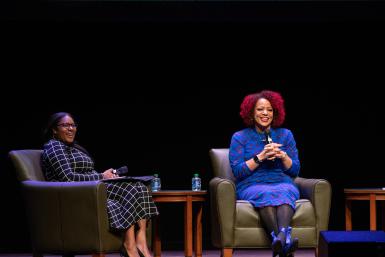 Pulitzer Prize-winning reporter Nikole Hannah-Jones discussed public education, the role of a journalist and her award-winning 1619 Project in a Q&A session for the Lou Mervis Distinguished Lecture series Thursday night on Oct. 20 at the IU Auditorium. The Media School was a co-sponsor of this Union Board and Themester event.
Laurie Frederickson, the Union Board Spirits and Traditions director, and Alex Wiley, the vice president of IU's Black Student Union, introduced Hannah-Jones to the crowd seated throughout the auditorium. She sat down with Q&A moderators to answer questions about her career as a journalist, the topic of resegregation in schools and investigative journalism.
Moderators Gabriella Couloubaritsis, the director of Union Board Lectures, and Adara Donald, a Media School master's student and member of the National Association of Black Journalists, kicked off the Q&A session with a question about Hannah-Jones' work in education.
Hannah-Jones said she started her career as a journalist writing about education in North Carolina. After observing a pattern of inequalities in public schools, Jones focused her reporting on how public education fails to equalize students.
"Few beats are more important than education," she said. "The role of a journalist is to expose, and my role is to not let us ignore what's happening in schools."
As the conversation progressed, Hannah-Jones spoke about how she turned the topic of school resegregation into a reporting beat in 2013 because no other journalists reported on the issue at the time. She said the schools in New York City, where she raises her daughter, are hypersegregated and screen children for intelligence and attendance.
Hannah-Jones went on to intertwine the resegregation of schools with racial inequalities in public education. She expressed that Black Americans have engaged in a centuries-long struggle for education equality.
"Segregated public schools deprive children of the same opportunities," Hannah-Jones said. "This leads to pervasive stereotypes about education and race."
The moderators asked Hannah-Jones about her work as an investigative reporter. Hannah-Jones said the field of investigative reporting is more dominated by white males than any other field of journalism.
"This leads to inconsistencies in the exposure of diverse stories," she said. "And too many reporters are not up to the task of covering what is occurring."
Hannah-Jones said she wants to provide opportunities, training and mentorship to Black and other racially diverse journalists . In her work toward diversifying investigative reporting, she co-founded the Ida B. Wells Society for Investigative Reporting — a training organization dedicated to increasing the amount of investigative reporters of color and demonstrating how diverse voices can impact journalism.
Hannah-Jones now works as a reporter covering racial injustice for The New York Times Magazine. In 2017, she launched the publication's 1619 Project — a collection of essays and long-form articles that discuss American history in the context of slavery and the contributions of Black Americans. The project commemorates the 400th anniversary of slavery.
In her discussion of the 1619 Project, Hannah-Jones said she wanted to represent Black people and write about racial inequalities.
"It is not a work of history but a work of memory," she said. "I want it to feel like taking the red pill in 'The Matrix.'"
As the lecture concluded, Hannah-Jones noted that journalism is important because it causes us to be skeptical about the narratives we're exposed to. She aims to continue diversifying the field of investigative reporting.