6 alumni honored at Distinguished Alumni Awards ceremony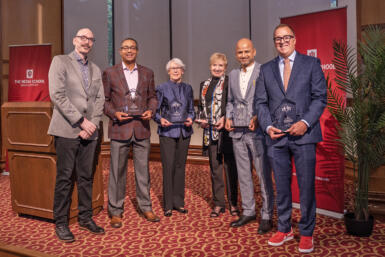 The 12th annual Media School Distinguished Alumni Awards ceremony on Oct. 6 saw six new members join the ranks: Rafat Ali, MA'01; Douglas Freeland, BA'80; Nancy Callaway Fyffe, BA'72; Bob Jenkins, BS'69; Jay Kincaid, BA'82; and Pegie Stark, BFA'75, MA'81, PhD'85.
The recipients gave remarks as they accepted their awards from Media School Dean David Tolchinsky and Media School Alumni Association Board President Brian Talbot, filling Presidents Hall with inspirational stories from their personal and professional journeys.
Ali, founder and CEO of media travel company Skift, said a course he took about alternative media at IU helped guide him through his professional life.
"Don't worry about everything else that's happening around you," Ali said. "Get up. Simplify your life. Create your own space in life."
Freeland, who spent more than two decades working on marketing initiatives for McDonald's USA with a portfolio including the Monopoly at McDonald's promotion, the McDonald's All American Games, and the McDonald's Live concert series, said the honor was the capstone of his career.
Describing himself as a class clown early on in college, Freeland said IU started to shape him for the future and help him get where he is today.
"With the combination of stern glares, tough love, and unwavering support from my parents and the guidance of instructors, I began to shine," Freeland said.
Fyffe, an Emmy Award-winning director and producer, and president of Fyffe Callaway & Associates, was the first woman to direct television in Indianapolis and Kansas City and the first woman to direct primetime news for an ABC-owned station.
She came back to Bloomington in 1998 to work at WTIU-TV and created its news department. She also created the James E. Callaway Senior Scholarship and serves on The Media School's Dean's Advisory Board.
Fyffe's college career commenced a "long and strong" relationship with the university.
"It gave me the humanities," she said. "Because I spent four years also looking at the world. And Indiana University College of Arts and Sciences has some of the best courses, teachers, research, and humanities that I think you could find anywhere."
Jenkins, known as "The Voice of the Indianapolis 500" who spent over 50 years broadcasting on the Indianapolis Motor Speedway's Radio Network, died in 2021. His college friend John Paulson accepted the award on his behalf.
Jenkins attended his first Indianapolis 500 in 1960 and missed only two races between then and his death. He was also one of ESPN's on-air NASCAR reporters from 1979 to 2000 and an announcer for seven Brickyard 400s. He served as the public address announcer and master of ceremonies for many events at the Indianapolis 500.
Paulson described his friend as down-to-earth, unassuming, introspective, and occasionally shy.
"Bob, we miss you. Bob, we love you," Paulson said. "You will always be the voice of the 500."
Kincaid, a 10-time Emmy Award winner and director of CBS Sports Network's coverage of the Super Bowl and NCAA men's basketball tournament, is The Media School's director of facilities and technology. He works and teaches in Franklin Hall Monday through Friday and flies to New York City 30 weeks a year to direct broadcasts. He often uses his role to benefit students by offering them freelance runner spots at the Super Bowl and Final Four.
He grew up on farm seven miles away from IU. A first-generation college student, Kincaid enrolled at IU because it was more appealing than the other options his dad presented to him, such as plumbing and steamfitting.
Kincaid offered his own bit of advice to the conversation.
"Being creative can carry you a very long way," Kincaid said.
Stark, creative director and president of Stark Design, previously worked as the creative director of the Tampa Bay Times' BAY Magazine and has run design training workshops for various organizations, such as the Yale Daily News, the New York Press Association, The Ottawa Citizen, and more. Among many other jobs, she has also been the graphics editor at The Detroit News and graphics director at the Detroit Free Press.
"It takes a community to build a career, that's for sure," Stark said. "And I have had the opportunity to have a very rich community."
Stark said her time at IU helped her discover who she really is — an artist. She said she found passion in teaching design workshops throughout her career and discovered that she loved working with students.
Tolchinsky concluded the evening by summarizing the distinguished alumni's stories into career advice for students.
"It's not a straight line," Tolchinsky said. "You move from interesting thing to interesting thing."