5 games survive annual Shark Tank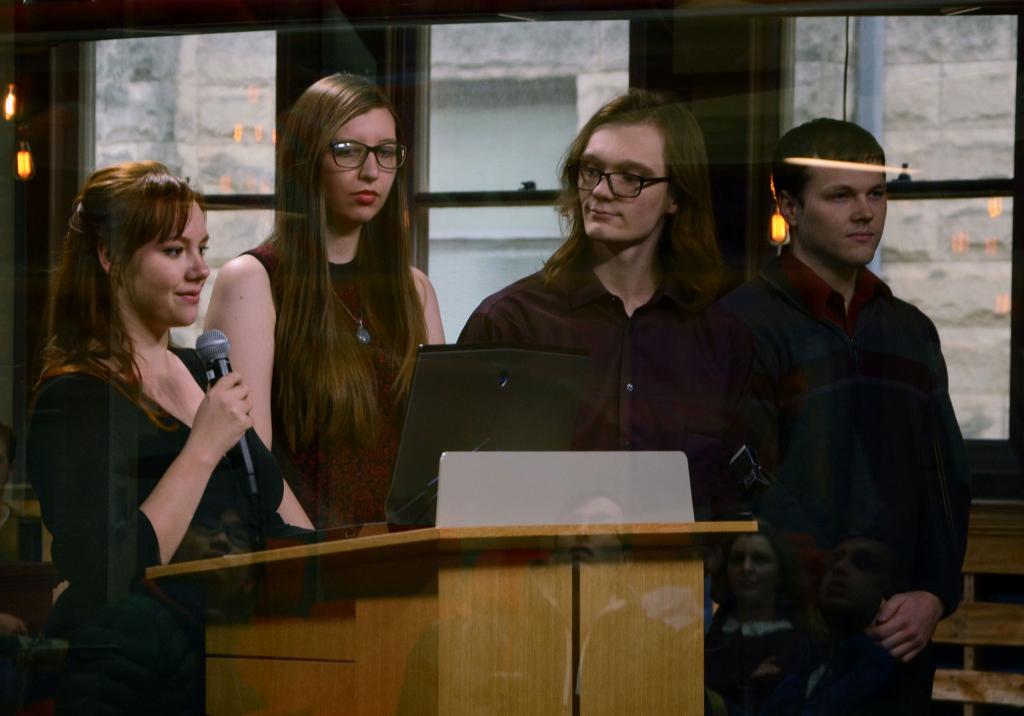 An authoritarian ruler of the world. An earthling accountant captured by aliens to run a trading post in space. A festival-planning, community-building cat.
Five teams of game design students were selected to move forward after introducing these characters, and others, while pitching their games at Shark Tank, The Media School's fifth annual game design pitch competition, Friday. The five selected games are:
"Island Flight Courier"
"Matter of Great Import"
"New World Disorder"
"The Shadows that Linger"
"Woebegone Woods"
Student teams from the Production II and Design II classes shared their game prototypes with a public audience and a panel of industry experts who, with faculty, determined which projects will continue into the development stage. There were about 30 pitches earlier in the semester, said professor of practice Mike Sellers, director of the game design program, and Shark Tank is the final filter before the capstone course of the three-semester workshop.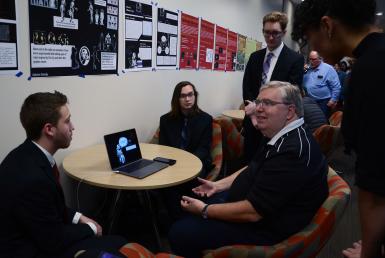 "Pitching an original game is an important part of the game design process," Sellers said. "It acts as something of a crucible for identifying and refining viable game concepts."
Students whose games were not selected will be reassigned to the remaining teams.
This year's industry experts were Ray Holmes, creative director at Babelfish Games; Dave Rohrl, CEO at Mobile Game Doctor; and Paul Stephanouk, senior creative director at King. The panel listened to each pitch, then asked follow-up questions and offered feedback.
The games that will move forward into development are:
Island Flight Courier
Two broadcasters stand in the Franklin Hall commons holding cupcakes decorated with blue frosting and shark fins.
Hello and welcome back to the 2019 game design pitch presentations. We just wanted to show you guys real quick what we have here the gamers after they are introducing their presentations, they are snacking on these little shark-themed cupcakes. There's little shark fins on them. Yup and we have right now "Island Flight Courier" in the studio right now whose about to give their presentation so let's take a look.
Inside the Beckley studio, a team of game design students stand behind a podium ready to pitch their game during the annual Shark Tank event.
Hello, I'm Justin. This is Chris, Zinan and Sarah, and we are "Island Flight Courier." In "Island Flight Courier" you help a storm-ravaged island recover with your plane's grab shot. Grab, pull and transport various resources around the island in order to help the inhabitants and upgrade your plane.
For our unique selling points, we have a relaxing flight experience which isn't in most games. You have a grab shot attached to your plane that lets you shoot an arm out and grab things as you're flying around to pull them and bring them wherever you need. And you have a fully dynamic world, which you can interact with. In this GIF, you can see our grabbed shot firing from the plane to grab the top of this tree. The tree is too heavy, so it can't pull it straight to the plane, and it's just dragging behind you. As you're using the grab shot, when you grab different items, depending on their weight, they will either be pulled up to you or they'll drag like this tree's being dragged into the collection zone.
Thank you Chris. I'll be talking about the core loop.
So as you can see, the core loop is made up of moving items, collecting resources and upgrade. So the move items is primarily about you firing the hook shop from the plane, grabbing the items in which you move that item toward the collection zone and that is where you will collect the resources, and with the resources, you'll be able to upgrade which better allows for a plane to explore the rest of the island.
So like in the progression, in the progression, you can see that you will start at the village by the beach. And this is a village that has been just ravaged by the storm. So you will be collecting wood to help the villages rebuild their village. You will help them gather their cows that have been lost because of the storm. And with that, once you bring them to the collection zone, you will be able to gain upgrades for warm coat, oxygen tank and fog lights which are for colder areas, higher altitude and foggy areas that you might encounter later on when you explore the rest of the island. As you may see in the next slide, you will be able to see how specifically you are in the middle of a mission where you are needing to collect one last cow to finish. To bring to the collection zone to finish the upgrade.
So here in the clip you can see on the top left corner, there is one cow left that you need to grab. And now the plane grabs the cow and in the yellow area you will drop the cow and you will finish the mission.
So one of the games that was our main inspiration for making "Island Flight Courier" was the mini game in Wii Sports Resort "Island Flyover." And in that game, exploration is really the focus. You're supposed to explore all over the island and find different points of interest. So exploration was something we really wanted to run with in our game as well. You'll need to use these upgrades in order to explore so an area that you can't access because you don't have fog lights or the warm coat because it's too cold. Later you will be able to enter those areas and explore them and find new resources that further the systems within the game.
There's also a social aspect where you can place balloons in your world and other players will be able to find them in theirs for a small resource bonus. Maybe a piece of wood or wool that depends on the area. It's just something that we think would be nice. And it'd be a nice little bonus to drive exploration in the world.
And so here on the right as you can see, we've pulled out our upgrade you earlier you saw in the GIF as just an example of what it might look like. You see wool, we've only collected one. So our coat's not very you know it's not very warm. But we've collected 50 wood that we need for our new strength upgrade. So it's actually pretty strong. On the left, you can see an example of how the plane model actually changes when you upgrade your fog lights. At the top there is no light there. And at the bottom there are.
For art, our art direction is directly influenced by games like "Island Flyover" like we just stated from Wii Sports Resort, which is that image in the lower left corner, and from "Pilot Wings." Outside of these games, we really like the art of Andrey Lukashov and Jonathan Beaumier. Their art really achieves what we really want the feel to be of our game. And the low-poly art that we're trying to go for.
For the genre and the target audience, we have a third-person flight exploration game. For the target audience, we have an explorer slash casual gamers and we want to put it on PC.
We've identified three different challenges with this game that we need to work toward. First off is the flight physics themselves. Since we're making this game for casual players, we don't want to have too many complicated variables that the player needs to account for like wind resistance and drag. But we still want to make it interesting and fun to do. Since that's what the player will be doing pretty much the whole game is flying around. We're also having a hard time writing out the systems of the world. So for instance we saw the tree being picked up earlier. And we need to determine how like if we remove all of the trees from the scene then it might be that they take longer for them to grow back or that the forest might be more susceptible to fire since there's less groundcover. And our last challenge is well generating art. None of us are really artists here. So going forward in the future, we need to dedicate some more time to creating the art assets. Most of the ones that you saw in the GIFs were placeholders.
Now do you have any questions?
The team turns to the panel of judges to answer questions.
What is the lose condition?
We're not really planning on there actually being a lose condition seeing as this is for a casual game. Possible example of what might be a lose condition would be crashing into the ground, you know. You might explode in a big fireball, but we don't want that. We just want to appear back up in the sky and keep going with the game play.
So there's no fuel limit. There is no return to base. You just sort of cruise around and do stuff.
So for right now we want the player to be able to fly around forever and not have to make stops and refuel or anything. Really the only issue toward a lose condition where I could see it happening, and this is why we've mentioned dynamic systems, would be like if we plucked all the trees like we mentioned and then they don't grow back or like they don't grow back fast enough and then you don't have wood for who knows how long for the system to build. That's one of our worries right now. We're trying to make the systems works so that you always have something you can do in the game and you're never in a period where you're like waiting for everything to come back together. So you can start working again. That's really the only loss condition we can really think of.
But it's not necessarily like overall game loss condition but like right now I know you're trying to make it casual and exploring, but I'm not feeling where there's any sort of tension that I have to overcome to actually accomplish something in the game to feel like. Like even very casual games have some sort of thing that I'm trying to do properly in order to succeed at the task.
Right.
And so it's not clear to me what that is in this game.
So as we mentioned the island was ravaged by a storm. There are multiple villages that we're planning on adding in different parts of the island. And so your goal would be to go out and help the first one until it's it's able to stand on its own. And then with your new upgrades, find the next one, help it until you've got the systems all together.
But you know just to be clear, right, like you can lose a level at Candy Crush right. It's OK to have limit conditions and loss conditions in a casual game.
Yeah. And so conversely like what is a clear win condition? Do I know what it's going to take to save this particular village before I know to move on to the next village? How does that actually happen?
Currently, it would just be indicated upon what upgrades are available to you and how quickly you can get them. Once you unlock, once you get the resources and find the resources you've needed or that you couldn't find before, then you'll get the next upgrade. And then with that upgrade you'll know, oh, well that area that I know I couldn't go to before is now available. So that would be how the progression and win conditions on each island or each village would kind of be clear.
OK. What's the overall tone you're targeting: humorous, serious, dark, like what's what's the emotional tone of the game?
Definitely a more relaxing, not humorous in any way, but like you're you're trying to explore an interesting island and just be relaxed and interested by the surrounding area and by the narrative that we have, what little we have right now.
So are you looking to establish like vistas of breathtaking beauty? What are the surprises that are going to happen with this exploration?
So one of our brainstorming's for focal points of the island would be perhaps you remember in Wii Sports Resort there was a big volcano in the middle, and what we kind of want to have happen at one point during the game is that we would have a volcano on our island and that volcano could perhaps erupt dramatically and you would have to race against time in order to save one of the villages located by it therefore creating a little bit of tension, or a lot of tension I would imagine.
If you live on the island it's a lot of tension right yeah. I mean like are there things besides the balloons that you're thinking of that could be could be seeded throughout the world that are interesting things to find beyond like basic resources that that the island needs to have for the villages? Things like artifacts or lore?
Yeah we do plan on going including some of that. Another one of the ideas that we had would be a cave that plane could actually fly into. That cave would be filled with different types of structures they would need to explore.
I'm still, I guess it's one of your issues too it's like the controls or the sort of idea of flying a plane and having to grab shot stuff and it being casual seems hard for me. I'm wondering how you're planning to do that. Like what are your ideas for those controls?
Well as of right now, we have the flight being mostly controlled by the mouse. And then the actual left and right turning of the play and just being on the keyboard. And for the the grab shot, you can press a button and it will free the camera around the turn without actually turning the plane and from there you could aim freely without worrying about turning and crashing into the ground.
Alright. Thank you very much. Thank you.
The team walks out of the studio for the post-pitch interview.
Alright and we have our next group heading out right now.
Hi you guys. How are we feeling?
Stressed.
So what did you guys think about that feedback you were getting from the industry professionals?
I think he created a little turbulence. But now after that, we're. Yeah, took about a second to get that. But now I think we've got a good idea of where we need to go and our skies are clearer.
Alright. Oh. Love it. Very cool you guys. Alright. Well, thank you. You guys can go on and we'll head over back into the studio for the next pitch with "Monty." This group's got the jokes.
Take a relaxing flight through a dynamic world in "Island Flight Courier." Players help a storm-ravaged island recover by using the plane's grab-shot to grab, pull and transport island resources to help island inhabitants. Your mission: move items and collect all of the available resources to upgrade your plane, allowing you to better explore the island.
Matter of Great Import
Two broadcasters stand with a team of game design students who are about to pitch a game they created to three judges at the annual Shark Tank event.
And we come back out to our last team of the day. This is "Matter of Great Import." And what are you guys' names?
My name is Cody Bryant. I'm Sam. I'm Cole. I'm CJ.
And if you guys could tell me what is your favorite part about doing this and why do you love to do game design?
I think it's really rewarding to just put in a bunch of work and actually be able to go through what you did and see step-by-step everything that you've done.
It's something I don't really understand at all, so it's like cool to learn about it.
Alright, well good luck you guys. You can go ahead and go on in.
The team walks into the studio where they will pitch their game. They stand behind a podium and talk about their game.
Hello, we are "Matter of Great Import." I'm Cole Swany. I'm the producer. This is Samuel Adamson, our lead programmer. Cody Bryant, project manager, and CJ Ajawara, our lead designer.
So in "Matter of Great Import," a 2D pixel tycoon game, you've been plucked from your distressingly uneventful life as an earthling accountant by some tax-evading aliens who have put you in charge of their galactic trading post. So now the only way that you're going to be able to build an experimental engine to teleport yourself home is by making enough money by renting out room space to a variety of zany alien characters and organizations. And the only way that you're going to keep them all happy for long enough is by juggling these relationships. And you'll do that long enough to pad your bottom line and purchase a ride home.
Now Sam will talk a bit about the gameplay.
So one of the main things the player will be doing is negotiating with clients. As they are managing their station, portraits of different clients will pop up in the bottom-left corner of the screen. When those are clicked on, then a different visitor will pop up with a different question or circumstance. Sometimes they are asking to rent a room. Other times they're just saying something they do like about your station, something they don't like about it. And you can adjust from there when you're managing your station. Each room and faction has things that they like and that they don't like. And each room also generates attributes that the other rooms get to view of the rooms next to them. So it's very important that when you are placing rooms you are considering what you know about what they like and don't like and just trying to remember and just make sure everyone is happy to keep your profit up. And that is the main thing that the player is doing is just constantly trying to stay profitable.
Short-term they might be willing to sacrifice a relationship to make extra money to make sure they have enough money for their bottom line. But long-term it's all about making sure you're sustainable. So keeping up with those relationships and then also keeping enough money.
So we want the player to feel pressure. There's going to be a lot that's going, on all the factions wanting different things of you all the time. And constantly it's getting harder and harder to make sure you're making enough money just by having all these rooms next to each other and all of them can be upset or happy based on where they are. And then we also want them to feel pride as we're handing them this empty station when the game starts and then room by room they're filling it and adjusting it to make sure that everyone is happy and that they are making enough money. And then joy and relief from the zany characters who say the weirdest thing sometimes just to make them happy.
And now Cole is going to go into an example of this.
Alright so one of the factions you're going to be interacting with, the buyers, are U Corporation, has written you off on their taxes as a peripheral printing device and one of the ways that you'll be managing these relationships is through direct dialogue interactions where you will make quick choices through limpid engaging interactions and you're just going to try and keep everyone happy as much as much as you can, though it is a bit of a spinning plate model. Another thing that you'll be doing though with the room interactions is specifically placing rooms in the station strategically while keeping an eye on who's happy and whatnot so.
Commissar Blagauzry here is keeping the dubious Honey Laundering Company wants to open a location here. So now you've got to consider where you want to place this room, especially because some of the stores here might not like having those shady characters wandering around. So assuming here you'll place the store right next to the Granville's Diner. And within a few turns poor Granville will come up to you and express her distress upon this, because some shady characters are wandering around the shop. So the game comprises a delicate balance of trying to keep the needle towards profitability in the short term but also making sure that you don't anger any of your factions.
Now Cody's going to talk a bit about the core loop of the game.
So looking at the game's core loop, the player will be collecting revenue passively as time progresses through their station. They will, as I said, they will gain money but also the state of their station will decline in the way of our bottom line. This is just general upkeep of your station which the player will have to maintain in order to keep their station bustling. And then so in addition to collecting revenue, like I said, managing the station, that results in losing their money but improving the state, paying their bills essentially. And then, as was touched upon and was shown, was interacting with your visitors. Some of the people that come to your station are going to want to open shop or maybe they just want to interact and these interactions can lead to anything from a gain or a deficit in money, reputation, or, like I said, a new shop.
However, looking closer at how you're going to be interacting with these visitors. In the GIF that was shown, you saw the tray in the bottom left that shows when these visitors want to speak to you, when they pop in. And so there's that first step is that they want to talk. And then you can either choose to engage them or you can choose to ignore them. Ignoring them is the final solution and then they leave and that decision has been made. However, you can go through the dialogue that was shown and make your own choices and then have your station progress the way that you want it to and your faction relationships progress the way you want them to.
And looking a little closer at the faction relations and the room relations is CJ.
OK we actually have implemented four factions at the moment. We have our law factions. Crime organizations are just our kind of mafia section. Buyers R U which is the merchant skill that has put you into the station in the first place and the Blogness, a cult-ish hive-mind alien group who seek out and put in these hives inside your stations who generate these foul-smelling odors while just preferring to keep things silent in their homes.
Each faction themselves has an attribute they generate. They have ones they like and others they dislike. Based on where you put them you're going to see certain interactions. You're not going to want to have, say, put a law faction with a crime faction building as it's going to probably generate conflict. You can, it's just something you gotta be careful of in the future. However, you're probably going to want to have, say, a Buyers R U station near your crime factions as crime generally even like food. And you want to keep something, say, a restaurant from the Buyers R U districts near them so they can generate more happy which gets revenue and foot traffic in.
At the moment, this is a simplified version of the interactions between rooms which we have a more detailed version in an appendix if you wish to see or ask questions onto that.
I'd like to now hand up to Cole back to where we are going on further for this project.
So essentially some of the risks that we're looking at with the project involved the obvious scope concerns of having room interactions. And with all these different types of rooms, we've got 16 rooms at the moment, we wanted too cull too much proliferation in the room interactions by keeping them strictly attribute-based. So there are no one-off cases. Every room has a set list of interactions that they generate or attributes that they generate and each interaction, each attributes combination creates a different interaction. We're also looking at the narrative which is an obvious scope concern as well because we are aware that there's going to be a lot of weight put on the narrative in terms of keeping the tone of the game and also simply generating a lot of the forward motion. So we're going to keep an eye on that. And we've been putting a lot of effort into the writing so far.
So currently thoug,h a lot of our work on the game has been on the pipeline, getting a lot of narrative information and design information quickly and efficiently into this mobile platform and also on the design and making sure that we create this robust attribute system to ensure that things don't get out of hand with a number of interactions.
Yeah for moving forward, if our project, and I hope it does, but what we must have to expand further there is adding more artists into our staff along with programmers. Ones to help us with our UI outlook to get it more of that feel that we wish to have for the game itself and also to put less strains in the programmers we have currently and possibly expand work to see where we can also go from there from future on.
Thank you, and do you have any questions for us?
The students turn to the judges and prepare for questions.
Yup.
Shocking.
And so I mean you said that the win condition is I make enough money to go back to earth. Is there any gradations there or is basically I'm just trying to reach this one number and then I win the game? So ultimately we've broken it up that you're buying pieces of this engine at a time. And with each piece the game state changes a little bit. Of the three pieces, they also include a sort of boss section where the rules will change for a little while as you're getting that piece, but once you have built the three pieces and you've overcome the final challenge you do successfully complete the game once and for all.
And then conversely is there specific ends losses or how do you deal with like I just make really bad decisions and things just keep draining and it's like a lingering death as opposed to like ending the game and starting over again?
Right. When you go bankrupt in the game, Buyers R U will bail you out but it comes at a reputation penalty. And if you truly just demolish all of your reputation with Buyers R U then there is an end game state at which point you are taken to an alternate dimension a few turns ago where you're going to have a chance to correct some of your errors.
For for what it's worth, I do feel like this could be a game with more of a level-based structure. If you wanted to go that way whereas opposed to trying to finish it once, you get a set of conditions and then another set of complexity. Reminds me a lot of a game that I actually did a prototype inspired by once called "One-Piece Mansion" which was an old PS1 game about sort of arranging and stuffing tenants into an apartment building who radiate sort of good energy in some directions and bad energy in other directions. I think it would be worth checking out.
Absolutely. Some interesting stuff. You're saying you want it to be a mobile game?
Yes.
And how are you thinking of monetizing this game?
So we are going ideally for a fixed model for the beginning, but additionally you could buy extra portals which would open up new characters and room types that you could add into the game.
And how long do you think a session would take, like an entire playthrough? Like what is your goal for that?
An entire playthrough right now we're shooting for four or five hours. What about variation on replay or when you add those characters? Is there large sets of variation?
Yes, so ideally with the attributes system there are a lot of different ways to arrange the rooms. There's no one strategically viable route. So based on how different your station looks, it'll end up being a lot of different strategies through the mid and late sections of the game. Also the narrative is branching so certain choices you make earlier on will open up different quest lines, so there is replayability in that you might experience different characters and interactions.
Is building out those quest trees within the scope of your what you're planning?
Currently, we have got the displaying interactions with the narrative system. It's not going to be anything too reaching, but you might experience different characters as you go on. For instance you could do a playthrough where you're going for a very nefarious type and you're maxing out your crime and just trying to keep your law happy enough to survive or you might go with one where you're real buddy buddy with Lieutenant Chuck Law. And then the other factions might suffer from it. So you can sort of prioritize in different ways.
Is that a fiction that I'm experiencing in my head or does the game actually recognize that I'm doing that?
The game will recognize that because some interactions are gated behind having a good reputation or bad reputation with a different faction.
So one note of caution I'd like to throw out from the stuff I saw out there. You guys said that you're putting a lot of stress on kind of narrative and writing. The interaction you showed was a lot of text for what it was trying to accomplish. And in sort of watching you demo that, I was sort of getting very lost in terms of what the core message and the core needed activity on the part of the player is, and for what it's worth, I don't think it's a game that needs to have a very strong narrative. It's a tycoon game. It's an economics game. I think you have a good theme. So I would be careful given the tendencies that you shout about going too far on the narrative side.
Thank you.
I don't have any other questions. Thank you very much. Thank you.
The students file out of the studio to have their post-pitch interview.
Alright and we have our last group filing out right behind us now, but man, Karli, I cannot believe how much work and time has gone into making these projects.
I know, I've never seen anything like this before. I don't really understand it either, but it's been pretty great. Alright you guys, you're smiling, you're laughing. How are you feeling? Go well?
Pretty good in general, I'd say. I mean yeah you guys didn't stump the judges too hard with questions it sounded like. Please take. We made sure to take quite a bit of time coming in trying to be as prepared as possible for any questions that we might get asked. We spent a lot of time going into the details of our game further than what was shown in our document hoping to be prepared for that, so.
Yeah I mean it was a very impressive presentation. Way to go guys. Alright thank you.
"Matter of Great Import," a 2D pixel game, plucks players from their uneventful lives as earthling accountants to run a galactic trading post. The player must make enough money to purchase a ride home by negotiating with alien clients, managing their station and making ends meet at all costs.
New World Disorder
Karli Vancleave, IUSTV reporter, and the members of the New World Disorder team, Ben Billings, Chris Oyer, Kameron Misheikis, and Geun Yoon, appear on screen.
Karli Vancleave: "I'm here with our next pitch, New World Disorder, and what are all of your names?"
Chris Oyer: "My name is Chris."
Kameron Misheikis: "My name is Kameron Misheikis."
Geun Yoon: "I'm Geun Yoon."
Ben Billings: "I'm Ben Billings."
Karli Vancleave: "And how are you all feeling right now about to go in there?"
Kameron Misheikis: "A bit nervous but that's okay."
Chris Oyer: "Remembering how to breathe."
Karli Vancleave: "Well good luck, we're about to talk to our next team. Go head on in."
The New World Disorder team stands in the Ken and Audrey Beckley studio to give their presentation.
Chris Oyer: "You rule the world. For now. We present to you New World Disorder, an authoritarian simulator. My name is Chris Orr.
Kameron Misheikis: "I'm Kameron Misheikis."
Geun Yoon: "I'm Geun Yoon."
Ben Billings: "I'm Ben Billings. In our game you're the absolute leader of the world and control everything. This leads to many responsibilities which the public"
Words appear. In this strategic simulation game, you play as the authoritarian leader of Earth, tasked with training a successor while fighting to maintain public approval.
Ben Billings: "will be scrutinizing at all times. Also, like with any leadership role, you must eventually pass off the torch to a successor"
The New World Disorder team presents in the Ken and Audrey Beckley studio.
Ben Billings: "to takeover after you're done, which leads into our unique selling points."
Kameron Misheikis: "Ok we have three"
Words appear. Unique Selling Points. You Have Ultimate Control Over Planet. "Reverse Dating Simulator" Type Successor Selection. Dynamic Ending Based on Player Choice.
Kameron Misheikis: "main unique selling points. The first of which is that you have ultimate control over the entire planet. Our game is not focused on conquering the planet but what happens after you've conquered the planet. The second thing is the reverse dating simulator successor selection system. Basically, how this works is unlike an inundating simulator"
The New World Disorder team presents in the Ken and Audrey Beckley studio.
Kameron Misheikis: "where you are actually competing for the affection of the NPC characters, the NPC characters are actually competing for your affection. And the final one, the dynamic ending based on player choice, is going to be elaborated on later in the presentation. Now we're going to talk about real-time threats."
Words and graphics appear. Real-Time Threats. Find Threats. Resolve Threats. Trait UI Updates. An image of a globe. An image of a target.
Geun Yoon: "So for first part of our key moment on our gameplay is the realtime threat. The player, throughout the game the player will be presented with the various threats that could negatively impact the player regime. To resolve this threat, the player will be always given four responses. Each responses will cost"
The New World Disorder team presents in the Ken and Audrey Beckley studio.
Geun Yoon: "differently and if the player chooses to use more resource to resolve this threat then the threat will end immediately, however, if the player chooses to spend less resource to resolve the threat then it will increase the chance to appear another threat in the globe. Also based on the response the player character trait UI we update. This will do a more important one on choosing the successor part. If player choose"
Words and a flowchart appear. Real-Time Threat Escalation. Threat Appears (arrow) News Media Informs Public (arrow) Scandal (arrow) Protests (arrow) Riots (arrow).
Geun Yoon: "to leave the threat the threat will escalate. The threat will always drain the resource for every second from the player's resource inventory. And if the player So as you can see in the present tense fight the threat on the wire stage will consume more resources and spend more resources to resolve this threat compared to that on the first stage. This threat, the real-time threat, will be the main sync for our game."
Words appear. Long-Term Initiatives. Search Through Initiatives. Begin Initiatives.
Chris Oyer: "They say Rome wasn't built in a day. And that's because it's a long-term Initiative. Our long-term initiatives are as they seem. They're initiatives that take awhile to complete but I feel it's best described"
Words and flowchart appear. Long-Term Initiatives. Invest In Initiatives. Arrow points to a clock. Arrows points to and from – Resources to clock. Arrow points from clock to Initiative Completes. Arrow points from Initiative Completes to Clock. Arrows point to and from + Resources to clock.
Chris Oyer: "with this handy little flowchart. So let's say you're investing in a global railroad network. So first you look at the initiative and if you decide to begin it, you start draining resources. As time progresses the initiative completes after a pre-allotted amount of time. And once it's completed"
The New World Disorder team presents in the Ken and Audrey Beckley studio.
Chris Oyer: "you start receiving those resources back. In fact you receive more than you originally started with. But this is not an indefinite amount of resource, as over time each resource has a half-life about three minutes in our current demo. And initiatives are great. However if your successor is not"
Words appear. Governor Card Flipping. Investigate Your Governors' Past. How Compatible Are They?
Chris Oyer: "competent, your initiatives won't matter too much. So choosing a successor is a very important part of our game. As Cameron mentioned, we are employing what may be considered as a reverse dating simulator mechanic. We have these four governor NPCs who each want to be your successor. It's up to you to find who best fits that role."
The New World Disorder team presents in the Ken and Audrey Beckley studio.
Chris Oyer: "So what we're allowing the player is they have a variety of cards in front of them. And you can pay resources to flip that card. Flipping that card may unlock new cards. It may not. But what it will definitely do is affect their governor personality profile, which as you can see on the slide adjusts over time. The more cards you"
Words appear. Governor Card Flipping. Investigate Your Governors' Past. How Compatible Are They?
Chris Oyer: "unlock, the more accurate this profile is and the yellow shape on there, the one that's static, well at least in this very moment, it changes with your behavior. This compares the two types of this compares your profile with the governors that you are currently dealing with. And at the end of the game you will have to choose a successor. And what we're adding"
The New World Disorder team presents in the Ken and Audrey Beckley studio.
Chris Oyer: "to the end of the game is something we call the post-game governor simulation. What this is is you get to see the governor you've chosen act as ruler. You get to see them make decisions and you get to think to yourself, is this a decision I would make? Is this improving the globe and finally should I have chosen this person, should I have chosen another? It's a very difficult question at times but it's one that you get to spend the entire game trying to answer. Speaking of decisions though, Next we want to talk about our decisions for art and sound."
Words appear. Audiovisual Theming. Art: Low Poly 3 Dimensional, Design, Color Palette of Civilization 6. Sound: Over The Top, Inspired by Military Marches And National Anthems.
Chris Oyer: "We love low poly. It's in some of our favorite indie games and we very much want to implement in our game. But when coloring those low poly meshes we'll be going more towards the palette of Civilization Six pictured here. We like the bright more cartoony approach they took as compared to previous civilization games. And we"
The New World Disorder team presents in the Ken and Audrey Beckley studio.
Chris Oyer: "feel that it does it's more enjoyable to play with. Audio-wise we have taken inspiration from military marches and national anthems over the past century. But as you see these are national anthems. This isn't a nation. You rule the planet. So just as this is a larger domain we are also amping up the music. It's going to be quite over the top in comparison to the already very extravagant anthems."
Words appear. Minimum Scope Prediction. 3D Globe Mesh. Rigged Character Meshes & Animations. 14 Initiative Category Icons. Narrative Text: 50 Tweets, 30 Governor Card Trees, 25 Different Real-Time Threats.
Chris Oyer: "But talking about assets is easy. Let's talk about actually whether or not we can complete them in the amount of time we have. These are the things we need for a minimum viable product. We would love to have a 3D globe mesh which you've seen in the real-time threat situation but that one is very realistic. We want one more stylized that is more reflective of the type of world that's being created. We also would love to create various raid character meshes"
The New World Disorder team presents in the Ken and Audrey Beckley studio.
Chris Oyer: "and animations to assign to the governors. Because currently they are pretty faceless, we'd love to give them a face. We also will be investing in 2D initiative category icons which means just icons that we can use to better differentiate different long-term initiatives. Right now as they're just text, they blend together. In terms of narrative we have a lot of different things we have to write. One of the things you see is tweets, which we'll get to in just a moment. The numbers presented here estimates. We have come to them through some play testing but they might change through more play testing. But this is currently our best guess for how much writing we need to do. Though if we're gonna be talking about writing then I'm going to pass it on to Kevin.
Kameron Misheikis: "Alright and"
Words appear. Narrative. Real-Time News And Information: Tweets, News Headlines. Interactions Shape Game's Story.
Kameron Misheikis: "for our narrative we're going to be doing this through real-time news and information specifically tweets and news headlines. So here on the screen it says this is an example of a tweet that you would see in game. It's a little hard to read. But what is our world leader thinking? He's running the world like one giant game. So this is kind of getting at the lighthearted tone that we're trying to achieve for our game and we feel like this communicates it in the best way and makes it blend with a lot of real-world elements that we're trying to accomplish. Speaking of interactions all interactions will have an effect on the game story"
The New World Disorder team presents in the Ken and Audrey Beckley studio.
Kameron Misheikis: "overall whether you're interacting with an NPC or flipping over governors cards doing long-term initiatives that will all shape the game story in some way shape or form. Now we do have some primary challenges and concerns."
Words appear. Primary Challenges & Concerns. Impactful. Balanced. Meaningful Variety in Gameplay.
Kameron Misheikis: "The first of which being impactful is if our game doesn't resonate with people it's obviously going to be a big issue and we want to make sure that they get the experience of being a world leader who controls the entire world we want them to have that"
The New World Disorder team presents in the Ken and Audrey Beckley studio.
Kameron Misheikis: "experience and that feeling. The second thing is being balanced. Since our game is systemic, it's going to show itself if it's not well balanced. So we are going to be throughout the entire development cycle going through and balancing our game through in and throughout to make sure it's best possible game we can make it. The last thing is having a meaningful variety in gameplay since our game is very narrative-driven, we need to have a lot of options for our players to explore. We don't want them to just play the game once and think they've seen everything. We want them to go back and experience new opportunities, go off of different branching paths and really discover more things about our game. Any questions?"
Panelist: "What is your plan for monetizing this game?"
The three industry judges, Ray Holmes, Dave Rohrl, and Paul Stephanouk, sit and watch New World Disorder give their presentation.
Chris Oyer: "So for the"
The New World Disorder team presents in the Ken and Audrey Beckley studio.
Chris Oyer: "current game we're going with a fairly simple route just because it's difficult to mess up. It's premium purchase, we're thinking around $15. If we start if we get the opportunity to branch into more multiplayer initiatives as well as mobile phone market then we will of course pursue a more free to play model hopefully with some possible superficial purchases the person can make, maybe decorate the governors or their avatar differently. But that is our current strategy."
The three industry judges appear on screen.
Ray Holmes: "And what are the resources that you use to start your initiatives or deal with your world issues?"Chris Oyer: "So, at the moment we've"
The New World Disorder team presents in the Ken and Audrey Beckley studio.
Chris Oyer: "messed around with a few different resources, sometimes including things like military strength but the one we now have is well there are two main ones. There's currency  which is what you use to get things done, but there's also approval. And every time you make a purchase it can hurt your approval because nobody likes loud construction noises, nobody like seeing those eye sores. Certain initiatives will drain your approve overtime but once they're completed they will start giving that approval back. Approval is an important metric because it's the only metric which can end your game. If your money hits zero, I mean our government is currently trillions of dollars in debt. But approval that is a very a very important metric if it hits zero, the game ends. You don't even get to deal with the successor system. Basically the people revolt. Yes."
The three industry judges appear on screen.
Paul Stephanouk: "It sounds like you've got a lot of procedural elements in this game and that you'd expect me to play it more than one time. What are some of the key decisions that you're going to ensure that will feel different from play through to play through, so that I want to play it multiple times?"
The New World Disorder team presents in the Ken and Audrey Beckley studio.
Chris Oyer: "Yeah I think one thing which we're hoping to do is especially the narrative things is different. It's dealing with the threats and just how you behave in different ways because we've all seen people in power and there's a part of us that thinks we could do it differently. Well we want to provide a sandbox essentially for people to lead in as many ways as they possibly can. We also take inspiration from games like, it's the infectious disease one, plagued. How is it yeah okay on the tip of my tongue. Where they have different scenarios which can they can weigh the odds against you in different ways as well as give you different abilities. So that is something we're looking forward to for more long-term progression."
The three industry judges appear on screen.
Middle panelist: "So how long do you envision one administration taking, the actual sitting in front of the computer time perspective?"
The New World Disorder team presents in the Ken and Audrey Beckley studio.
Chris Oyer: "I think that will come down to a lot on the platform. If we go for a, if we find mobile is really the best fit for our game, then we'll be trying to keep it around 15 minutes. But if PC, in PC they typically play in larger amounts of time, so we'll try to push that amount to 40 minutes.  Currently the demo we have functional is around ten minutes."
The three industry judges appear on screen.
Dave Rohrl: "Have you, it seems like kind of the decisions the consequences are really transparent and straightforward as represented. Or maybe there's something there I didn't understand but you lose some of this resource and you gain some of that resource and the numbers sort of go up or down. Are there additional lingering effects, is there a bigger simulation that you're also trying to use those resources for behind-the-scene other than the initiatives, which as described are really simple resource translators, right? You invest X resources today, you get Y resources. I will gladly pay you today for hamburger Tuesday. Is there more simulation going under the hood, are there other lingering effects of your decision that impact stuff?"
The New World Disorder team presents in the Ken and Audrey Beckley studio.
Chris Oyer: "Yes and no. Yes, in the sense that that is something we really want to do. We'd love to have say, if you invest more in say propaganda, your approval meter may not wander as much, or censorship type things. We'd love to have that sort of interconnectivity between these different initiatives and how you deal with threats, however, currently the demo we have constructed is fairly straightforward. It just deals with the resources as presented. So long-term goal, yes, currently no."
The three industry judges appear on screen.
Ray Holmes: "So, going back to resources, I mean, with only two resources, it feels like the, for example Reigns has what, five? Four? And it's an extremely minimal game and so, I wonder whether there's enough space in that set of things for there to be interesting gameplay if it's only moving up and down to two resource numbers."
Dave Rohrl: "Particularly with transparency, Reigns creates a lot of gameplay through opacity."
Ray Holmes: "And with a longer playtime, if we go the continuum from Reigns to Civilization, before you're not even in that category so I wonder whether there's enough to keep it interesting."
Dave Rohrl: "Is there a meta-game that should make me want to replay multiple times? Are there goals or achievements I'm trying to hit outside of an individual game?"
Chris Oyer: "So, that's"
The New World Disorder team presents in the Ken and Audrey Beckley studio.
Chris Oyer: "where we feel the successor mechanic shines best. At the end of the game, something we see in history a lot, even if you lead fairly well the person who takes your place may not. So, one of the probably most difficult things to achieve will be a successful successor. So, finding the right successor, and we're hoping to add another layer to it where you can even fire and replace governors, which allows you to try to find that perfect fit, but it also puts you back as if you fire a governor have got to start from square one with them. There are definitely a lot of directions we can go and we will be doing a lot of play testing to figure it out."
Three industry judges: "Thank you."
The New World Disorder team walks out of the Ken and Audrey Beckley Studio.
Karli Vancleave: "Alright, here they come."
Katrina Nickell, IUSTV reporter: "Alright you guys, so I'm going to ask you a couple of questions. Alright you guys, were the all-nighters worth it? How relieved are you to be done right now?"
Chris Oyer: "They were definitely worth it, but I would love to get some sleep."
Katrina Nickell: "Definitely. Well guys, you're all smiling now, you were smiling before that, you must be relieved to be done. We'll let you guys go. Go get some sleep now. Alright, we'll put you back into the studio now."
In "New World Disorder," you're the authoritarian leader of Earth and have control over everything. Your task is to train a successor while fighting to maintain public approval. The game includes real-time threats that players must find and resolve.
The Shadows that Linger
A broadcaster interviews a team of game design students before they pitch their game during the annual Shark Tank event.
Okay, I'm out here to welcome our next team of game designers. This is The Shadows that Linger. Right? You all look fantastic matching in your all-black. And what are your names?
Autumn. Antoine. Alex. CJ. Angel. Blair. Carson.
And what are you guys most excited about for this today?
To have some fun and talk about our awesome game.
Well that's great. Good luck. You can go ahead and head on in there.
The students head into the Beckley Studio to pitch their game.
Alright, we are Red Ink Games. I'm Carson our lead designer and producer. Here with me are Blair, our writer and narrative designer, CJ, our programmer, Angel and Autumn, our artists, and we're in collaboration with Alex and Antoine, two composers from the Jacobs School of Music. And we're here to present our game, "The Shadows that Linger." In this narrative-driven hidden objects game, communicate with the shadows of a secretive cast as you channel your crystal ball to reveal color and solve a murder. These are our main unique selling points.
First is our distinctive genre combination, the paranormal noir. This acts as the basis of your player experience, influencing everything from the spiritual characters you meet to the mysterious aesthetic and sounds of this game's dark world all the way to the core mechanics you use. Second is your unique ability to speak with the shadows of each character and what we call our dual dialog system. This is where you can simultaneously speak with a human character and have the option to observe and listen to their spiritual shadow, which represents their deepest regrets and desires and can give you additional information. Last is the crystal ball mechanic. This is your primary tool of interaction in this world. You channel it to reveal color on clues that have spiritual ties and to learn from the shadows.
The game story begins with you inhabiting the character of Alanna, a medium called to an estate to perform a seance for a grieving husband named Damon whose wife Vivian has died. During the seance, Vivian comes back and tells you that she was actually murdered by one of the attendants of the seance. And during the seance she threatens to kill everyone in the room including you unless you are able to solve the murder within one hour. After the seance, the characters will scatter around in different areas of the house either out of fear or to gather their own thoughts, and it's up to you to explore the house, finding clues and conversing with these characters and their shadows. And each time you find a set of clues or have a conversation with somebody the timer will tick down roughly five minutes. And at the end of the hour Vivian will come and ask you for your accusation of who you think the killer is.
The experience that we're providing the player is that this is a murder mystery with a twist. The twist being that you can actually speak with the victim and the darker sides of each of the characters. And we're giving the player an eerie and unsettling feeling through the shadows and the nature of a noir murder mystery and the secrets that each character holds. And we're also providing the player an experience that will stick with them after they finish playing the game.
This game's core loop begins when you speak with members of the cast who give you information and leads in your investigation. During these conversations you can also channel your crystal ball to gain additional information from their shadows. Next you must explore the estate and search for rooms containing helpful clues. And finally you discover these clues, which give you insight into the murder, the different characters, and their possible motives. Additionally, once you have discovered a collection or a set of clues pertaining to a specific suspect, you can return to them with newly unlocked a dialogue options that further progress the story up until time runs out and you must make your accusation.
Here's an example of what our dual dialogue system looks like. You are given multiple dialogue options to choose from and resulting in a branching dialogue tree, and at different points in the conversation your crystal ball will glow. And as you channel your energy into this crystal ball the character's shadow will appear behind them and reveal some darker truth or secret or thought that the character holds, and knowing this information will give you more dialogue options later on and choosing these will pry more information directly from the character that you're speaking to.
So here we have game-play from our prototype that we made. As the player, you can click on doors to transition into new rooms around the house. So as you can see, you start in the dining room and then you click on the foyer door and you then go to that room. If the character's in the room, you can then select the character and it'll open up the dialogue where the player can then choose responses that they want for the conversation. Also when the crystal ball glows, they can select the crystal ball and talk to the character shadow. Once a dialogue is over, you can then explore the house for clues, and when clues are selected, they appear in the signature color of the character that the clue belongs to. So for example, we're talking to Lorraine in the foyer whose color is green. So when you click on Lorraine's purse, it appears as green.
Our game is easy to moderate difficulty especially when it comes to the clues being well hidden and the presence of a narrative timer. Also like during play testing our playtesters really enjoyed the tone in dialogue. So that's what we really wanted to focus on while building the game.
The art is in the style of a noir graphic novel with 1930s influence. The color scheme is black and white with splashes of color. The color is supposed to represent both an ethereal spiritual aura so that symbolizes to the player that it can be interacted with and also has a role in solving the murder.
So the music of our game is meant to fit the sort of dark and mysterious character that comes throughout. We're trying to blend a unique blend of genres throughout the game. So we have a '30s jazz swing influence to represent the noir characteristics of the game. We're also implementing paranormal sci-fi synthesizer sounds to represent the sort of paranormal activity that goes on. And then we're also including some typical orchestral instruments to give the game a sense of a thriller. We'll also have individual character themes that are represented as you talk to the characters.
Alex and I will be collaborating on the entirety of the score, sort of splitting roles to best designate our strengths. And to have a dialogue about how to best approach the tone and the aesthetics of the game. We'll also be collaborating with Jacobs musicians on doing some live recordings to give the soundtrack a more organic feel.
For our MVP, we plan to include this list of assets as well as the core mechanics of interactive and dual dialogue along with hidden object discovery and exploration in the house by moving to different rooms. In our current demo, we still need to implement the accusation feature. And but we already have these core mechanics functioning. For our finished product though we want to include five NPCs with full conversations, about a dozen rooms to explore and 25 total clues to interact with. And we believe this would expand a playthrough length to roughly 45 minutes. As a narrative-heavy game, though, one of our biggest risks is the amount of writing that goes into this. But to deal with this we have been working to keep each conversation not only engaging but also relatively short as in lasting only up to a few minutes maximum.
Also the gameplay moments of exploration allow the player to have a break from that reading and to return to characters later on with newfound knowledge. Our other main risk is a concern of replay ability. The question being : Why play this game again after finishing it once or accusing the actual killer? Well we're designing this game to allow the player to spend their time their limited time differently in game by searching for different clues and by selecting different dialogue options with characters. Furthermore, the player has the opportunity with additional play-throughs to accuse different suspects and to witness their unique fates unfold in alternate endings.
Because our game is a narrative-driven hidden objects game, we'll be primarily targeting players who are motivated by story and discovery. We draw a lot of inspiration from the media shown here as well as things like Agatha Christie's novels. So it will be appealing to fans of those media genres as well. And we intend to release this game on PC. And some of the reasons we believe this game should be made are that it's a fresh take on the noir genre in that we have a female spiritual medium character as the lead instead of the classic male gritty detective. And it's a twist on the classic hidden objects game genre in that we have a more interactive narrative that the player experiences instead of experiencing it more passively. And we're also providing the player with an experience that will stick with them after they've finished playing the game.
Thank you for your time. We're open for questions.
The students turn to the three judges to receive questions.
I love the aesthetic. I think that's really cool. So I don't know if you've completely answered the replay-ability question. That's still my biggest concern with the game and how the story could change and how these personalities could have different stories unfold with the deaths, but I guess my bigger thing is understanding more about the hidden object aspect of it because it doesn't really feel like the normal things for hidden object game like I'm not understanding what I'm doing. Is it just like for example I could just click everywhere on the screen and try to find all these different objects. And then now I have new unlocked conversations to go somewhere else. Whereas in hidden object games, it's more like you know there's some time aspect. I'm trying to find things quickly. I'm trying to use these cues to find things in the cluttered environment. So tell me more about the hidden object aspect of it.
So while our focus is definitely on the narrative, we want to connect that with the hidden objects characteristics of this game. So tying in with the loop, when you speak with characters they will be giving you these leads, these hints as to what to be looking for and where we can put in a list of objects you should be looking for. So you're not just randomly clicking on objects in the room. So you know what you're looking for. And then when you click on these objects, you'll get a short description. So if the saxophone belongs to this player named Damon, then it will tell you: This must belong to Damon, and there's a big dent in it. And this provides new talking point for dialogue later on.
But there's nothing to find in the game other than the clue objects. Correct?
Essentially. Yeah.
So one of the things that's really important for I've actually seen another indie game that's using a similar kind of design conceit for game play. And I think it's workable. But for that kind of game player or for traditional hidden object gameplay to work, you need a really kind of busy interesting visual field with a lot going on, a lot of stuff packed in, a lot of stuff that distracts you that's not the object. And I'm really worried about your ability to pull that off in one-bit plane art. I think that's something you're gonna wanna prototype pretty hard. And also is the spacing, the layout going to be the same every time? Or are you thinking of a system for for having rooms with slots and random objects being placed into slots so that every time I play it has sort of a different layout or is it going to have the same layout?
As of now, we don't have plans to randomize the location of objects but the player does have a limited number of actions essentially with the narrative timer where every main action will tick down time. So it's not something that they can do everything in one run. Alright, so they couldn't click everywhere on the screen because they'd be wasting lots of time doing that. And I can essentially lose the game right, if I don't meet my timing conditions?
If you don't accuse anyone, if you can't, yeah.
So is there one actual murderer or or the accusations always right or there are multiple right answers or?
So there is only one murderer. But depending on who you choose will affect the way the game ends. So if you choose wrongly, Vivian's spirit might possess them and kill them. But if you choose correctly, they might give a confession and be taken to prison. Right, but I mean, people are going to feel like they're done with the game when they accused the right person and they solve the puzzle. Are you guys building the game so that the timer is intentionally too short for the player to gather the requisite information on their first playthrough?
Yes, we're planning on implementing the timer so that you can't do everything to get the full picture of the murder.
So you're really thinking in terms of, I'm playing multiple times so that I can really get, so I can understand enough to actually win the game? As opposed to like, I'm intended to play a session and then things will change. And then I use the little bit of information that I learned to to move on to the next thing? Or is it like it's always the same story every time I play?
It's the same set of things that you can do, but it's the things that you choose to do in the game that counting down the timer and so you can't do everything.
So does it randomly choose the murderer every time you start the game? There's only one murderer every time?
It's the same person. It's always the same murderer.
So the story is completely set.
Right.
OK. Alright. Thank you guys very much. Thanks. Thank you.
The students leave the studio, and they are then interviewed again by the broadcast students after the pitch.
Alright you guys, so the next group just finished up and they're going to walk out here. We're going to ask them how they are doing.
Here they come. You guys can come on out.
Alright how are you guys feeling?
Relieved.
Relieved?
Yeah. We felt really good about it.
Anything, any last minute thoughts? So what are you guys kind of hoping comes out of this after you just gave this presentation?
Well first of all, that we get through. Second that we implement a lot of the feedback that we were given and just continue to make the game better.
Alright very cool. Well thank you so much you guys. Thank you guys.
Alright and we'll be right back after a little short 15-minute intermission. We'll see. I don't know about you but I can't imagine spending this much time creating a game like this.
I know, some of them have been telling us they've pulled all-nighters. It's a lot of out of class work so a lot of time put into this. It's very impressive.
Alright we'll see you guys after the break.
"The Shadows that Linger" is a narrative-driven hidden objects game. In this murder mystery with a twist, players can speak with the supernatural, channel a crystal ball to reveal color and uncover dark secrets to ultimately solve a murder. The target audience for the game is players who are motivated by story and discovery.
Woebegone Woods
A broadcaster stands with a team of game design students who are preparing to pitch their game to a panel of judges during the annual Shark Tank event.
OK we're back out here to introduce our next team. This is "Woebegone Woods" designers. And what are your names?
My name's Autumn. I'm Kyle. I'm Blake. I'm Jocelyn.
And what has been your favorite part about this project?
So my favorite part has got to be Autumn's art and seeing that come to life through this. What started out as just a really like vague concept and then seeing that come to life and be realized on the slides has been. And the prototype has just been really awesome.
Well I'm excited to see it. Good luck. You're welcome to go ahead and head on in there.
The team heads inside the studio to pitch their game.
Good afternoon. We are "Woebegone Woods."
In the "Woebegone Woods," each year is an opportunity to kindle friendship in your community when you gather together to come and make the Winter Festival. Your job is to assign tasks and balance your friends' happiness with the success of the festival tasks in order to ignite friendship in the hearts of all your friends.
So some USPs for our game are forging bonds and working with friends. We really want to prioritize relationship-building and making deep connections with characters. We also want people to kinda take shelter in our game as it's a cozy little world so they can kind of shrug off their responsibilities of the real-world and dive into the "Woebegone Woods."One of the ways we do that is with our unique art style that is done by our wonderful artist.
So in "Woebegone Woods," the player will play as Bean the cat living in the cozy town of Woebegone Woods and in charge of organizing the town's annual winter festival. They will need to assign tasks to their various friends and residents of the town, such as planning a play, building a bonfire or preparing a feast. They'll have to balance those characters' mood and the relationships between them and with the player because they can't enjoy the party if everyone is too tired and fighting with each other to have a good time. The player will check the progress on a map by visiting the sites where the activities are being prepared and by talking to the various characters which will assist in building relationships and in gauging the progress of the festival.
So some of the key moments when playing our game will be first the satisfaction of fulfilling the tasks like the build big a bit of buildup, of working hard to work on your tasks and then seeing how well you can succeed at them during the festival or realizing that you can take time to prioritize your friends' happiness and see how you can unpack their personalities and their relationships.
First of all, every another key moment is that every month you'll get feedback from your friends as they come into your office and tell you what they liked during the past month and what they might want to do in the next month. And then lastly, you get a holiday card kind of illustrating how everything went, how the relationships played out and how the festival activities turned out as well. But there'll be a mock-up of that later on. For now, let's talk about the visual style.
We're heavily inspired by the works of Beatrix Potter, "Over the Garden Wall" and "Winnie the Pooh" in the Hundred-Acre Wood. We really want to send the player back into a childlike state of comfort and safety with this storybook aesthetic.
So a progression through the game and what the player's actually doing. The main goal of the player is to complete the festival at the end of the year. And the way they complete the festival is by completing three main activities aforementioned of the play, the feast and the bonfire. There will be multiple years with a festival at the end of each year. The first few years, there only be a small limited cast with scaling and adding more characters over the years that allow for difficulty scaling as well as having more time for characters to build relationships.
Relationship building is done through interactions with the characters. They have an opportunity to come visit Bean in their office as well as conflict resolution and some special events going on later. Bean can also assign tasks, and the tasks will be done to complete these main activities. Relationship-building and happiness will be affected, will affect skills. So if the player focuses on keeping characters really happy, they might get a skill modifier that helps their skills later on.
So here you see the mockup of Bean's office where one of the characters, the Fox, has come in bringing a letter to Bean. This might detail one of the characters moving in or moving out of town. And because Fox is in Bean's office, this will give the player an opportunity to learn and grow their relationship with the fox and also get a clue into the relationship between the fox and the character who wrote the letter.
Elsewhere in the office, will be the holiday cards from the past festivals posted over the fireplace. And as the game goes on and progresses, there will be different trinkets from the different characters as different story milestones are completed that will decorate the office and serve as memorabilia of the past stories that the player has experienced. The player will be able to click on the book to open up the planning interface where the majority of the task assignment will occur, and it will be also able to click on the map on the desk to see all of the locations around the town of Woebegone Woods, visit the sites where the festival activities are being completed, visit these sites and check the progress or encounter different narrative events, potentially at the bonfire. Perhaps the pile of wood will be knocked over and two character roles will be blaming one another and Bean will have to try to reconcile that conflict or at the very least pile the wood back up so you don't lose progress.
So clicking on the journal in Bean's office will open this task delegation area. So at the very top here, you have three slots that will be resting for the characters. They can kind of take the week off and get their happiness back up. On the far right is where you can actually assign the characters, and the respective task is on the far left by the icons. So at the top we have Barley the Badger here that is brewing our beverage. And right now we only have characters assigned to one task at a time, but in the future, we'll have implementation of multiple characters assigned to one task, so you have to balance their skills and interpersonal relationships to try to achieve as much as you can. And their skills, they're better at some things, worse at something. So you have to figure out balancing their happiness with what they're best at in order to achieve things.
This is a mock-up of the holiday card of the festival. Here, you can see how the relationships of the characters have developed as well as activities that you've worked on. You can see if the bonfire did really well or how the costumes turned out or if Bear and Raccoon mended their friendship. Each year is an opportunity to see how you can change and develop, and you get to collect all of them at the top of your fireplace. So it's great way to check your progress.
The core loop in our game is the player assigns a character to a task to complete. Then they either wait and see the outcome of that task or they talk to other characters. After a player talks to other characters they then see the outcome of the assigned task. Then the player assigns more tasks, and the loop repeats. The outer loop to the core loop is the task is completed to help prepare for the festival, and then the festival happens. Then the next year, next winter, it repeats. The cycle will end after three years when Bean's term is done as the festival organizer.
So to get into some of the nitty-gritty: Our minimum viable product will include the basic character interactions, both the map events and the office visits. It will include five characters, two of which are introduced as the game play progresses, four skills that each of the characters will have, allowing them to complete three festival activities: the play, the bonfire and the feast. And this will all wrap up after three-year cycles.
So throughout development we've been having to pay close attention to our balance of long-term and short-term development goals. We have a lot of things that are part of our ideal vision that don't fit within our realistic scope. One of the things we've been doing to alleviate this issue is talking to people who have more skills in writing, art and audio to allow us to build more content, more narrative, without sacrificing anything in the tech.
Any questions?
The team finishes the pitch and waits for questions.
I have some idea of what the gameplay sort of is, but can you kinda tell me from a player perspective what I'm doing? I'm going into the schedule book, I'm assigning characters. And then what am I doing?
So after you will do that and then time will pass, currently a week at a time. And between that, you can go to the different festival locations to check the progress in a more hands-on way. And then narrative events will happen between the weeks that will allow the player to influence relationships, character happiness.
So am I pushing forward a week? Am I saying OK go?
Correct.
Next week? So it's, like, turn-based. OK.
So in terms of how the player allocates their time, how much of their time in-game is going to be spent on the task assignment and how much on this kind of walk-around phase?
The player doesn't actually walk around in a literal sense. This checking- in operation. Right. Is it 70-30? Is it 50-50? 90-10?
I would imagine around about there. 70 being the narrative and 30 being the task assignment.
Could you describe some of the most challenging moments of the game? What are some of the most interesting decisions or most opposed decisions that I have to make when I'm playing?
Sure. So I think the decision we like to use as an example of something that's really challenging or really like emotionally interesting is perhaps right before the festival one of the actors in the play has gotten stage fright and then Bean has to try to alleviate that in some way, either showing them that they can go on by running through their lines themself or potentially asking one of the character's mutual friends to come and help them and encourage them or just different options like that that will be unlocked by the other states of the game.
The bars that are filling in the workbook. Are those pass/fail states or is that a degree of?
Degree.
Yeah. So I can still go on with the festival if we don't reach the end, it's just not as good.
Right. Exactly. So in this one you see that the bottom two have no progress whatsoever. And so in this festival, you can see on the right side that the characters' acting have ramshackle costumes and are acting just on the ground. This is because no effort was put in to building the stage or creating costumes for the play.
How replayable is this intended to be? Is there a single correct solution or are you sort of, you know, procedurally randomizing the characters and the traits and the things you need to do on each playthrough?
Sure. So we are approaching it from the idea of a sort of a mostly static start. But constraining the amount of time the player has to prevent them from just maxing out every bar. And so each playthrough, the player will be able to prioritize which characters they want to form relationships with, which aspects of the festival they will try to improve, which different characters will like or dislike and different amounts, which will therefore affect relationships and feedback in that way.
So if I play the game and you play the game, how would my game be different from your game?
So the characters which we form relationships with, the tasks which we complete, the holiday cards which you receive.
That's expressed in terms of the holiday cards at the end.
Correct. Right. OK.
Is there a way that I can like track the relationships or is it all just basically my interactions and in my head, or is there any kind of UI for that or other mechanism?
Right now, it is all in the player's head. We are trying to avoid reducing the relationships to a simple like just a bar of this is how much friends you are with the Badger.
OK. Alright. So is each playthrough a fresh experience? Is there anything I'm accumulating? Is there like a rogue light kind of structure that will allow me to put on better and better festivals through various iterations?
Yes, but through the years rather than through discrete playthroughs. Every time you get to the end of the three-year cycle, it will be completely reset back to square one with potentially some randomized start conditions. But each year you will be introduced to more characters, have more relationships built up, and that will allow you to do the festival more and more effectively but will also give you more of a challenge as you have to balance negative relationships as well as the positive ones.
Thank you all so much. Thank you.
The team finishes the pitch and moves outside to do a post-pitch interview.
And we have our next group coming on out over here. And I'm looking for Autumn. Autumn, I have a specific question for you. So you're kind of the mastermind behind the illustrations and the design. So can you just kinda tell me what that process was like?
You know, how do you do it, what do you use, just give me a little idea. Sure. Well it first all kinda started out actually at the game design camp over the summer that the university holds. So I was teaching a demo on Pixar Animation, and I was just using a little pixel art character of a black cat and a red cape and it just kinda took off. And now we're here.
It just flourished into this whole thing. And now here you are. You guys just pitched in front of three judges. Are you guys feeling OK now? Happy it's over?
Yes.
Alright awesome. Well, thank you so much you guys. And we're going to go back to the studio for our very last pitch of the night. Or day.
In "Woebegone Woods," players have a unique opportunity: to kindle friendship in the cozy town of Woebegone Woods by planning the annual winter festival. Players act as Bean the Cat, aiming to finish assigned planning tasks and receive positive feedback from friends.
The other pitches were:
Beat Skater
Two broadcast reporters are interviewing a team of game design students before they go in to pitch them game to a team of experts at the game design's annual Shark Tank event.
Hi, you guys, we're live here in The Media School. I'm Katrina Nickell, and I'm Karli Vancleave.
We're going to be here today working on interviewing these game designers for each of their pitches. Yes, we'll be interviewing them before and after they present their design. We have eight teams. So let's bring up our first team here. We have Beat Skater. So can you guys just introduce yourselves real quick — what are your names?
My name is Carter Costes. My name is Weitao Cong. I'm Evan Simmonds.
Alright, and can you guys kinda just tell us a little bit about what you're pitching today?
Yeah, today we're pitching a skateboarding endless runner game with rhythm mechanics where players can freely skate endlessly on periodic close motions basically forever.
All right, and how do you feel going in?
You're the first pitch today. That about sums it up. Some silence. I'm feeling pretty good. I think we got this, pretty good. Pretty confident.
All right, well good luck. Yep, you guys are gonna do great, so if you want to go ahead, we'll talk to you afterwards as well.
The team of students goes into the studio to pitch their game. They are standing in front of a podium, while there are images of their game on a slideshow behind them. Three judges sit in chairs facing them.
Hi, we're Flip Studios. My name is Carter. My name is Weitao. I'm Evan. And today we're going to be discussing Beat Skater. Now to explain the concept a little bit, here's Weitao. Beat Skater, endless skateboarding game with unique finger motion system allows you to play the game and along with a smooth vision. In the game, we said again we set screen layout. The bottom screen allows players, you can actually see a screen that allows players to swipe, tap, or doing both to control the game, which give feedback to that top screen which is an animation screen. And at the animation screen has the skater's perspectives views that also gives the non-skaters experience of what the skateboarding looks like and can actually learn from it by playing the game. Also, you can customize your experience. In the game environment, skateboarder and also the name tag will be all customizable from the game through the player. Now, I'll pass the mic to Carter.
So for this game we're really targeting a casual audience, really both skaters and non-skaters alike, anyone who has an interest in skateboarding, particularly a younger audience, people who want fast, short bursts of experiences on their phone, particularly in short, short bursts. However, one key demographic we are trying to hit is going to be that peak, nostalgic person from the late '90s, early 2000s who lived during that time or was born during that time, reminiscing on the art style or the culture surrounding skateboarding. And so what the game is actually going to play like is this.
You're going to see an obstacle, you're going to perform a trick, and you're going to combo that trick into another to circumvent the obstacle and get more scores. And that entire act consists of skating. Now skating is going to be a progressive system where you unlock new tricks by gaining experience, unlocking more gameplay varieties you go. However, the main long-term player engagement is going to be completing player challenges, which reset daily and weekly intervals, allowing players to gain a non-premium currency, which lets them customize their skateboard, kinda feeding back into that moment-to-moment loop of skating constantly.
Now what this game is actually going to look like is this. There's a lot of things going on on the screen. You can see our unique dual-screen layout with the bottom screen mimicking what it's like to actually stand on a skateboard and do these motions with your feet and the top screen being that very traditional skate film fisheye lens kind of perspective like we were talking about from about 20 years ago. And talking about our user experience is going to be Weitao.
Thanks. So we have mentioned, you can see on the top screen this trick name tag the pink overload when you complete a trip. So we decided that instead the name tag pop out everywhere, so we just put it on the low one, so it's unique and keep the player accomplishment and also that's customizable.
Back to Carter. Now for the actual experience of this game, it comes from actually skateboarding. I personally have eight years of skateboarding experience. We're really just trying to convince the feeling onto a phone — the feeling of just riding, doing tricks with the rhythm, as I might've mentioned, skateboarding and music within skate culture have been very interlinked. And linking those two mechanically is what we're striving for and with that base is an actual feeling. And in the long-term what the player's gonna be doing is, as mentioned before, customizing and completing the daily and weekly challenges to further that customization and bring them into the skating, unlocking all the tricks, which, at launch, there's going to be 12 different tricks the player can unlock. As well as competing in the player leaderboards, which, being an endless runner, is going to be a leaderboard system which has a base and score, duration, made, stuff like that. However, our primary long-term engagement is going to be our cruise system. Now this is a player social integration system where multiple players can link together in a guild-esque kind of format. However, the main link between these players is going to be the seasonal progression where all players will be locked to the same seasonal progression system and unlocks throughout the entire season, unlocking things for everyone in the crew. And talking about those cosmetics and what kind of things you're gonna be seeing in the game is Evan.
So with the art style of the game, we're looking to create a 3D urban environment. We're looking to sort of stylized it after New York, but we're also looking to integrate some more of that American skate culture by adding a lots of graffiti to the sides making it feel a little bit more lived in. We're also gonna be providing lots of customization for the player as we mentioned. You'll be able to customize — the two things we're looking to mainly customize are the boards as well as the tagging that'll be spray painted on the ground as you, as you perform tricks, it gets spray painted on the ground. There'll be plenty to unlock, and we'll be able to achieve this by using the fact that American skate culture has such a diverse and wide art style associated with it. You can have things that are heavy metal style. You can have things that are sort of cutesy and pink or even something more parity-related like we have here. With that, other artists will be able to come in and instantly start creating boards for us and help us with the, with the artwork. And that'll also keep players coming back. They'll be able to unlock these custom boards with their crews, and they can help their crews to unlock custom boards along the way.
With monetization, we're looking to create a free-to-play with incentivize ads. These incentivized ads will be used to mainly unlock the virtual currency within the game as well as unlock experienced boosters within the game. We will also provide a premium virtual currency that you'll be able to use to unlock cosmetic options earlier if you so choose. However, you will not be able to unlock the exclusives that are limited to just the crew. Now a way you can help your chances that unlocking some of the crew unlockables is by buying experience boosters. Now, you can buy experienced boosters for yourself, or you can also buy experienced boosters that'll affect your entire crew and help your entire crew achieve your goals quicker.
Some of the inspirations we've been, we took for this game come from Guitar Hero. We really appreciate a lot of the rhythm mechanics within Guitar Hero. However, we want to be a lot more forgiving with our game. We don't want it to be focused on you perfectly hitting the beat. With Skate 3, we really appreciate how the right stick is used to flick in the similar way you would flick with your foot on the board to perform tricks. We're actually integrating that with our own bottom, the bottom screen. We also really appreciate the skate culture within the game. With tech decks, we really like the customizability of the boards as well as being able to actually feel like your fingers are on the board performing the tricks, and that's sort of what we're recreating on the phone screen, putting your fingers on the board to perform tricks. With Temple Run, it's one of the classic endless runners, we're looking mainly to expand upon that with creating a more diverse environment, as well as adding a lot of customization and replay ability with the crew system to keep players coming back.
Now questions?
I'm still not clear exactly what the beat interface is with the skating. Could you explain that a little bit more? Yeah, so it's a mobile game. So we're trying to keep it as non-interruptive as possible. So the game is gonna be completely playable without the rhythm mechanics. However, the main act of the rhythm mechanics is going to be obstacles performing on the beat and the player performing tricks to get over obstacles on the beat. However, like we said before, very loose on the forgiveness and stuff like that and the necessity of incorporating stuff like that.
So, I'm looking at the screen and I'm trying to understand how this — what actually am I doing? Like you're saying, am I pressing down at certain points, is there something going across the bottom to hit the beat, like I — it's not clear to me how the beat even is incorporated into this UI and the action that I'm taking as a player.
So, so the obstacles that come in will be with the beat. So that's sort of your indication that the beat's coming up. So as you flip over the obstacle, that would be when the beat is happening. So the beat is the physical object in the world come toward me, and then doing the right activity on that beat. Correct. That way, you don't need the music with it to be able to play because we understand players aren't gonna be always listening when they're playing on their phone. Right.
So, you know, my kind of immediate qualm for this is just thinking about all the Tony Hawk games, right, which are kind of the classic sort of casual, quick-action skateboarding franchise, right. At least in my mind, I haven't played a skateboarding game in a really long time. And one of the things I'm, I'm sort of trying to dope out is what do you think the feel of playing this game relative to sort of the feel of playing one of the Tony Hawk DS games is supposed to be like? Obviously, the controls are very different, and I really like your control scheme. I think that's very compelling. But in terms of the feel of the gameplay, you shifted to first-person, right. You've gone to more of this endless runner role. How do you — how is it supposed to feel relative to playing a Tony Hawk game?
I think it's supposed to feel a lot less arcade-y. In the Tony Hawk games, you press a button and then it would do the trick corresponding to the button, whereas ours is — it takes a lot more inspiration from the Skate series where it's reality-close motions dividing up the board into separate sections so that you get, the feel of the trick is there, whereas Tony Hawk, I just don't — I think it has a more arcade-y feel to it.
So you do realize this will generally make the games sort of less casual and less approachable, right, more difficult. I want to make sure that that's part of the design intent yet. We're hoping by keep on accommodations by just being simple taps and swipes on the board, that kind of similar to Temple Run, where the player isn't doing much more than just doing simple swipes at any given point in time, so they won't have to think too much about it.
What do you see the big moments in the game being?
So there's the learning the tricks moments, and as was mentioned, there's 12 of those throughout the course of the, the gameplay. There's joining a crew, which is going to be a key moment for the player where they integrate that social aspect into the game for the duration of the experience. And there's also the key moments of competing in the player leaderboards, where players can constantly be competing against each other to beat out other scores. And also specifically achieving with your crew. I think having that accomplishment of unlocking the board that's all the way at the end of the line and being together with your friends and unlocking that board is going to be a really good moment for players.
Can you talk a little bit more explicitly about how that group unlock mechanic works? Is it just everyone's contributing XP to a single shared XP threshold and when you hit the number everybody gets the thing?
For the most part, yeah. It's going to be shared experience between the tricks system and the trick game system and the seasonal progression. So yeah.
Go ahead, please.
So I'm back to the initial sort of moment-to-moment gameplay. Obviously the game selling is that it's Beat Skater and that there's a a musical component to it, but at the same time, I guess I did come to understand like Ray, you know, that the the obstacles are on the beat. But then you kinda said you can play without the sound. I'm sort of, I'd like to understand more about what makes this game, if you're really going to make it, it this a musical game that matters to skaters or is it a skating game that matters to music players? Talk to me a little bit more about why it's Beat Skater as opposed to just skater.
Skateboarding and music have always had an intertwine in their culture, and the core experience that we're trying, or that we're getting across with this is skateboarding with music. The feel of it is very different. It feels a lot more free flowing, a lot more relaxed. Particularly like performing tricks on beats with music is different than just skateboarding. And that's what difference we're going for is.
But is there an explicit mechanic in the game that rewards you for launching closer to being on beat? Other than getting over the obstacle?
So yeah, if you do perform the trick closer to the beat, you will be rewarded for that. However, we wanted, we wanted to make sure the experience wasn't specifically like you weren't locked into that situation where you have to listen to the music to enjoy yourself playing the game. We just wanted to reward the player for being able to do that.
What is — how does the fail state work? Like if I just, if I don't touch anything the first obstacle I hit, I just crash out, game over, start over again. How does that, how does that system work?
We're having three hits on each run, and it's gonna be very forgiving, how it feels. The board is going to hit something that you're going to be able to feel but just instantly get back onto it and just ride continually. But we're running on a three-hit system, and the run is going to be ending after that.
So I'm not going to, like I wouldn't necessarily crash into that box thing? I would like just do it badly, or I would crash into it and then go kind of go around and keep going to the next thing?
Yeah, the board would kind of like hit it and it would spin off on its own and quickly get back on the track.
And so, looking at a game like Temple Run or any of the runner style games, it's like there's, there's constant like, you know, pellets pulling you across, there's lots of things to do, there's lots of obstacles. What is your sort of density of this game, what you're envisioning for the obstacles?
Oh, well we have three obstacle types. There's jumps, which you've seen in this image where the player simply has to perform a trick over the obstacle. There's rails where players will perform a trick on the obstacle and will have to hold a certain spot on screen to grind onto the rail. And then there's a third obstacle, gaps. And those are long jumps except players aren't actually pulled the ground over those. They can freely do as many trick as they want to score together.
How many tricks are there? 12. 12 past the first three that the player has unlocked.
So, I was curious in the video, you just have the skateboard. No skater. Are you guys planning on the final product to have a skater as well or do you want more of a kind of tech deck, you know, free-floating skateboard feel?
I think we're definitely planning on having a skater. I think that seeing someone on the board is definitely from just seeing a board doing things.
Yeah, I agree.
We're going to have boards on an interchangeable player model. It's going to be one of our customization options.
Are there any other kinds of things that you pick up or get or do? Or how does, I mean, I guess I'm thinking about three types of obstacles and a handful of tricks and I'm wondering, you know, after the first five minutes whether someone would want to play this game? What's going to be there besides all the meta stuff that you guys have already talked about in the, in the sense of moment-to-moment?
What's there to give me something to learn and to want to play for for some period of time? Like what are your ideas there?
How does the game scale in terms of challenge? How do I not feel like I've seen all the challenge and all the learning I'm going to get within the first week or the first month or the first five minutes?
So with our 12 tricks, those all sort of have their own learning curve and their own difficulty. You will be able to perform different — certain tricks will work in certain situations, but some of the harder tricks will also apply to those same situations. But, so you can use those harder tricks to sort of build that learning curve. It will also build up your score faster, earn your crew more XP, that kind of stuff.
Yeah, I mean, just in terms of like the actual moment-to-moment gameplay, right now, you're saying I have three different kinds of obstacles. And starting off with three different kinds of tricks, that matrix of actions is very small. In terms of like keeping interest in the game for a long period of time. I mean, it also doesn't sound like the obstacles have meaningful interaction, right, so you're not going to have something that is a jump and a grind or rail and a gap, right? They're disjunct classes. So, in general, you know, you get a lot of sort of interesting challenge that stems from recombinance. So what are the challenges that could recombine in your game to add interest?
There are the actual daily and weekly challenges as we did mention. There's going to be resetting, the player can do a trick, a certain specific trick over a specific obstacle. Okay. Things like that. All right. Awesome.
Thank you guys so much. Yeah, thank you.
The team of students walks out of the studio. The two broadcasters talk to the team again after the pitch.
Alright, you guys, I'm back, and we're going to ask the team right here how you guys are feeling? How do you guys think that went just now?
I feel so much better. So you're relieved it's over? Yeah. How long did that kind of, going into planning this project, how long did that take for you guys? Over eight weeks. At least 10 weeks as a whole. Wow. A lot of out of class work I assume? Yeah, I put in no less than five hours a week outside of class.
Alright well, thank you so much guys. I hope it went well for you.
Want to feel the nostalgia of the early-2000s skateboarding era? In "Beat Skater," players endlessly skateboard from a skater's perspective. The game uses swipe and touch finger motions to mimic feet on a skateboard ride. As players progress, they can customize boards and environments in the game, unlock new tricks, complete daily and weekly challenges, and compete in player leaderboards.
Crown of Bone
A broadcaster stands with a team of game design students and interviews them before the team goes to pitch their game to a panel of judges at the annual Shark Tank event.
And what are your guys' names? I'm Demi. I'm Tanner. I'm Brody. I'm Hank.
And what do you guys think makes your game more unique than the others?
So our game focuses on playing as a deer and design your own antlers to overcome obstacles, and that feels pretty unique just straight out of the gate. Well good luck. You're about to go in there pretty soon.
The team enters the studio and stands behind a podium ready to pitch their game.
Hi there, I'm Tanner Hovis-Johnson. This is Brody McKee, Demi Singh and Hank Tuttle. And today we're going to talk to you about "Crown of Bone."
So "Crown of Bone" is a top-down action adventure game where the player is a deer designing their own antlers to help other animals, explore the shifting forest, and fight other deer to achieve the distinguished position of king of the forest. As far as unique selling points go, we really wanted to focus on creative designs and player solutions. So this means that players will design their own antlers to overcome certain obstacles. And to deal with oppositional oppositions to their progress. Another focus we have is antler-based faction interactions. So this means that those same antlers that will help with certain tasks will also affect your reputation with different factions in the forest. And finally we really are playing as a deer, so that's pretty unique.
So the narrative for "Crown of Bone" begins in the shifting woods where the previous king left a vacant throne and now it awaits for a new heir. The player will be tasked with completing different trials and gaining favor with the seven different factions that are represented by different animals within the shifting forest. Through completing these trials, they collect pieces of the crown of bone. Once they assume enough pieces and gain enough favor, they become king of the forest.
So our target audience for "Crown of Bone" has a main focus on players who enjoy immersion and creativity. With the antler design mechanic the player really designs their own answers to the problem within the game. A secondary focus is people that enjoy a good fantasy title. "Crown of Bone" is a storybook narrative that will be followed with a storybook narrator that will help guide the player through the game. With antlers being such a core foundation of our gameplay, they start the core gameplay loop for us. So the player will design the antlers for the trial ahead of them and then interact with one the members of the factions within the shifting forest. Through discovering these trials, which include assisting these animals, combating with rivals to the throne and environmental interactions, they will earn antlers for the crown of bone, and upon completing these trials again they earn these antlers, and this will progress the narrative forward through leading them to other parts of the game with other environmental actions and other factions to interact with or until they fully complete and become the king of the forest.
So with antler designs being such a major part of the game, we really wanted to focus on our antler build here. On this one you can see I'm building something that's symmetrical. It sort of reminded me of a beetle. So that's sort of what I was going for. I also focused on the mount points. So there's a lot of points on this, which is an aspect that we'll talk about in a little bit. And so we don't just want to use those. We don't want to just build those antlers. We also want to use them in ways that affect the gameplay. So here you can see that the antlers that I designed are being used in the game itself.
Here are three other designs for antler shapes that you can build in the antler builder. The top-left being one that's more symmetrical and has four points which some factions of animals will like more than other factions. The bottom one being a big bowl-shape antler that would be good at pushing boulders or other objects around and can collect more at once. This would be worse for combat though because it has a lot more weight to it because there's more antler pieces. The top right is an asymmetrical design of antlers, which some factions like asymmetrical more than others. And this would be better for purpose for combat because you'd be quicker and it's kind of a sword and shield design.
So going off of the antler designs themselves, they will have faction interactions. Each characteristic will have a disadvantage and advantage to something that we regard to utility. This means it will help complete a trial in a more efficient manner as well as relationships. The design of the antler can affect the, how a faction will see the player. So as seen here on this chart, one of the characteristics at the very bottom is pointing this,some advantages regarding to that is great for cutting foliage and also increases damage for combat but gives the player a more predatory appearance, which ruins or gives a disadvantage to a relation in some predator or prey factions like birds and other deer.
So for completing the trials, combat is a main part of being able to compete against oppositions. For combat, as I mentioned with the shapes a second ago, there are different strategic designs that you can build in the antler builder that will have an effect on your combat such as slowing your movement down when you put two main antlers or number of points. For movement with the deer, there are a few special movements that your character has such as charging and dashing and raising and lowering the neck.
So when it comes into terms of art and aesthetic, we are going for a very low-poly feel as you can see with the one with the deer in it but in terms of the color palette we want it to be lively, we want it to be bright, and we want it to have a very woodland-esque charm to it. And then in terms of the UI and the UX design we have three major parts to it. The designer, the menu and the game space. The designer is going to be one of the most UI-heavy aspects of it. It's where players can go ahead and choose the different types of antlers that they want from a menu. And then in terms of the menu portion, it's going to be the lightest. Players just will scroll through the options and it will just kind of glow around it. And then when it comes to the game space, it's going to be very diegetic. When a player sees something that is of like a focal point of interest, the deer's tail will go up, showing the white underside. And it could be a threat or just something that's very interesting to them, but it's just a way for us to convey to the player that you should stop here because there's something of interest around you.
So some challenges and risks moving forward with the project. We're confident in our abilities to be able to complete this, it's just more of a matter of time with the limited team members we have. Right now, our main concern is AI programming. We want just this to feel unique for all the different animals that you have to fight in the forest. Also we want to make sure that balancing the faction interaction is with completing various trials with them how it favors some factions and other factions disapprove of it. We just want to find the sweet spot that this works for making, being able to find a finishing point for our game. And then balancing the antler characteristics with the disadvantages and the advantages for combat as well.
So we've been "Crown of Bone," and thank you for listening. Serve us some Cervidae.
The team finishes the presentation and turns to questions from the judges.
So the antler builder which is very interesting and exciting. Are the attributes that happen after I build a set of antlers, is that implicit? In other words, do I just design it and I find out what characteristics I have or do that characteristic do I actually imbue that with certain characteristics? How does that work exactly?
Our plan right now is, like we mentioned the antler builder is going to be the heaviest UI part of the game. And what we want to do is we want to have the player see what they are doing in real time rather than have it be a mystery once they completed the set of antlers. So we want to have different antlers show like the pointiness factor or the amount of space between the antlers will also affect the utility or the relations between the factions. So to answer your question we want to have that shown during the faction or during the antler designing process.
So are the challenges that I then face in the game, are they physics- driven or are they stat-driven and the stats that I How does that relationship work?
So some of them it's a bit of both. What's really cool. So the birds. Sorry. The seven different factions within the game are the deer, wolves, bears, beavers, foxes, birds and squirrels. Yes. So one of the trials given to the birds is going to be more of like a fashion show and that's gonna be more stats-driven. Whereas for squirrels you have to help them reacquire their acorns that they lost in the previous season. And so that's gonna be physics-driven when you are cutting that grass.
So how do the factional relationships actually play into the moment-to-moment gameplay? What does it matter that I antagonize the beavers?
Well, we are, the goal for the players is to gain the favor of the beavers or multiple factions.
Is it the goal of the player to gain the favor of all the factions at once?
So the minimal amount of favor the player wants to gain is four different factions. The system that we have set up is going to be a day-to-day system where if they do not gain enough support or if they want to try to gain more, they will essentially move to the next day. They can only have one set of antlers per day. Meaning it's kind of like a trial and error system where they tried to design a set of antlers that gains the most favor. Moving onto the next day they will be able to see their previous set of antlers, what favors or what different factions kinda favored them and moving forward there. So like I said they want to gain a minimum of four factions, but it should be the player's goal to try to get all seven.
So if the player's goal then is to gain favor with factions why does the player bother completing trials?
So that's how they actually are going to gain favor by.
I thought it was based on the design of their antlers.
Yes. So based on the design of their antlers they will gain favor on some factions like with the birds. If they have the most beautiful set of antlers ever they are more likely to gain the favor of the birds.
That's a secondary thing I assume.
So then through completing these trials for the factions like helping the squirrels reacquire their lost acorns, that's when you'll gain their favor. Ok so ultimately a lot of the art of winning the game is say building bird unfriendly antlers to do stuff for the birds ultimately. Is that kind of the player behavior you're trying to drive?
How many challenges for trials I guess would you have in a day cycle theoretically?
So as of right now we have one trial per faction. The goal for us right now is to expand upon that. So just in case if the player does fail one faction, it's not a complete This day is ruined. You have to go back to the beginning and design a whole new set of antlers.
So it's so you really only have time during the day to do one trial. No. So I guess "Day" is probably a poor term to use it. It's until they decide if they do gain the faction's full approval or if they don't, then it's up to the player to move on to the next day and redesign their antlers.
And do you see the trials as being things that I will sort of find organically wandering through the forest or were they things that you're sort of presenting to me and in a menu in a way. Hey, the birds who sent this message to you.
So I think that there'll be some aspects that will that will be found with like the point of interests with the tail and the deer but a lot of them will also be like you go towards where the birds live or where the squirrels live, and they'll give you a task to complete for this day or the next day.
Thank you. Thank you. Thank you. Thanks guys.
The team files out and proceeds to their post-pitch interview.
All right and while they start to file in, we have our group over here who just pitched. Guys, as every group has been saying, you're pretty relieved. You can keep stepping over here. How are you guys feeling?
Much better. Glad that's over with.
Definitely. So you had a very unique idea. How did you guys kind of come up with it?
Sorry. So I thought of like a bunch of other character creators and how a lot of them are mostly aesthetic. And I really wanted to build something that had function, so I thought of like creatures or people whose attributes affect their game or their life I guess. And so I went with deer on that one.
Got it. Well it's very interesting. Thanks so much you guys.
In "Crown of Bone," players take the role of a deer, designing their own antlers to help other animals. You can explore the forest and fight other deer, working toward the ultimate goal of achieving the distinguished position of King of the Forest.
Monty
Play as the recently imprisoned Gummi Bear Prince Monty in a dark candy world in "Monty." The player's objective, with the help of new gummi followers and their unique gummi abilities, is to escape the candy dungeon and reclaim the kingdom.