5 alumni honored in 2022 Distinguished Alumni Award ceremony
The Media School community celebrated five remarkable alumni in this year's Distinguished Alumni Awards. 
The 11th class of distinguished alumni includes Renee Ferguson, BA'71; Michael J. Hayes, BA'88; Brian H. Horton, '72; Marcia Parker, BA'76; and Vernon A. Williams, BA'73. 
"During my time here at IU and The Media School, I have managed to find myself a supporting village that has helped me so much and I will cherish for a lifetime," graduate student Adara Donald said during the ceremony's introduction on Oct. 21. "This village is what brings us together here today."
The night honored some of The Media School's most outstanding community members, professionals who work in journalism, radio and television, education and more.
Ferguson, a television journalist and investigative reporter, thanked The Media School and reflected on her experience talking to current students.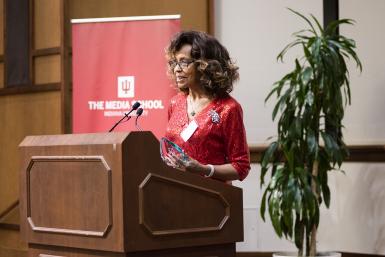 "I told the students today, 'This is not something that you do alone, that you need help, that you've got to want to help others, but you also got to know how to ask for what you need," Ferguson said.
She was the first African-American woman to work as an investigative reporter in Chicago and is co-founder of the Chicago chapter of the National Association of Black Journalists.
During her career in Chicago, she discovered an innocent man named Tyrone Hood incarcerated for a crime he didn't commit. Despite years of records-searching and reporting, nothing changed. The case still bothered her even after her retirement, though, and eventually Ferguson asked then-outgoing Gov. Patrick Quinn to pardon Hood. He did, and Hood was released from prison. He was one of her guests at the awards ceremony.
"When you see something that is wrong, you can't let it go," Ferguson said. "That's what we're really here for."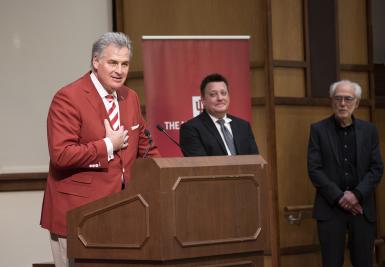 Hayes, the chief operating officer of Hearst Television, spoke on his time at IU as a telecommunications student. He enrolled thinking he wanted to work in sports journalism, but found his fit in the radio and television industry. He has spent the last 25 years with Hearst.
"I wanted to live my life in cream and crimson," he said, wearing a striped tie accordingly. 
He spoke of the lifelong friendships, mentorships and experiences that influenced him as a person and professional.
"The profound impact that IU has left on me is as wide and deep as the chasms in these Indiana limestone quarries," Hayes said. "It's a storybook tale for me."
Horton, a former senior multimedia producer, grew up in the news industry. His father was a sportswriter for the Indianapolis Star, and Horton got a front-row seat to journalism beginning in childhood. 
Drawing from a Mr. Rogers decree to take 10 seconds to "think of the people who have helped you become who you are," Horton thanked the people and experiences that shaped him.
While at IU, Horton began shooting pictures for the Associated Press. He oversaw the AP's coverage of major news and sports events including a dozen Olympics, two dozen Super Bowls, Final Fours and the World Series.
His late wife was also a journalist. "She was a special person. She was there to boost me when I needed a lift, and she was there to pat me on the back when I had a success," he said. "You can't ask for more."
Parker currently serves as vice president of philanthropic partnerships at The New York Times. Prior to her work for the Times, she was the publisher and chief operating officer of CalMatters, a nonpartisan, nonprofit news organization covering state government. She also worked as an editorial director for Patch Media, a west coast local news platform.
"For all of us who won these awards, this is the place we found out we loved journalism — and we also found out we could do it," Parker said.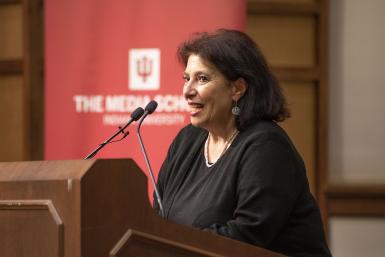 Parker talked about the importance of mentorship — both receiving and giving —and the future of journalism. 
"Mentoring always makes me hopeful," she said. 
Williams, an educator/communications specialist, also recognized the tradition of Media School excellence. Williams' career in broadcast and print media, as well as education, has spanned more than 55 years. He has also written four books and written and produced 11 plays. 
"As a child of the '60s, my role as a professional was crystal clear in the world of media," he said. "First, achieve at the highest level to honor the legacy of ancestors who poured into me. That included teachers, that included people from the neighborhood, that included role models."
Few reporters at the time looked like him, Williams said.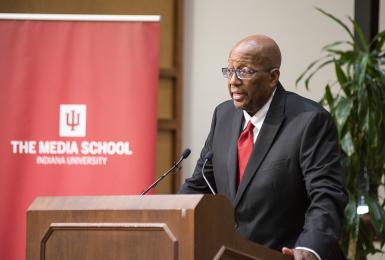 "It was critical that I never separate myself from my community, from my identity," he said. "I knew walking into the newsroom of the first day at The (Gary) Post-Tribune as the only African-American news reporter there, that integration could not require assimilation. That journalistic responsibility didn't have to come at the expense of cultural sensibilities. That equity and inclusion was a tenet of fairness, not favor. We belong in America's story, and I had to tell myself from the beginning … that I need to stay true to that cause and represent those stories that need to be told, " he said. 
Williams closed the ceremony's speeches by thanking IU.
"I appreciate this honor to be even in the company of the four people that preceded me to the podium," he said. "I'll never forget this night, and I'll never forget Indiana University."