5 alumni honored at Distinguished Alumni Awards ceremony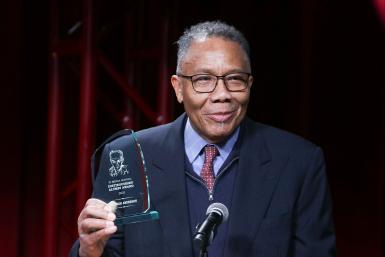 From Caracas to Chicago and New York to California, all roads trace back to Indiana for five Media School graduates. A group of professional leaders in media received The Media School's Distinguished Alumni Awards on Friday for their leadership in journalism and television.
The 10th class of distinguished alumni include Monroe Anderson, BA'71; Stephanie L Becker, BA'82; Dee J. (Michaelis) Hall, BA'82; Monte Hayes, BA'66; and Stephen G. Lucas, BA'80.
"You all are truly an inspiration," senior Grace Ybarra said to the alumni during the introduction at the ceremony.
Anderson, a retired journalist and television host, reflected on his time in the newsroom of the Indiana Daily Student, Newsweek, Dow Jones, Johnson Publishing Co., the Tribune Co. and Viacom.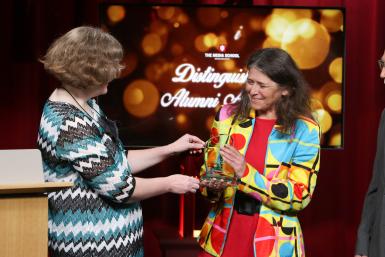 "I've had a long and varied career. Rewarding, for sure, interesting, for sure. And this, I never dreamed I'd be standing here doing this," Anderson said in his acceptance speech. "I'm very grateful."
Becker, a field producer for CNN, has been a television journalist and writer. She covered the conflict in Somalia, several presidential campaigns, the Oklahoma City bombing, 9/11, three Olympics and the O.J. Simpson trial.
"I've talked to survivors of fires, hurricanes, terrorism, people who during the worst time in their lives were willing to share their story with me, so that I could share it with my family, my friends, our viewers and readers, so they could better understand the world outside their bubble," Becker said.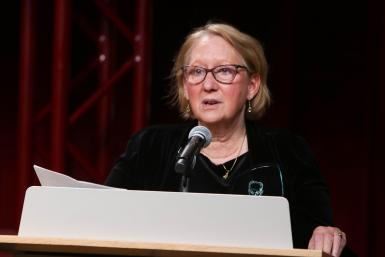 Becker said her broad education at IU gave her the fundamental knowledge to cover many stories across fields.
"I want to thank the school for recognizing not just what I do, but what everyone in journalism does: tell a story, tell the best truth that we know," she said. "It is both a tough time and a golden time in our profession, and there is so much to share."
Hall has been an award-winning investigative journalist for 38 years. She co-founded the Wisconsin Center for Investigative Journalism and serves as the managing editor of its news outlet.
Hall considered using her acceptance speech to share memories in newsrooms or stories she reported, she said, but ultimately wanted to use her time to remind the public about the importance of true journalism in a polarized time filled with disinformation and misinformation.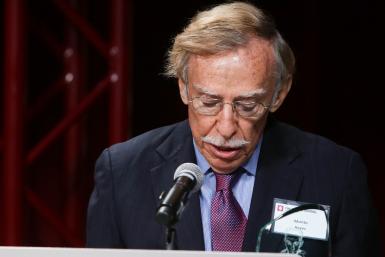 "Stand up for the facts and the truth," Hall said. "It's the only way out."
Hayes boasts more than a 30-year career across several countries. He was an Associated Press foreign correspondent and bureau chief who got his start at the Indiana Daily Student.
"Ernie (Pyle) related tales of common folks, showing that every person has a story worth being heard," Hayes said. "I tried to follow Ernie's example in my work as a foreign correspondent in Latin America."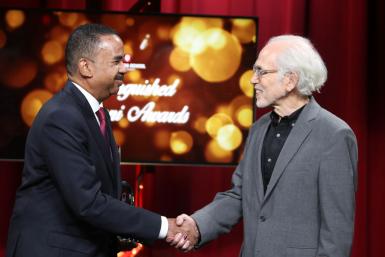 Lucas is an Emmy-winning director who retired recently after nearly 40 years in the industry.
"You might have heard 'it takes a village.' Without the support of IU and other villages that I've been a part of, I might not have ended up here tonight to receive this prestigious award," Lucas said.
He encouraged students to take advantage of their villages beginning at IU as they pursue their careers in media.