4 students recognized in the world of sports broadcasting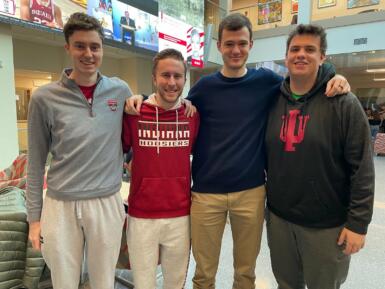 Four IU Media School students who cover a variety of athletics for the university were recently recognized for their broadcasting work. Austin Platt, Jack Edwards, Hayden Smith, and Ben Haller were recognized by the Sportscasters Talent Agency of America in their 2022 Calls of the Year.
Platt, a sophomore majoring in sports media, is currently involved with WIUX and the Big Ten Plus streaming service. The clip that Platt submitted to the STAA for their consideration was for a call he made during an IU baseball game. The call captured the moment outfielder Carter Mathison broke the freshman home run record that had not been touched in more than 13 years.
"He was by far Indiana's best player last year and broke the home run record for an Indiana freshman, which was insane because it was held for years by a current MLB player," said Platt.
"I was talking about the number of home runs he had and how close he was to getting the record. Right as I said that, he hit a home run. Listening back to it, it's just surreal. So, I thought it was cool timing, a different way of calling it, and I just liked it the most."
Edwards, a senior majoring in media with a concentration in broadcast journalism, is the director of the Hoosier Network and studio director for IUSTV Sports. As a broadcaster, Edwards is passionate about soccer and chose a call from an IU men's match to submit to the STAA that showcased that passion.
"That was probably the biggest broadcast moment I've had because that game was on ESPN+, and it was an NCAA tournament game. I was the play-by-play for that, and it was the only goal of the match. It was a big moment," said Edwards.
"I think there was a celebration moment after, and I kind of played off of that a little bit. I think it was a good representation of how I want to be as a broadcaster, which is clean and effective but also making it fun."
Freshman Ben Haller's call from the 2022 men's soccer College Cup Semifinal game when Ryan Wittenbrink's goal helped advance the team to play for the national championship. Junior Hayden Smith's call is from when the IU women's volleyball team won the first set against rival Purdue.
Platt and Edwards both mentioned associate professor Galen Clavio as someone who mentored them and helped contribute to their success in IU sports media and broadcasting. Clavio is also the Media School director of undergraduate studies and serves as the director of the National Sports Journalism Center. He is an IU alum and returned as a full-time faculty member in 2009 launching the official IU sports media program in 2015.
"Galen has every answer possible. You go to him with any question, and he knows everything right away. I always say without Galen, I would not have ended up at Indiana," expressed Platt.
"Galen knows how to look at what you've done and give you great feedback that you can instantly act upon. Galen was cool with us being bad on a smaller scale before he grew us up. And it's not a bad thing to be bad; you just have to embrace the fact that you're going to grow," said Edwards.
When asked about his thoughts on these four students being recognized by the STAA, Clavio expressed, "All four students recognized are among our most talented sports broadcasters. All of them were deserving of that recognition as I think our students do some of the best sportscasting work in the country on a week-by-week basis."
Clavio also emphasized that IU's sports media program is different than what is offered at other universities. "Our approach at IU focuses on helping students develop confidence and expertise through preparation, repetitions, and interaction with athletes, coaches, and media members. Our students get more opportunities to cover sports at the undergraduate level than any other place in the country, and they get the chance to work in a simulated real-world media environment."