4 game development teams survive annual Shark Tank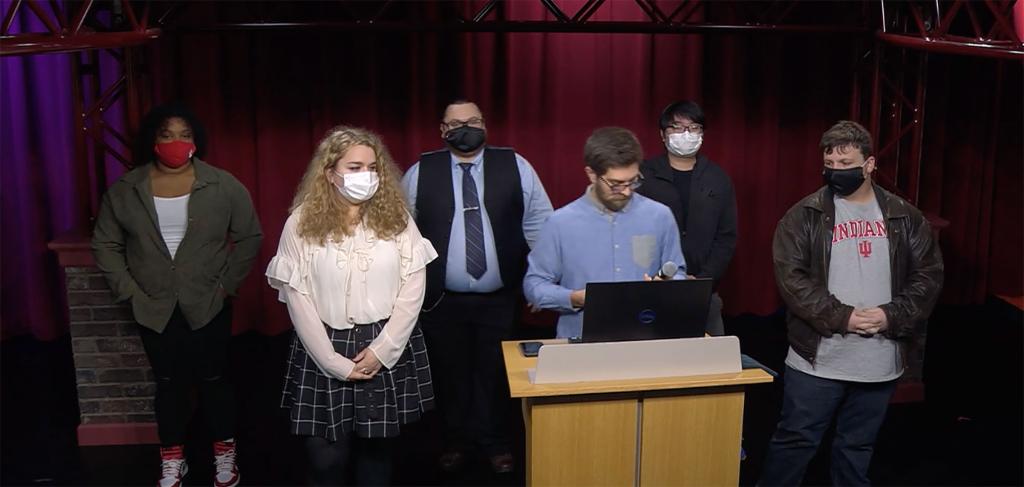 Four teams survived the annual Game Design Shark Tank on Friday, pitching the video game concepts they have been working to develop all semester.
The teams delivered their pitches to three industry professionals — Eddy Webb, narrative designer at Pugsteady; John Daud, senior game designer at Hidden Path Entertainment; and Paul Stephanouk, vice president and head of creative for Candy Crush Saga — who asked questions about the game ideas and offered advice on how to improve them.
The industry professionals and faculty chose which of the five game ideas presented at the event to greenlight. These games will developed and released over the next year and a half in the game design program's three-semester workshop:
The Littlest Witch Shop: New in Town
Astrocelt
Shepherd
Chronautical
Students whose games were not chosen to move forward into development will be reassigned to the remaining teams.
The project emphasizes teamwork, because all the students worked in teams to create an original game idea, said senior lecturer Norbert Herber. Each team member has a different specialization such as design, programming, art, narrative and sound.
The five game ideas that were pitched Friday represented a variety of themes and playing styles. The teams presenting these ideas ranged from four to six people.
Watch a video of the pitches
The Littlest Witch Shop: New in Town
You are a witch trying to manage your shop, collecting resources by growing plants and hunting fantasy creatures, and then using these resources to make potions.
The potions you make fulfill orders from customers, which earn you gold that you can use to make more potions. The overall goal is to expand and improve your shop in order to impress the witch's council, who will evaluate your shop at the end of the game.
No one loses in this game, but you can always strive for a higher rating.
Astrocelt
In this Celtic mythology-inspired game, you are a druid trying to protect the forest from an invasion of mythical creatures.
Connect dots in a night sky to form constellations, which give you powers to attack the creatures. This game — as well as "The Littlest Witch Shop: New in Town" feature a mystical aesthetic with lighthearted and relaxing music.
Shepherd
You're a shepherd on a journey to bring your sheep to market. You must cross a treacherous desert to get there, facing obstacles such as hunger, thirst and a coyote you must fight off with a crook.
Your herd is made up of seven sheep that each have individual personalities, allowing you to form emotional connections with them.
Chronautical
Explore different planets and travel through time in this non-linear sci-fi mystery narrative.
Find different pieces of a time machine, choose from different quests to explore the world, and take steps to reach the end goal of discovering the lost planet of Atlantis.
Madness Hunters
Collaborate with your allies to fight your enemies in this hook and slash game featuring a dark, occultic theme and a late 19th-century gothic aesthetic.
You must fight your enemies to advance, but you cannot fight them directly. Instead, you have to call on your allies — using a psychic hook — to attack them. Each ally has different fighting abilities.
The game features four different areas of terrain: forest, swamp, ice caves and cliffs. Some of the areas have different challenges that you must account for while fighting, such as falling rocks in the cliff area. Each area has a different boss that you must defeat to advance. After advancing through all four areas, you'll face one final boss to win the game.