Big Tent: Replay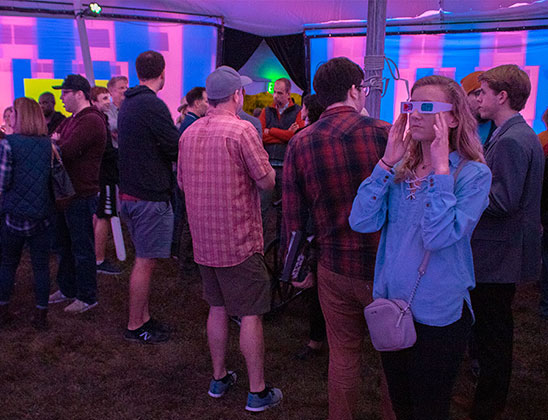 The Lotus Education and Arts Foundation presents Big Tent: Replay as part of its spring programming, in partnership with the Indiana Memorial Union. Big Tent is a creation of Benjamin Smith and Robin Cox, both faculty of the Purdue School of Engineering & Technology, IUPUI. Content development on the IU Bloomington campus is led by Media School senior lecturer Norbert Herber and will feature work by students and faculty from The Media School, the Jacobs School of Music and the School of Art, Architecture + Design.
Big Tent is a highly portable, 12-foot-tall, 50-foot-wide octagonal array of viewing screens and speaker systems that use projectors to create an immersive viewing experience.
All events are free and open to the public.
March 5
9:30-10:45 a.m.: "Big Tent & the Big World": A Portable Venue for Community Engagement with Multimedia Performing Arts talk
6:30-7 p.m. Matt Ridge, percussion, Jacobs School of Music
7-7:20 p.m. "Macro Perspective," School of Art, Architecture + Design MFA photographers
7:30-8:30 p.m.  The DREAM Bachata Academy, film and performance, Lotus Education and Arts Foundation
8:45-9:45 p.m. 360º film and animation screening
Traditional Dominican food by IMU Catering will be available for purchase from 7-9 p.m.
March 6
6:30-7 p.m. Vincent Carr, organ, Jacobs School of Music
7-7:20 p.m. "Macro Perspective," School of Art, Architecture + Design MFA photographers
7:30-9 p.m. "Hourglass" community dance participation event, IU Contemporary Dance Program
9:15-10:15 p.m. 360º film and animation screening
Works included
Rush Swope, artist
Norbert Herber, soundtrack
Take to the skies over four massive biomes and explore sweeping, panoramic landscapes. Take control of the Big Tent like never before and immerse yourself on all sides with natural beauty ranging from vast desert to frozen tundra.
Blake O'Brien, filmmaker
Rachel Davison, actor
John Kwon, score
Andy Bullard, driver
Using the Big Tent screening format itself as an impetus for this project, "Dear Everyone," investigates visual possibilities of a 360-degree viewing situation and what kinds of implications are inherent therein in relation to developing content for the images. A desire to create synchronicities and relationships between screens drown the viewer in saturated, colored light, and address the psychological implications of the container-ness of the space led to the decisions represented in the film.
"Dear Everyone," was shot on Kodak color film with a Bolex Reflex camera, often with Kodak color filters. Some of the film was manipulated by chemical and painterly means. It was then edited digitally in Adobe Premiere. Spliced images were created manually with a matte box during the shooting process; the shots-within-shots were achieved digitally.
Blake O'Brien, filmmaker
Andy Bullard, driver
Menika Lue, hand actress
Jessica Westhafer, hand actress
This project is a somewhat lateral approach to excavating the contradictions and irony in love, (the fear and myopicism that accompanies it). In an effort to create a sensuous contrast between the world of the screens and the viewer's world of containment within them, brightly saturated, monochromatic images are used as a means to stimulate the viewer with color in its purest form: light, while the musical performer's improvisations function as an anxiety-inducer. This creates a syntax between the real space of the event and the content of the film images, keeping the viewer in a kind of purgatory between mindfulness of the space they are in and the illusionistic world inside the screens.
Sabra Binder, artist
Ray D. Kim, musician
Chloe Zumbrun, actor
Ben Zumbrun, actor
Inspired by Anne Carson's "Float," the film "Candor" is a study of emotions experienced in singularity. Contemplative over her position in a failing relationship, the small movements and actions of the body take the place of an obvious narrative, each motion indicative of the intricate emotional responses in the mind. Through this, "Candor" hints at a narrative without offering a concise explanation. We ask the viewers to contemplate why it is they've arrived at their own interpretation.
Ray D. Kim's score depicts a scenic sensation of color shift and phasing throughout the screens. The visual sensory motivations trigger the shifts of the musical color and its sound texture.
Sabra Binder, artist
Cole Swany, musician
In "Reading," letters are assigned to moving images. These images are then rearranged across the screens to spell words out of the letters they were originally assigned to. If the audience allows its understanding of the alphabet to be redefined by these images, it will be able to interpret different patterns of these images as the words they spell out, essentially learning a new language through video.
Aaron Higgins, video and compositing
Norbert Herber, soundtrack
The prairie imagined in a reverie, these videos first appear natural, but are a facade, expanding a moment with highly composed moving image and generative sound. "Recreating" the landscape, or recreating an idealized version of the landscape, this body of work is presented in Big Tent as a collage of photos and video taken in the Tallgrass Prairie Preserve of Osage County, Oklahoma. Dream-like composites of flora and fauna merge with a composed soundscape. This, like the Tallgrass Prairie itself, is a mediated environment, where reclamation and preservation of native species is an ongoing and deliberate act, carefully managed by conservation experts to recreate the prairie as it existed until the mid-1800s. The work includes icons of the region such as scissor-tailed flycatchers, Oklahoma's state bird, and American bison, which once roamed the vast prairie in massive herds.
Susanne Schwibs, film
Felipe Tovar-Henao, music
"Fire Song" celebrates a confluence of 1968: Annea Lockwood's avant-garde score "Piano Burning" and the birth of Super-8 film. As part of the Wounded Galaxies 1968 festival, Lockwood visited Bloomington in 2018 to recreate the piano burning and encouraged performers to "play whatever you can for as long as you can." The film was shot on super-8 film and created for display in the round. The musical score takes advantage of the uncertainty of the listener's location, and plays with how unnerving it can be to unsuccessfully predict where sounds and images are going to come from. Walk wherever you wish and listen "for as long as you can."
Susanne Schwibs, film
Norbert Herber, sound design
Sue Singer, music
Tony Brewer and Joan Hawkins, poetry
Joe Stone, digital videography
"Exquisite Corpse" is a game invented by the surrealists around 1920. Players write or draw on paper, fold it over, and pass it on to the next players for their contribution. The hand-drawn and scratched images of this film were created similarly: we asked participants of an IU First Thursday event to draw whatever they wished on 12 frames of film. These were then cut up and combined with the voices and poetry of Joan Hawkins and Tony Brewer.
Jim Krause, animator/photographer
Journey through 25 years of Lotus in this multimedia timeline. From humble beginnings, the Lotus Festival has grown in size and scope into one of the nation's preeminent world music festivals. "LotusTime" distills images, music, artwork and facts into an immersive and informative festival experience.
Sarah Edmands Martin, animation, design and soundtrack
Benjamin Sunderlin, voice of narrator
"Wishes + Fractured Vision" explores a kind of dark storytelling that eschews formulaic children's narratives in order to promote self-efficacy, learning and participation. The medium of fairy tale offers a safe space outside our normal expectations as an axiom where assumptions can be manipulated, ultimately prompting us to ask a different set of questions. I am interested in dispelling the "happily ever after" privilege and complacency that can occur in young readers who consume too many derivative regurgitations of narrative. This work seeks to reclaim the wondrous and inexplicable that becomes lost in cookie-cutter stories that are designed to sell and re-sell. This work navigates difficult themes such as identity, heritage, greed and failure, while also helping a viewer accept that bad things happen to everyone.
Rena Johnson, artist
JP Garcia, artist and musician/composer
"I cut and paste my heart like filmstrips" is an animation and video collage exploring nostalgia and the fragmented workings of our memory. Shapes of color dance to detailed recorded sound across eight screens, speeding in a sequence of succession that simulates the chaos of collecting everyday, finite moments. The piece concludes with a still meditation on the summer sky, asking the viewers to capture the most they can of the seemingly static but constantly changing images we call life. Through the use of paper collage, Super-8 film and animation, we wanted to reflect the fleeting and weaving nature of memories and examine film as a medium to preserve life — like butterflies in frames or flower petals pressed between the pages of a book — memories and moments imprinted forever.
Photography MFA students
S. Adam Cook
Kelly Lee Webeck
Victoria Q. Ridgway
Song Li
Nicole Wilson
Scott Whitworth
Kate Houliné
Morgan Stephenson
Kristoffer Johnson
Liliana Guzmań
Photography area faculty
Osamu James Nakagawa
Elizabeth Claffey
Plenoptic Photography Workshop Coordinator
Zach Norman, MFA'14
Macro Perspective
This collaborative video piece depicts the visual anomalies of the world as seen from a macro perspective. Presented on large-scale video monitors, this optical phenomenon brings to the forefront a "larger than life" world not generally recognized by the naked eye. These macro images engulf the viewer, placing them in the center of a universe much smaller than their own, allowing for complete observation as the scenes meditatively shift through various depths of field. This collaborative piece not only represents the macro world but will also enable the audience to experience a reality far different, yet closer, than their own.​
Lytro Illum cameras were provided by the Center for Integrative Photographic Studies.
Preliminary rehearsals were hosted by the faculty and administration of the Jacobs School of Music. Thanks to:
Gwyn Richards, Dean
Jeremy Allen, Executive Associate Dean
Lissa May, Associate Dean for Instruction
John Gibson, Composition: Electronic and Computer Music
Mark Hood, Audio Engineering and Sound Production