The Power of Together
National Student Advertising Competition
Students present their campaign during a video conference.
Adobe is ubiquitous. Everyone knows the Adobe brand, but what do they know us as?
Yes, there are the creative applications, and you've earned the praise and recognition for them. But Adobe is so much more.
The Adobe Experience Cloud for advertising is a remarkable example of human innovation. The product combines the strength of different Adobe Suites to create a fully integrated ad tech solution. Businesses and advertising agencies can utilize this product to promote goods and services created by people. for people.
My name is Curtis, creative director, and with me today is the rest of team 349. Hi, I'm Brittany, strategic director. Hi, I'm Noelle, media director. Hey, I'm Dylan, research director.
Like Curtis said, the Adobe brand is ubiquitous.It's known and used by a vast majority of media industry professionals.
However, according to research conducted by Adobe, awareness of the brand as a leading ad tech provider does not match up with its actual position in the market. In fact, Adobe's ad tech product extension, the Experience Cloud for advertising, has only captured 5% unaided awareness among the target audience.
What we have is brand equity, and our campaign builds off the already successful brand that Adobe is and extends this to the new product. We will utilize Adobe's existing power by conveying how this product can make our target better at what they do, leveraging who Adobe already is through brand extension demonstrates the power Adobe currently has.
A screen shows illustrations of their strategy.
We will be bold and emphasize both the superior technology and the people behind the business. Adobe can be the ad-tech took giant who isn't afraid to value humanity. This beautiful contradiction is the core of what our campaign is.
Different parts that come together to create something better. That is the Adobe Experience Cloud for advertising.
A slide with their objectives is shown.
This is why Adobe came to us with the challenge of elevating the consumer perception of their brand in order to be competitive in the ad-tech space. This will be accomplished through four main objectives.
One, raise unaided awareness of the Adobe Experience Cloud for advertising with our target audience. by 2%, positioning Adobe as a number one independent ad-tech solution provider. Two, position Adobe in the top three for share of voiced in ad-tech-related earned media. Three, secure 50,000+ visits to Adobe.com and the advertising cloud website. And four, increase the marketable database by capturing 10,000 new contacts from our target audience.
A slide explaining their research is shown.
Now, before we can craft a solution to these challenges, we need to have a deep understanding of our target audience, who they are, what they need, and especially what they want.
In order to truly understand our target audience, we conducted quantitative and qualitative research. The quantitative research included surveying 212 industry professionals to measure unaided awareness of leading ad-tech providers, as well as gauging their media usage habits. The qualitative research involved 15 in-depth interviews to gain a rich understanding of the wants, needs, and habits of the target consumer.
Based on qualitative research, we found that the target audience is made up of hardworking, success-driven professionals who are constantly searching for ways to work more efficiently.They don't have time for mistakes, and they must minimize uncertainty whenever possible.And they must always be one step ahead of their competition. Their career depends on it.
The research revealed a pattern of psychographic values and attitudes that led us to define the target audience as hero leaders of the field. So who are these hero leaders?
A slide describing hero leaders is shown.
Well, they're strivers, winners, and innovators.They are constantly seeking ways to perform better, both professionally and personally.They also desire to be recognized for their achievements and to be praised for them.
A slide with a quote is shown.
In the words of one of these professionals themselves, "What's really important is being on the pulse of what's going on every day. Having a lot of context in this industry, taking meetings to stay on top of things, asking questions, just being generally curious."
A slide showing statistics is shown.
Now the quantitative research revealed that Adobe ranked number three as a leading ad-tech provider. Although Adobe stated that they had 5% unaided awareness, the research found that actually 13% of respondents mentioned Adobe as a leading ad-tech provider. 75% of the respondents use ad-tech solutions and their staff. 7% of the respondents are actually utilizing Adobe's ad-tech solution. Now, considering that 75% of the target sample used at-tech solutions in their jobs, and only 7% are actually utilizing the Experience Cloud for advertising, that means that theoretically 68% of professionals are missing out on the opportunity to perform better using the Adobe Experience Cloud for advertising.
That's exactly why we put the spotlight on these hero leaders in our campaign.These professionals are extremely motivated to find ways to be better in their career and be better in their personal lives. They're early adopters who are actively searching for the best software for their needs, so that they can be the best at their jobs.
That's why our campaign creates the obvious connection between this product and the personal success of our hero leaders. So that together, with the Adobe Experience Cloud for advertising, the only seamless, integrated, end-to-end ad-tech solution, our hero leaders are confidently enabled to always perform better in their personal and professional lives.
These insights allow us to understand that people are passionate, strong, and capable in this industry especially. It is because of these characteristics that we are able to recognize how the combination of human effort can materialize into something beautiful. Our campaign values the people behind the business, behind Adobe. We're ready to unleash the power of Adobe and thus the power of together.
So who better to be the face of our campaign than those who embody it themselves?
Using a testimonial campaign will highlight real life stories from advertising professionals, our hero leaders, and how the Adobe Experience Cloud for advertising made their life better. Based off of Dylan's research findings, we believe our hero leaders are heavy consumers of the following media: advertising trade publications, technology publications, major national business dailies, and social media.
We'll be using the forms of media to gain direct response and fulfill Adobe has four key objectives. The media reach we'll be achieving is 923 million impressions with a CPM of $4. We've created visually stimulating ads that uphold Adobe's brand identity while integrating and highlighting the people who truly drive the advertising industry.
The ads are shown.
The design of the print ads set the stage for the rest of the campaign. The ads are sleek and emphasize an advertising professional in each. The design combines Adobe's creative style and clean-cut black background to symbolize the combination of the creative and analytical properties the Adobe Experience Cloud for advertising has to offer. The brackets are a visually pleasing element designed to relate to Adobe's known history as a creative application.
Each of our ads were designed to be uniform throughout the entire campaign. This structure maintains the same visuals, typeface, headline, subhead, tagline, and logo to create a truly cohesive campaign. The first ad features a headshot of our advertising professional, in this case an account manager. The headline reads "manage better" with the subhead reading "with the Adobe Experience Cloud for advertising."
Under the subhead, we place the professionals name and occupation, followed by the body copy, which reads, "Joe knows success requires sacrifice. Long hours, weekend coffee shop meetings, phone calls during family time. The Experience Cloud for advertising, one end-to-end solution, seamlessly integrates all of our advertising tools, so that your team can work more efficiently, giving Joe more time for Joe." This is then followed by our Adobe logo and our tagline, "the power of together."
Lastly, Adobe's link occupies the bottom of the page to drive traffic to the website. These print. advertisements will be running in Ad Age at the beginning of every month, costing $2,600,000 for 300 million impressions.
Our presence on social media will reflect the same design presented by our print advertising. This will create a uniform and cohesive feel throughout the entire campaign. Using Facebook, Instagram, LinkedIn, and Twitter, we will interact with and inform our target audience of our Experience webinar series and gain general product recognition.
The webinar schedule and promotional tweet is shown.
Our webinar series will be the first Thursday of every month, hosted by advertising professionals to teach people how to integrate the Adobe Experience Cloud for advertising into their business.
All these platforms will increase website impressions and awareness. These platforms will give us 202 million impressions for $279,000.
The native ad is shown.
Next, we have a sponsored native advertisement that will be placed in the digital version of the New York Times at the launch of the campaign. The advertisement for the Adobe Experience Cloud for advertising will be embedded in editorial content presenting an animation of the brand's unique features and benefits.
The native advertising will give us 270 million impressions, costing $600,000, ensuring that we hit a lot of our target audience.
Another way we want to focus on our target audience is by only focusing on the cities we will be at for trade shows. We will be present at three different trade shows: Programmatic IO in New York, Ad Week in New York City, and Adobe Summit in Las Vegas. These will gain 1,980,000 impressions for cost of $4,950. To tie our audience into campaign even further, we will be doing ads in the terminals and billboards in the city location. These totaled to $151,800 and 720,000 impressions.
The billboards are shown.
We decided to have a large digital billboard located in the transit stations where industry trade shows are held. The design is similar, yet more simplified to that of our print advertising. The digital board will operate by flipping through the different advertising professionals and finally displaying the product name and logo.
An example of the trade show station is shown.
We will also be participating in trade shows to demonstrate the applications of the Adobe Experience Cloud for advertising. Our demonstration uses the simple business structure of a lemonade stand to convey our message about how Adobe can help a business grow. There will be four stations placed on the corners of a pop-up house presenting the four stages of business growth. Each stage will be represented by a different hero leader explaining how Adobe Experience Cloud has made their business grow.
A promotion for the awards is shown.
Now at the Adobe Summit 2021, three hero leaders under 30-years-old working in the the advertising industry will be awarded a $10,000 grant that recognizes their contribution to creative projects that enhance the ultimate consumer engagement using the Adobe Experience Cloud for advertising. The Adobe Experience Cloud for advertising hero leader awards will empower talented, up-and-coming advertising professionals to spend a year focusing on a creative project and sharing their experience with the creative community.
The grant program will be promoted in advance of Adobe Summit 2021, through social media, podcasts, and Adobe webinars. Winners will be announced and recognized at the conclusion of the summit.
In addition, winners will become the hero leaders in the new "the power of together" advertising campaign. A series of Adobe Experience Cloud for advertising podcast called "Hero Leaders" will focus on the technological development, demand, and use of the only fully integrated end-to-end ad-tech solution.
Listeners will register when accessing the podcast to gain premium content, which drives traffic to its website and builds the database. Podcasts are promoted through social media posts.
We want to inspire our target audience, so we created a spot to run on PBS. This spot highlights the different ads and innovations throughout the history of the industry.
The advertisement plays.
"They change how we see. They inspire us to think and look and imagine. They ask, 'Can we be better? Living, working better together? With words and images that provoke, challenge, and inspire us to embrace difference and diversity and overcome what may seem impossible?' While some say they're only the image makers telling us to buy things, you don't want to think about things that don't matter. We say they are the heroes, the dreamer-makers, the heroes of creativity, imagination, the storytellers that make the world better for all of us. So why not be the next hero? Visit Adobe.com to learn how."
Our target audience wants to go somewhere in their field. So they want to listen to the best of the best. Sponsoring Ad Age podcasts and PBS business shows will align ourselves with the business values and ideas they want to follow. These two programs will give us a 108 million impressions with a cost of a $110 million.
The "power of together" campaign is shown.
Now, we strategically planned each of our platforms to co-exist in the eight-month campaign, so that there are never any gaps in schedule.
The campaign's schedule is shown.
Our social media is mostly based on our webinar schedule in high times of recruitment for new jobs. Our trade shows and steady advertising go hand in hand, so that people can first become aware of the product about a week before the trade show and have recognition before seeing our booth.
Our partnership section directly corresponds with our target audiences' personalities. There'll be strongest at the opening and closing of our campaign to tie them together. Now our traditional media will be consistent throughout the entire campaign because our target audience feels that they need to be informed at all times and will be picking up these publications often. These will all total to our 923 million impressions.
A slide showing results is shown.
Using the media that Noelle just pointed out, the "power of together" campaign builds brand awareness, leads to a 25% increase in business growth and a 25% share of voice in measurable earned media. So how does this compare with the given objectives?
Let's review them first.
It raises unaided awareness of the Adobe Experience Cloud for advertising with our target audience by 2%, positioning Adobe as the one, number one independent ad-tech solution provider.
Position Adobe in the top three of shared of voice and ad-tech-related earned media.
Secure 50,000+ visits to Adobe.com and advertising cloud websites.
Increase the marketable database by capturing 10,000 new contacts from our target audience.
So the "power of together" campaign provides a 25% increase in business growth for the Adobe Experience Cloud for advertising through the conclusion of the campaign in September 2021. It provides a 2% increase in unaided awareness from 5% to 7%, as measured by a comparable benchmark survey conducted at the conclusion of the campaign.
It increases measurable and earned media share of voiced by 25% from various media. It increases organic online searches for key terms related to the Adobe Experience Cloud for advertising by 25%, while validating increased awareness of the brand as an ad-tech solution.
It also increases the unique website visitors with over 50,000 clicks engaging with the Experience Cloud for advertising, and it establishes a database of 10,000 new leads generated from direct response advertising.
The ad campaign is shown.
This B2B campaign works. Our campaign humanizes the ad industry. We broke down how typical B2B advertising operates and invited our audience to be a part of the story. We believe that this campaign will be successful because it leverages the brand, while focusing on who makes this industry great — the people.
We believe in the power of humanity. We believe in the power of Adobe, and we believe in the power of together. Thank you.
Students in MSCH-A480 NSAC Competition Team placed second in District 6 of the American Advertising Federation's National Student Advertising Competition for their planbook and presentation.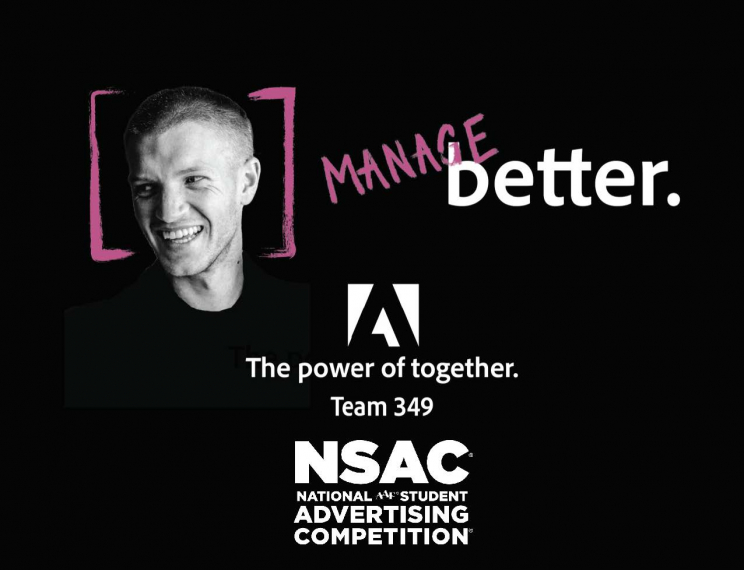 They were assigned to create a strategic advertising campaign for Adobe Experience Cloud for Advertising and pitch the campaign to a panel of professionals.
The students are:
Brittany Bloom
Daniel Dal Santo
McCall Donaghue
Becka Hammond
Curtis Hill
Noelle Snider
Brittany Bloom
Sydney Cohen
Jennifer Cunningham
Colin Grant
Dillon Slagle
Will Warmath
Carter Waldron
Because of the coronavirus pandemic, students had to collaborate virtually, and their presentation was remote.