How powerful women in male-driven narratives are written as hegemonically masculine in 'Yellowstone' and 'Succession'
Eva Stuart wrote a research paper about the characterization of powerful female leads in male-dominated television.
In the paper, Stuart conducts a comparative analysis of the pilot episodes of HBO's "Succession" and Paramount's "Yellowstone" to explore concepts such as hegemonic masculinity, industry diversity, and dynamic representation of powerful women.
Stuart's work was featured at the Spring 2023 Undergraduate Research Symposium.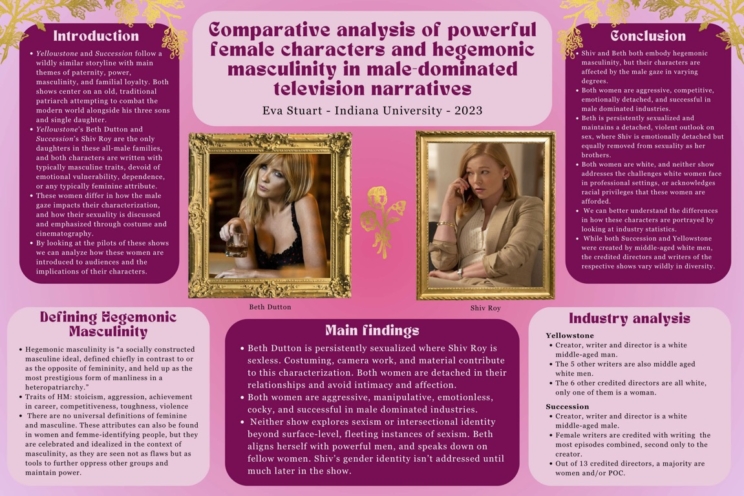 How powerful women in male-driven narratives are written as hegemonically masculine in Succession and Yellowstone 
Television has long been dominated by men. Both on and off camera, white, cisgender men have had a stronghold on the modern entertainment industry since its birth. But in the shadow of the #MeToo movement and alongside increasing opposition to restrictive gender norms, more powerful female characters have graced the screen, and the 2010's have seen a renaissance of multi-dimensional women characters in positions of power. Unfortunately, there is still a great representation disparity between successful men and women holding authority in television, and when powerful women are portrayed, they are often assigned problematic, traditionally masculine traits. Beyond this, having writing and directorial crews that lack diversity can lead to narrow-minded portrayals of women, and the erasure of minorities and intersectional identities. Paramount's Yellowstone and HBO's Succession are great examples of big-budget studio television dramas that attempt to create empowered, successful female characters in male-dominated fields and families. But these shows approach their respective female leads and their complicated identities as the only daughters of all male, traditionally masculine families differently, and by analyzing how these characters embody hegemonic masculinity, as well as how the male gaze detracts from their empowerment, we can better understand how powerful women are perceived and represented in male-driven television dramas. 
Yellowstone and Succession follow a wildly similar storyline with main themes of paternity, power, masculinity, and familial loyalty. Both shows center on an old, traditional patriarch attempting to combat the modern world alongside his three sons and single daughter. The children lack a true mother figure in both shows, and they all constantly strive for the patriarch's approval, though none of them are able to flawlessly embody the traits of traditional masculinity as well as he does. Yellowstone's Beth Dutton and Succession's Shiv Roy are the only daughters in these all-male families, and both characters are written with typically masculine traits, devoid of emotional vulnerability, dependence, or any typically feminine attribute. 
Before diving into analysis, it's useful to set a standard definition for hegemonic masculinity and understand the important nuance of gender expression. Hegemonic masculinity can be defined as "a socially constructed masculine ideal, defined chiefly in contrast to or as the opposite of femininity, and held up as the most prestigious form of manliness in a heteropatriarchy." Hegemonic masculinity is a tool used for demeaning and subordinating most males and women, and is often used in the argument that feminine gender identities belong to a lower social class with less societal power than masculine identities. This is a harmful ideology for a multitude of reasons, but when utilized in the context of Yellowstone and Succession, it makes the clear argument that in order for women to be successful and compete with their male siblings for the patriarch's approval, they must reject typical notions of femininity and embrace the harmful, restrictive ideals of hegemonic masculinity. Though the specifics of hegemonic masculinity are hotly debated, some of the basic traits it has historically described include stoicism, achievement in career, violence, aggression, toughness, and competitiveness. It is important to note that these attributes can also be found in women and femme-identifying people, but they are celebrated and idealized in the context of mascunilinity, as they are seen not as flaws but as tools to further oppress other groups and maintain power. 
Both Beth and Shiv are intelligent women with successful careers in male-dominated industries, and they both behave aggressively and assertively in work-related contexts, echoing the ideals of hegemonic masculinity. They are independent-minded and ruthlessly successful in the face of male competition, and gender-based career barriers are not explored. In Yellowstone, Beth's version of a young professional in a male-dominated industry is fairly problematic, as her sexuality is emphasized through inappropriate work attire, and her aggression goes unchecked. Beth is first introduced in a sheer white blouse and a dark black bra, clothes that would undoubtedly result in a meeting with HR in reality, but within the realm of Yellowstone the bold clothes exude sexual control and power. She is referred to as a "hatchet man" and she acts without true mercy or kindness, aligning herself with a hardened, masculine facade. After the client losing his company calls Beth a bitch, she demands he asks for forgiveness and shows no emotional reaction or later reflection on this attack. This portrayal of Beth as an empowered woman is flawed because it suggests that in order for women to be successful they need to ignore their emotions or reactions to being demeaned and act as steely and harsh as possible. Her suggestive attire and the utopian way her aggression is respected by her colleagues is also detached from reality, and her success is clearly attributed to her typically masculine ability to be rough and assertive in her career. Shiv is introduced also in a scene relating to her career, immediately connecting her character and her career in audience's minds. Her dedication to her career and the importance of her position is shown less blatantly in Succession; She is interrupted by an assistant while shopping with her boyfriend because she needs to get a report finished earlier than expected. She is not apologetic for not understanding what the term "pre-kend" means, and she maintains the same tough, independent persona that Beth carries when asked about the work deadline. Succession doesn't paint Shiv as a groundbreaking martyr for working in a male-dominated field like Yellowstone does with Beth; Shiv is aware of the male-dominated world but her position is not defined by it, and her sexuality is not intertwined with her career as Beth's is. 
It's also important to look at the whiteness of both Beth and Shiv and how that impacts their aggression and masculine emulance. Women of color have historically been demeaned as mannish and aggressive, and so there are often greater expectations and appreciation of assertiveness in the workplace. White women have not been historically viewed as aggressive and mannish, and when they act with masculine traits they are often punished more harshly.3 So when we look at the rough demeanors and behaviors of Shiv and Beth as outspoken white women who face no career or social consequences, Yellowstone and Succession both begin to feel more utopian. This utopian idea of women able to assert themselves without consequence simplifies real-world misogyny and struggles, and dilutes the strength and power of the characters. 
Beth and Shiv are both heavily masculine-coded when it comes to their relationships and sexuality. Men have historically been allowed more sexual freedom, and the prospect of multiple partners and meaningless, rough sex go hand in hand with the hegemonic masculine ideals of violence and stoicism. Beth is sexually empowered, speaks brashly and assertively in public about what she wants in the bedroom, and even demeans a sex partner by insulting his penis size (and as a result, his masculinity). By rejecting men without fear, only enjoying rough, violent sex, and refusing to participate in any form of intimacy or monogamy, Beth exemplifies the powerful, traditionally masculine perspective of sex and love. While Shiv's character lacks the explicit sexuality and crassness that Beth exudes, she also lacks any kind of emotional connection to her boyfriend, and in scenes with their respective partners, both women are detached and lacking emotional vulnerability. 
Though both of these characters become more multi-dimensional in the episodes following the pilots that I focused on, they are objectively flat characters whose main traits and projected growth seems inescapably intertwined with their position as women in male-dominated families/worlds. Initially, Beth lacks the most depth as a character, and rather than possessing complicated, human vulnerabilities or any kind of dimension beyond her gender like her male counterparts, she is written as a steely, sexy caricature of a woman in a position of power. Beth becomes such an interesting, complicated character as the show progresses, but she is never able to truly escape the male gaze and the creator's vision of her sexuality. In clips of recently released episodes circulating online, Beth appears in scenes with her father that very bizarrely frame her sexuality and lead her to seeing her own father's genitalia, remarking that he needs to "find some pussy". This scene in particular suggests she doesn't have respect for women in sexual situations and views men with a higher regard, again she is embodying hegemonic masculinity, but it also highlights the unusual ways Beth's character is put into sexual situations. She also appears in fewer scenes than the male leads in the pilot of episode of Yellowstone, and in two of them she is talking about enjoying rough sex or having rough sex, and in others she is completely naked under a robe. We don't see the male characters in the same sexualized way, and as she is the only strong female lead in Yellowstone, that decision sends a problematic message. 
In Succession, Shiv is essentially sexless, and her wardrobe is loose-fitting and reasonable for the situations she is in. Her office clothes are not see-through like Beth's, and Shiv never gets nude or mentions sex. Her character is more relatable and understandable because her behavior and costuming don't serve to sexualize her, and her bold personality shines through in situations devoid of sex. Succession positions Shiv as an equal alongside her brothers within the frame of the show, and though situational sexism is explored in both Succession and Yellowstone, Succession is more aware of the implications of how they portray their lone female lead, while Yellowstone objectifies it's female lead and consistently puts her in sexual situations. It's also important to note that both Beth and Shiv are given less screen time then their brothers, and though Beth has more scenes that are focused solely on her than Shiv does, most of Beth's scenes mention sex, include nudity or graphic sex, and/or include impractical, sexual clothing. 
To further understand these differences in how Shiv and Beth are sexualized, we can look at the industry behind these two programs, and analyze the male gaze. Laura Mulvey's "Visual Pleasure and Narrative Cinema" defines the male gaze as the pleasure of looking, the pleasure of identifying with what's on screen, and the objectification of women through cinematography, writing, and costuming in media that serves male sexual desire. The male gaze is extremely prevalent in Yellowstone, as Beth's masculine, detached view of sex and constant nudity cater to mainstream sexual preferences and notions of the "cool girl" archetype invented by men, and the camera work, especially during her sex scene but also throughout the pilot episode, pan up her body and place emphasis on her chest. The male gaze feels non-existent in Succession, as Shiv is treated with the same cinematography and non-sexual scenes as her male counterparts, and she is not fetishized or diminished to fit a sexual ideal or fantasy. A large cause for this difference in how Beth and Shiv are written and filmed can be attributed to the industrial background and representation behind the screen. 
Taylor Sheridan, Yellowstone's creator and director, insisted on working largely on his own, crafting a neo-western drama reminiscent of his life as a modern cowboy. Sheridan is a 53 year old white man, and has been credited with writing and creating all 46 episodes of Yellowstone, as well as having directed 11 episodes. There are six other directors credited with working on Yellowstone, and all of those directors are white with only one of them being a woman. The writing credits for Yellowstone are largely the same, besides Sheridan there are 5 other white male writers, and the clear lack of racial and lgbtq identities on screen reflect the absence of diverse creators behind the screen as well. While Succession is also written and created by an older white man, and there is still a disparity in how many white men and minorities are credited, there is a much more diverse background of writers and directors than in Yellowstone. Succession has a directorial history of about 13 directors, and out of those 13, most of them are either women, part of a racial minority, or both. The writing credits are also notably diverse, with women being credited with having written the most episodes following the series creator, and people of color making up a substantial portion of the writing credits. When looking at the industrial background of these two shows, it becomes clear that off-screen diversity can truly make an impact when it comes to empowering representation on screen. 
Men have dominated television since the beginning of its existence. As our culture has begun to shift away from restrictive gender norms and the media aims to portray female characters in empowering ways, we have seen an influx of powerful women in television. But when the representation only goes screen deep and male filmmakers attempt to create nuanced women characters, the results can be problematic, and potentially powerful characters can turn into one-dimensional tokens. In Succession and Yellowstone, two male-driven dramas centered on ideas of paternity and masculinity, the only female lead characters are the lone daughters in all-male families. These daughters, Beth and Shiv, are both characterized by hegemonically masculine traits, and though their traditionally masculine attributes align them with their brothers, the way the male gaze affects their portrayal, as well as the mostly male, white creators of the shows, create contrast in how these women are perceived and portrayed. 
Bibliography 
"Definition of Hegemonic Masculinity | Dictionary.com." n.d. 
"Hegemonic Masculinity." 2022. Wikipedia. September 30, 2022. 
"Black Women Leaders Approved for Assertiveness in the Workplace." n.d. Association for Psychological Science – APS. Accessed December 16, 2022.
Mulvey, Laura. 1975. Visual Pleasure and Narrative Cinema. London Afterall Books. "Succession (TV Series 2018– ) – IMDb." n.d. Www.imdb.com. Accessed December 16, 2022. 
"Yellowstone (TV Series 2018– ) – IMDb." n.d. Www.imdb.com. Accessed December 16, 2022. 
Yellowstone. "Pilot." Paramount. 1:33:00, June 19th, 2018. URL.Watch Yellowstone Season 1, Episode 1: Daybreak – Peacockhttps://www.peacocktv.com › seasons › episodes › dayb… 
Succession. "Pilot." HBO Max. 1:01:00, June 3rd, 2018. Watch Succession Free | HBO Maxhttps://www.hbomax.com › watch-free › succession-s1-e1