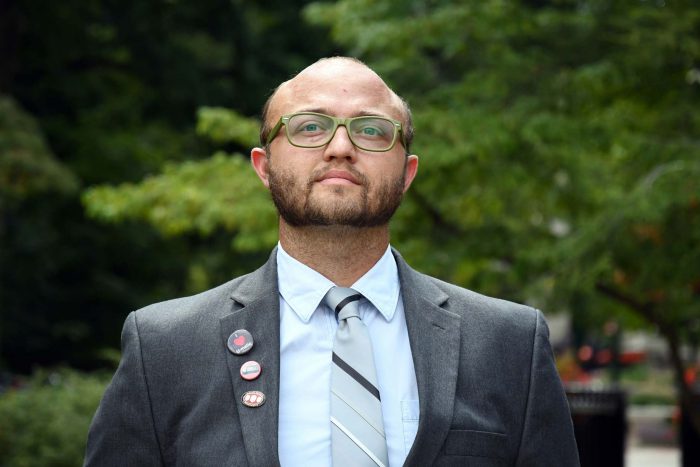 Saul Kutnicki
Associate Instructor
Contact Information
Research and Creative Interests
film history

rhetoric and judgment

politics and aesthetics of obsolescence

space and place

life history of objects and material culture

media archiving and preservation
Biography
Saul Kutnicki is a PhD graduate in Communication and Culture at Indiana University. His dissertation, "Impermanent Cinema: A Rhetorical History of Decline" focuses on the multiple sites and material histories of cinema and film that have been uniquely impacted by forces of decay, abandonment, and obsolescence, and which invite the reformulation of a rhetorical history of movie culture. He has presented on this topic at annual conferences held by the National Communication Association, The Society for Cinema and Media Studies, Rhetoric Society of America Biennial Conference, Film & History, and Media Fields.
Saul also works as an Archivist Assistant at the Indiana University Libraries Moving Image Archive, where he is regularly involved in projects requiring film handling and preservation, acquisitions, event programming, and promotion.
Recent publications:
"Wayfinding Media and Neutralizing Control at the American Shopping Mall." Critical Studies in Media Communication, (2018) vol. 35, issue 5, pp. 401-419 https://www.tandfonline.com/doi/full/10.1080/15295036.2018.1490024
Recent guest edited journals:
"A Rhetorical Bestiary." with Eds. Jeremy G. Gordon, Katherine D. Lind, and Saul Kutnicki. Rhetoric Society Quarterly (2017) vol 47. issue 3. https://www.tandfonline.com/doi/full/10.1080/02773945.2017.1309904 Issue includes original essays from: Alex C. Parrish, Diane M. Keeling, Jonathan M. Gray, Emily Plec, Henry Hughes, & Jackson Stalley, Julie "Madrone" Kalil Schutten & Caitlyn Burford, Kristin Pomykala, Diane Davis, Debra Hawhee.
Recent presentations:
"Surviving Rhetorical History in Approaches to Image and Screen Cultures" National Communication Association, Baltimore, MD Nov 14-17, 2019
"Putting 'The Rest' to Rest: Visual Culture and the Last Days of Kodak." Media School MSCH-600 Media Arts and Sciences Colloquium. Dec 7, 2018.
"Moving Spaces: Shopping mall sensations in the final hour-ReCuT" National Communication Association, Salt Lake City, UT Nov 8-11, 2018.