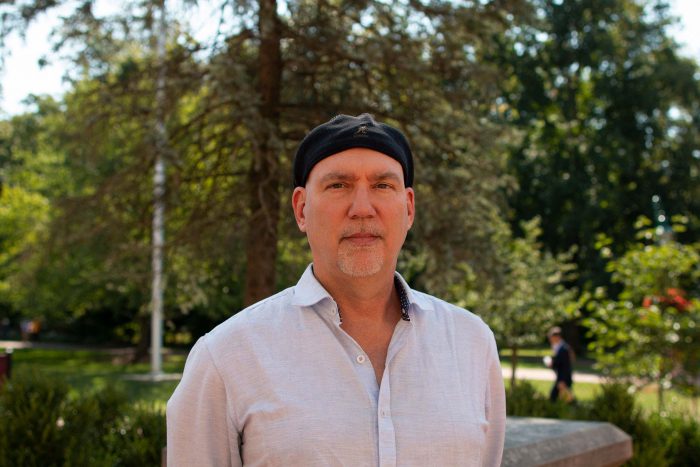 Jo Throckmorton
Adjunct Instructor
Contact Information
Biography
JO THROCKMORTON:  FILMMAKER
Jo Throckmorton is a member of the Directors Guild of America and works throughout the country as a First Assistant Director, mostly on Commercials and Short Films.  He was awarded an EMMY for producing the "IU Will Shortz" TV Commercial – written and directed by Angelo Pizzo.  He was nominated for Outstanding Directorial Achievement by the DGA for a "Dick's Sporting Goods" TV Commercial. He is also a recipient of the prestigious Cine Golden Eagle Award.  (Won by Steven Spielberg and George Lucas among many others).
Jo has produced and directed national and international projects since starting in the film industry in 1988 after beginning his career as the Promotions Manager (product placement) for a major feature film.  He has many years of work experience as a producer and director of large-scale productions.  In 2016 he produced and directed a film about "The Meuse-Argonne Offensive," a super wide-screen film installed in an immersive theater experience in eastern France.  Jo produced a series of 5 TV commercials for Indiana University featuring Ailyn Perez, Mark Cuban, Sage Steele, Michael Uslan, and Will Shortz.
His creative approach is based on narrative storytelling, with the understanding and underlying principal that people like a beginning, middle, and end to what they are watching.  Viewers want to go for the journey and learn new things or be allowed to feel and react to what they see.  Jo has not only worked on feature films, he has produced his own feature film which received worldwide DVD distribution and a limited U.S. theaterical run.  He has worked for Time-Warner Cable in program development, for a CBS-affiliate as an on-air director, and was the President & CEO of a large media firm in Indianapolis, Indiana.
Signature Productions:
EMMY winning Producer, "Indiana University: Will Shortz" TV Commercial
Emmy nominated Producer & Director, "Assembly Hall: Pride of Indiana" PBS-TV program
McDonalds Super Bowl TVC
Visa Super Bowl TVC and Web series of videos
Parks & Rec NBC-TV Series,  Assistant Director
"The Meuse-Argonne Offensive" for the U.S. Government office of ABMC, Producer & Director
Dateline NBC special on Diabetes, Director
NCAA "Respect" national TVC campaign, Producer & Director
"Under the Plains: The Minuteman Missile Program" for the U.S. National Parks Service
"Seeing the Elephant" a 360-degree screen film for the Kenosha Civil War Museum
"1863 Civil War Journey" Civil War film Assistant Director/Producer for Conner Prairie Interactive History Park
Producer & Director of the PBS-TV program, "Hard Life," winner of the Society of Professional Journalist for Social Justice Reporting
Education:
Adjunct faculty member with the Indiana University Media School
Master's Degree in communication from Miami University
Bachelor Degree in speech from Wabash College
Undergraduate in media studies at Pepperdine University
Extensive training in 35mm and 16mm film production
Experienced instructor in HD Cinematography
Numerous intensive workshops and industry seminars throughout his time in this business