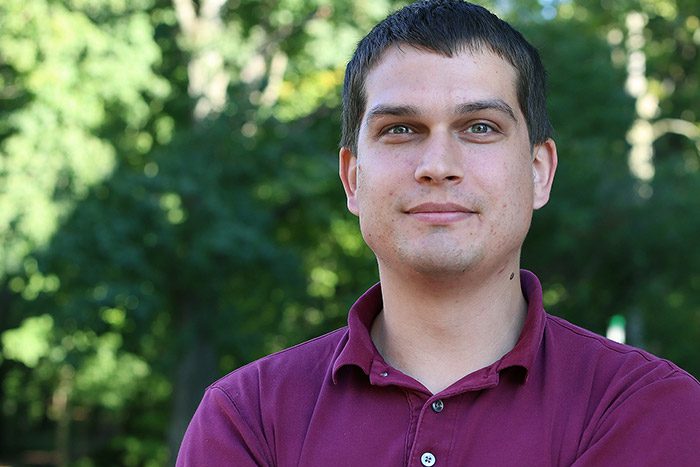 Mark Alberta
Associate Instructor/PhD Student
Contact Information
Research and Creative Interests
game

gaming history

digital cultures

film subcultures

masochism
Biography
I am a PhD student here at Indiana, hailing from Grand Rapids, Michigan. My objective here is to start publishing articles on gaming studies (its history, its transmedia effects, its culture, etc) and ultimately get my degree in said specialization. I went to Grand Valley State University for my B.S. in Cinema Studies, and received my M.A. at DePaul University in Cinema and Media Studies. My research now favors media studies, primarily around games and their cultural implications (doesn't have to be just video games).
I specialize in game history and games in American culture, and plan on continuing this route. This subject matter includes board games, arcade games, video games, and gaming in film, which is what I centered my master's thesis on. But right now, as I type this, I would be interested in masochistic game studies, in which the player has willingly submitted to punishment of some sort within the game. While the typicality of this type of game revolves around punishing difficulty, I believe you can find masochism even in casual games like Candy Crush. My goal right now is to explore this more, filling in the open gaps of this area of research.
I play table tennis when I have the chance, as well as raquetball, and enjoy reading classic literature and analytical books on various film and media topics. My current favorite scholars are James Paul Gee and Jesper Juul, but also admire Henry Jenkins' works as well as the cinematic contributions D.N. Rodowick has made. I own over 500 films for entertainment and scholarly purposes, and have a nice collection of film and media books (I just can't rent or borrow these media). I am open to collaborations and inquiries so feel free to drop an email my way.
"Our focus should not be on emerging technologies, but on emerging cultural practices."
– Henry Jenkins
"Film, it would seem, is an uncertain object."
-D.N. Rodowick
"All are rooted in the primaeval soil of play."
-Johan Huizinga