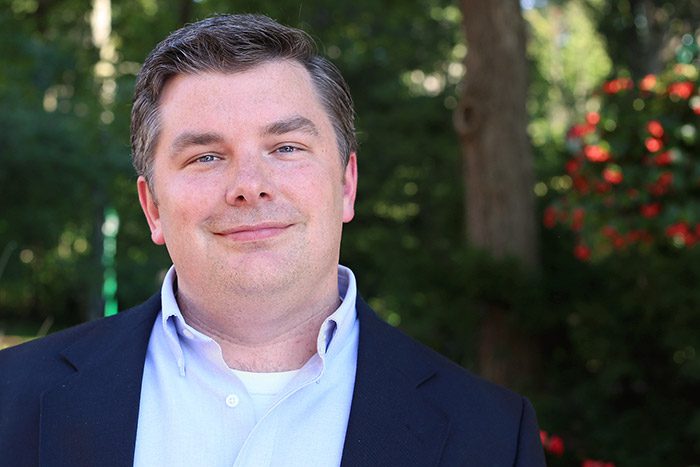 Kenny Smith
IUSTV media adviser, Student Media Liaison/Digital Production Manager
Contact Information
Biography
Kenny works in The Media School at Indiana University where he works with students developing cross-platform journalism skills as the adviser to IUSTV, and in a variety of other extracurricular roles, leading workshops, providing feedback and more. He has also taught sports media classes, and has lectured on audio production and photography and videography as well. He produces and hosts the On Topic with IU podcast, which interviews scholars from around the Indiana University system on a wide variety of topics. He shares the research of Media School scholars on social media for the Institute for Communication Research.
A journalist with experience in all mass media formats, he has worked in broadcast markets around the southeast.
During his time in college he worked in sports media in Auburn and Montgomery, Alabama, covering local high schools and Auburn University.
In his first job after graduation, Kenny was a bureau chief for Westwood One in Birmingham, Alabama, where he covered the original XFL, a visit by President George W. Bush, the prosecutions of Thomas Blanton and Bobby Frank Cherry in the 16th Street Baptist Church bombing and part of the Jefferson County Super Sewer scandal which would later cause the largest municipal bankruptcy in U.S. history.
In Little Rock, he covered breaking news across Arkansas. He chased storms, reported on visits by Bush and former President Bill Clinton, covered state politics and interviewed General Wesley Clark, the retired commander of the Supreme Allied Command-Europe, on the eve of the Afghanistan War.
In Birmingham once more, Kenny reported on devastating tornadoes, one of the first shootings in the Beltway sniper attacks and the removal of Roy Moore as the chief of justice from the Alabama Supreme Court for both local and national audiences, appearing on air in most major U.S. markets. He also reported live from Washington D.C. during the beginning of the second Gulf War.
In his last newsroom, Kenny worked at al.com, Alabama's most highly trafficked news site, where he wrote, edited, shot photos, produced podcasts and video packages. His print work has been published across Alabama and much of the southeast, with photographs and essays published by high value platforms like ESPN and Smithsonian Magazine.
He then spent eight years at Samford University where he was the student media adviser for The Samford Crimson and taught classes like writing and editing, social media and mass media and society. His students won more than 70 regional and national print and broadcast awards during his time there.
In his free time Kenny reads, takes photographs and builds things. He rides a bicycle (sometimes fast, usually slow), and has raced bikes in Ireland, Italy and France and a half-dozen states. He's a SCUBA diver. He's also run the world's slowest marathon and a perfectly average 70.3 half Ironman.
Kenny is married to Dr. Lauren Reichart Smith an associate professor of sports media at The Media School.
BS in agricultural journalism, Auburn University
MA in communication management, University of Alabama at Birmingham
PhD (ABD) in communication and information sciences, University of Alabama