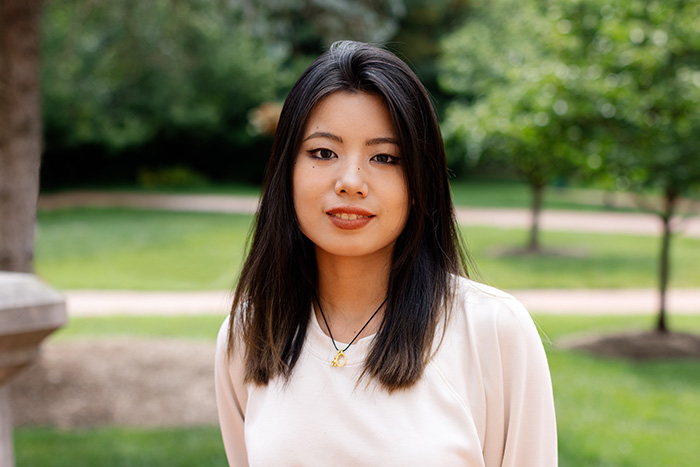 Zoey He
Graduate Student
Pronouns:

she/her
Contact Information
Research and Creative Interests
Documentary

filmmaking

Film and Editing

film and music production

documentary production
Biography
Education
Master of Science: Documentary/nonfiction Production Expected in 05/2025 
Indiana University Bloomington – Bloomington, IN
Bachelor of Science: TV And Broadcasting Editing 06/2023 
Shaanxi Normal University – Xi'an China
Professional Summary
I was born in China and came to the United States in 2023 to pursue my graduate degree. I can skillfully use various editing software and cameras, and I have been working on shooting projects. In addition, I can also do work related to new media and project design. 
Skills
Adobe Photoshop 
Adobe Premiere 
Adobe Audition 
EDUIS 
Final Cut Pro 
SONY Alpha7000 
SONY FS5 
DJI OMSO 
Go Pro 
Chinese (native) 
English (fluent) 
Japanese (conversation) 
Work History
Internship  07/2022 to 10/2022 
Shaanxi Tourism and Cultural Industry Development Co., Ltd. – Xi'an, China 
Contributed in planning and rehearsal of a live-action performance in Bailuyuan, a well-known scenic spot of Northwestern folk culture 
Participated in script writing and performance design according to customer preference 
Post-phase editor internship  04/2022 to 06/2022 
Shaanxi Western Movie Channel Management Co. Ltd. of Xiying Group Co., Ltd. – Xi'an, China 
Contributed in TV program post-phase production and editing including removing backgrounds of program footage using AE software, subtitling, etc 
Responsible for video clip, video effect, post-phase editing, short video shooting and editing 
Took charge of promotional videos shooting and manufacture according to clients' requirements; communication with clients for amendments 
Practice Programs
Documentary "In the Forest", Xi'an, Shaanxi Province, China, Director/Camera/Editor, 06/2022, A documentary on two young man's life running a coffee shop in the mountain to entertain customers with similar desire to escape the noisy city life. Pre-phase planning including organization of group meeting for topic selection, resource integration and workload distribution; Shooting coordination including interview design, shooting instructions, and progress management; Post-phase editing and amendments according to group comment. 
The Reflector", Xi'an, Shaanxi Province, China, Writer/Director/Camera/Editor, 09/2021, A public service advertising on childhood trauma caused by parents' verbal violence. Script writing to adopt symbolic expression through a pair of hands smearing a small white T-shirt with red pigment in response to a voice-over of rebukes and abuses from adults. 
Documentary "The Tree of Life", Xi'an, Shaanxi Province, China, Vice Director/Camera/Editor, 05/2021, A documentary on the creation process of a large scale campus drama Life Tree from script seminar to formal performance covering 3 months. Contributed in interview design, shooting plan, workload coordination and progress management; Participated in material selection, primary editing, and final editing. 
Micro Film "Safe Home", Xi'an, Shaanxi Province, China, Writer/Director/Camera/Editor, 04/2021, A suspense feature video about a young man witnessing a young couple's quarrel escalating to murder in the garage. Script writing and shooting design with an emphasis on audience involvement in story-telling through to emotional change of the hero from agitation, curiosity, contempt, eagerness to help, and fear and fluster. 
Search in the Temple", Xi'an, Shaanxi Province, China, Writer/Director/Camera/Editor, 10/2022, A suspense short video telling the story of a female teacher following the track of her student in an old Buddhist temple. Script writing to create suspense atmosphere fully using the settings in the ancient Buddhist temple and design of shooting angles; enhanced the suspense effect with background music. 
The Lovers", Xi'an, Shaanxi Province, China, Writer/Director/Camera/Editor, 09/2020, A full-length shot video showing the relationship development process of a couple of lovers from honeymoon period to quarrel and breakup through camera movement in a space. Design of the main scenes, change of settings, and movement of the camera to strengthen the realistic feeling of eclipsing through changes of time, space, and relationship between the lovers. 
Home and the Country" Stage Play in Ancient Costume, Xi'an, Shaanxi Province, China, Writer/Director, 03/2020, Wrote the script and directed the rehearsal of a stage play adapted from the heroic stories of Hua Mulan and Yue Fei with the theme of patriotism; Innovatively combined front-stage performance of the heroes and background projection presenting the grand war in manifestation of patriotic feelings in magnificent scene of war with only 5 players and saved time in scene shift; Associated front stage performance and background projection through music change and stage positioning; promoted story telling with music and narration and presented inner conflict of the hero/heroes through synchronized or differentiated action between front stage and background projection; Managed 12-member team in rehearsal with appropriate workload distribution to suite each member's strength in music, narration, reciting, etc.; supervised cost control, time and progress management, music editing, illumination, and scenario building; Won Second Prize at university level contest. 
The Missing Trophy" Microfilm, Xi'an, Shaanxi Province, China, Writer/Director/Camera/Editor, 02/2018 – 06/2018, Independently produced a 10-minute microfilm telling the thief-tracking story of a high school student addicted to detective stories; Script writing with original design in content and plots with clues to promote the action and music, costume and action to strengthen performance and comedy effects; Invited and organized main actors and figurant from students in the school and motivated their performance to achieve desired effect; Learnt techniques of editing, background music, assembling methods of lens, transition of scenes for post-phase production. 
Hobbies and Interests
Piano
Snow Skiing
Swimming
Body-building