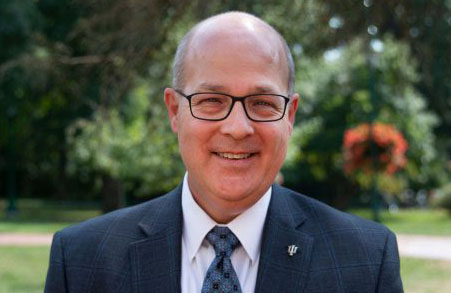 Chuck Carney
IU Director of Media Relations, Adjunct Instructor
Contact Information
Research and Creative Interests
Media Framing

Media and public opinion

Public Relations

public relations ethics

Broadcast news

sports broadcasting

crisis communications
Biography
A former television reporter, anchor, and news director, Chuck (PhD, Indiana University, '20) has been working in media or in an allied area since 1983. He became enamored of media at an early age—he recalls recording his first "newscast" on a black-and-white video camera connected to a Betamax videocassette recorder at around age 11. His first job was as a part-time announcer for the radio station in his hometown of Newport, Arkansas when he was a junior in high school. As a junior in college, he started working as a sports reporter and photographer at a local television station, going on to be a sports anchor for the CBS affiliate in Fort Smith, Arkansas, where he covered the 1994 NCAA champion University of Arkansas basketball team.
As the Director of Media Relations for Indiana University, Chuck serves as IU's primary spokesperson and works closely with communicators and campus administrators at IU to assist in external coverage of the university. He handles media inquiries and works with reporters, editors, and producers to assist on stories about IU.
While earning a master's degree in journalism and political science, he moved into teaching and communications roles in higher education. He helped start a cable television station at the University of Arkansas, then joined the University of Florida as assistant news director for the PBS television station in Gainesville. He came to Bloomington in 1999, serving as news director and on-air anchor at WTIU while also teaching broadcast journalism in the IU School of Journalism. He joined the IU School of Education as director of communications and media relations in 2007 and moved to the new School of Global and International Studies as director of communications and marketing in 2015. He continued to teach in the IU Media School throughout that time and completed work on a PhD in higher education from the IU School of Education (dissertation titled: "Framing the Academy: How the New York Times has Covered the Higher Education Accountability Movement").
Chuck's research interests include media coverage of higher education, framing and agenda setting, public relations, and higher education policy.