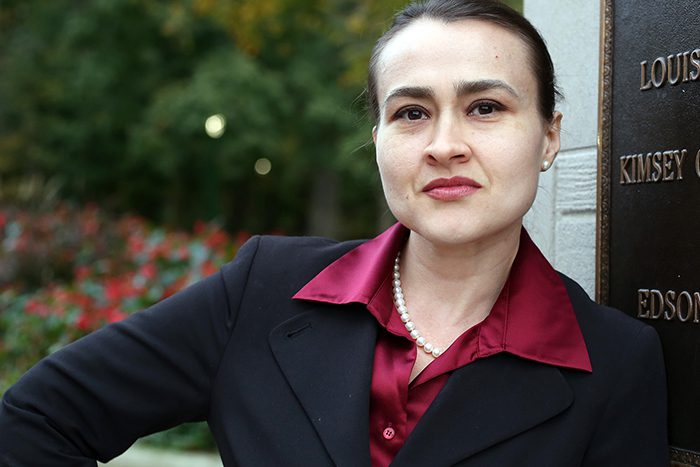 Antonina Semivolos
Contact Information
Research and Creative Interests
biometric data collection

privacy law-making and legal anthropology

digital privacy and area studies

cinema
Biography
Antonina completed her undergraduate degree at NYU in Economics and Italian Neo-Realism, with honors thesis, "Social and Economic Aspects of Italian Neo-Realism: a Comparison Between Fellini's La Dolce Vita and Principles of Erich Fromm's Humanistic Philosophy."
Before moving to Bloomington from New York city to attend Maurer School of Law, she worked as a trusts and estates legal assistant in a boutique law firm, and later as an electronic discovery paralegal for a large international law firm. Before joining the Telecommunications Department of Media School to continue her graduate studies, Antonina completed a dual degree in law and area studies in Indiana University Maurer School of Law and Robert F. Byrnes Russian and East European Institute.
The combination of her professional experiences evolved into her present research focus: legality of facial recognition technologies adaptation in Russia and the US. The questions she explores are: What legal and social processes affect biometric data collection in Russia and the US? How does privacy-related law-making influence biometric data collection in these countries?
Publications and Conferences
"The Advent of Facial Recognition and the Erosion of the Rule of Law in Moscow the Smart City." Forthcoming publication in the Cardozo Journal of Equal Rights and Social Justice, Vol. 29, 2023.
"Digital Privacy Perceptions Through the Lens of Qualitative Interviewing." In Language and Law Aspects of Multiformat Communications on the Internet Category, published by the Northern (Arctic) Federal University named after M.V. Lomonosov, 2021.
Conference "Internet Communication: Multiformat and Multifunctionality" (Higher School of Social Sciences, Arkhangelsk, Russia). Key Note Speaker, 10/2021.
"Communications Practices of Marginalized Populations Using Longitudinal Field Experiments."Information, Communication and Society Journal. Researcher, Co-author, Interviewer, 2017-2018.
"Changing Meanings of Privacy in the Age of the Internet." In Human Rights on the Internet: Legal Frames and Technological Implications: Compendium on Internet governance. Vol. 3. National Research University Higher School of Economics. Moscow, 2014.
Recent Projects
"Open Research Laboratory on Russia, Eastern Europe and Eurasia at the University of Illinois Urbana-Champaign." Associate, 2021 – 2022.
"A Critical Approach to Investigating Communication Practices of Marginalized Populations Using Longitudinal Field Experiments," a longitudinal study with Prof. Amy Gonzales and four other Media School graduate students, 2017 – 2018.
"US-Russia Social Expertise Exchange (SEE) Fellowship" in Moscow, Russia. Administered by the ACLU, American Bar Association Rule of Law Initiative (ABA RoLI), and Eurasia Foundation. January – March, 2014.
Moscow-based human rights NGO, "Public Verdict." Category "Police oversight in Moscow and St. Petersburg and the roles of rule of law and of civil society." January – March, 2014.