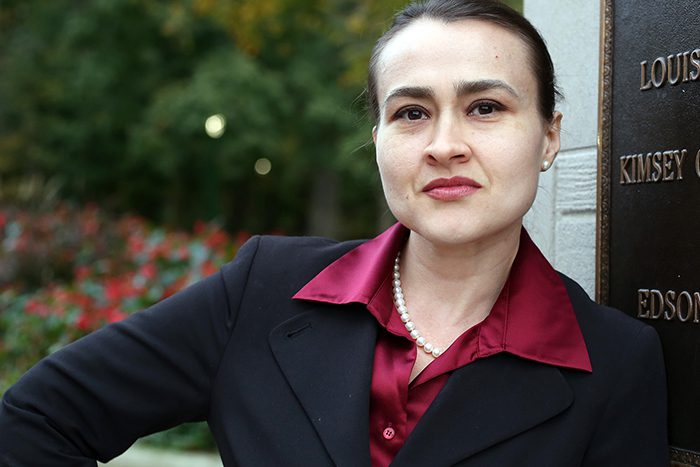 Antonina Semivolos
Assistant Instructor
Contact Information
Research and Creative Interests
Privacy law

legal anthropolgy and area studies

photography

travel
Biography
I completed an undergraduate degree at NYU (Magna cum laude, Phi Beta Kappa) in Economics and Italian Studies (Honors Thesis: "Social and Economic Aspects of Italian Neo-Realism, a Comparison Between Fellini's La Dolce Vita and Principles of Erich Fromm's Humanistic Philosophy"). Before moving to Bloomington, I worked as a legal assistant in a boutique trust and estates law firm, and thereafter as an electronic discovery paralegal for a prominent Wall street law firm. The combination of these professional experiences, particularly my background in law, evolved into my present academic interest: digital privacy through the lens of legal anthropology. I completed a dual degree in law and area studies, at the Maurer School of Law and the Russian and East European Institute (REEI). As a PhD student in the Media School, I study digital privacy and laws that affect it, and our contemporary perceptions of privacy.
Recent Projects: US-Russia Social Expertise Exchange (S.E.E.) Fellow, Moscow, Russia. I completed the S.E.E. Fellowship in Moscow at the start of 2014. I collaborated with Moscow-based human rights NGO "Public Verdict Foundation," during which I attended Moscow civil movement demonstrations in order to identify best strategies for the public to engage in legal processes against police violations. I interviewed well-regarded Moscow and St. Petersburg human rights activists and legal professionals to identify major strengths and weaknesses in police oversight in the contemporary Russia. I also participated in various ABA-ROLI conferences targeting exchange of professional and academic expertise between the western (US, UK, and France) and Russian scholars. One of the particularly satisfying aspects of my fellowship was my collaboration with the "Public Verdict" colleagues.
It was invaluable to live in Moscow and to work with such well-regarded NGO as the "Public Verdict" at the politically-charged times of Ukrainian revolution and the annexation of Crimea.