Black Camera covers on exhibit in Collections Research, Teach and Exhibition Center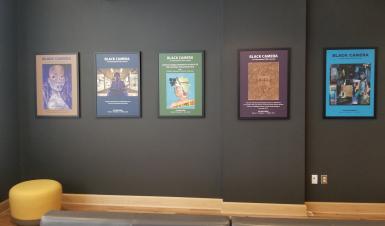 The Collections Research, Teaching and Exhibition Center now has an exhibit displaying the jacket covers of five past issues of Black Camera: An International Film Journal.
The exhibit features cover art from Black Camera, a journal of Black film studies edited by Media School professor Michael Martin. The exhibit is in the media gallery room at the McCalla School. 
Doctoral student Allison Brown, who serves as managing editor of Black Camera, coordinated this initiative with Brian Woodman, associate director of university collections.